Soria notches milestone 200th save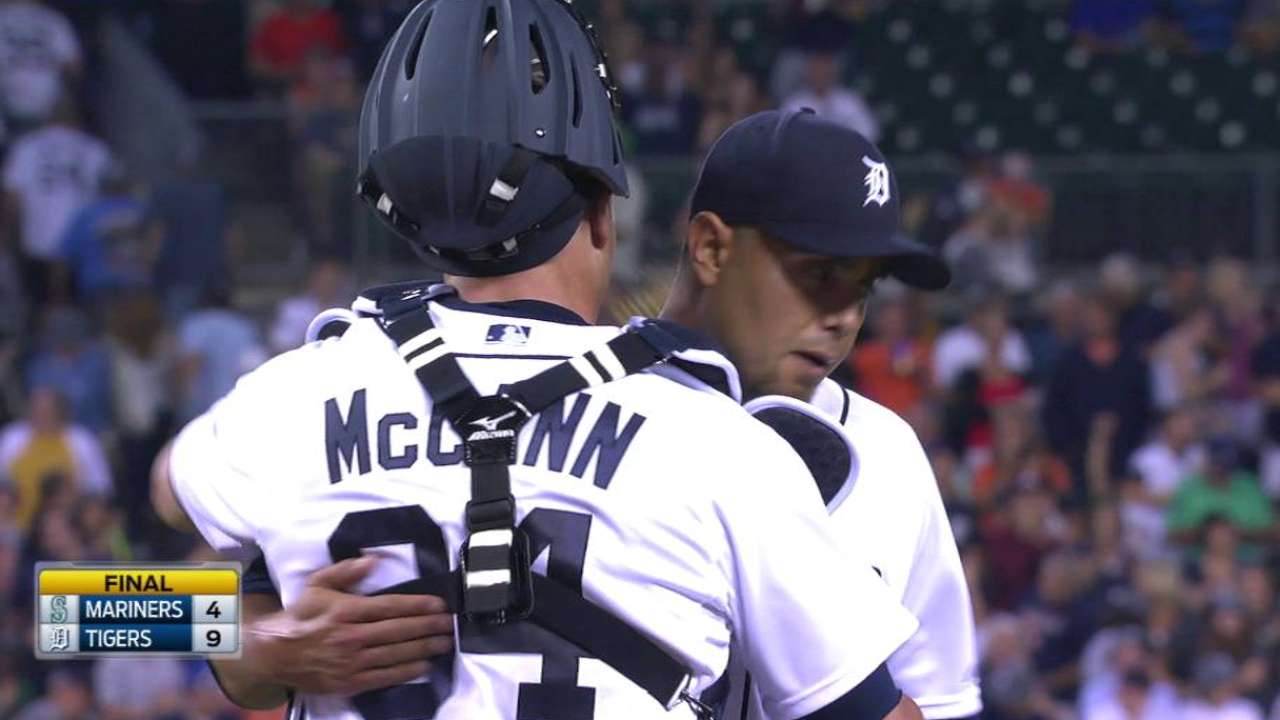 DETROIT -- Some players claim they don't focus on milestones, that they're too concentrated on winning individual games to pay heed to the achievements of their career.
Not so for Tigers closer Joakim Soria, who tallied his 200th career save by recording the final four outs of Wednesday's 9-4 win over the Mariners.
The right-hander has endured Tommy John surgery twice, including an operation in 2012 that ended his tenure with Kansas City. But on Wednesday, he secured a much-needed win for Detroit by inducing a Nelson Cruz flyout to conclude a shaky ninth inning.
"I thank God for that," Soria said of his achievement. "I was almost out with two surgeries. Now I have a chance to have the 200 [saves]."
It was just the fourth time this year Tigers manager Brad Ausmus has asked the closer for a four-out save, and it came a day after Ausmus didn't use Soria in the eighth inning of what became a gut-wrenching loss.
And, for a few moments, Ausmus says he fretted Wednesday's decision. After retiring shortstop Brad Miller on a soft ground ball with two runners aboard to end the eighth, Soria surrendered a single to Mike Zunino and walked Austin Jackson to begin the ninth. Suddenly, the right-hander was at 22 pitches and still had three outs to go.
But he got ahead in the count on third baseman Kyle Seager and produced a 4-6-3 double play. Then, he kept Cruz -- who at that point was 3-for-4 with two home runs and a double -- in the ballpark to clinch the victory and his 22nd save in 25 tries.
"It was a little concerning in the ninth," Ausmus said. "His pitch count was getting up. He had two guys on and no out. Luckily, he induced the ground ball and kept his pitch count under 30 pitches, which is good for tomorrow."
In a game that had turned into a blowout when the Tigers plated eight runs in the third inning, Ausmus had hoped not to use Soria. The Mariners, though, fought back, thanks in large part to Cruz.
Then Seattle forced a save situation by putting the potential tying run on deck in the eighth, prompting Ausmus to insert Soria.
"I think we could have been a little bit cleaner from a pitching perspective," Ausmus said. "But we also needed this win, so I really didn't have a choice."
While the circumstances weren't ideal for Detroit, ultimately, the result was. In the clubhouse, Soria high-fived Bruce Rondon and received congratulations from his teammates, and the righty smiled at the memorable night.
"I love this team," said Soria, who will become a free agent in the offseason. "I love Detroit. I love the way that they've been treating me. I like it here."
Alejandro Zúñiga is an associate reporter for MLB.com. Follow him on Twitter @ByAZuniga. This story was not subject to the approval of Major League Baseball or its clubs.