Peralta feels fine after beaning by Fernandez
D-backs hitting coach ejected, as well as reliever Leone for retaliation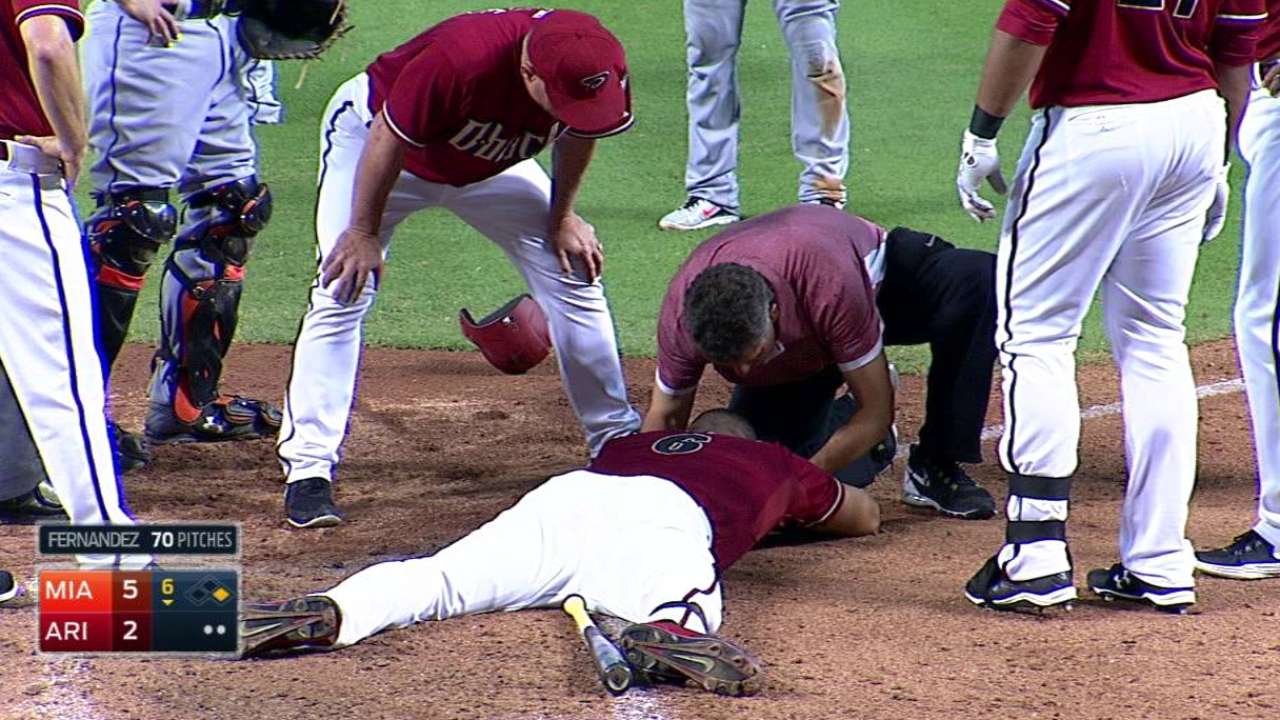 PHOENIX -- D-backs left fielder David Peralta left Wednesday's 5-3 loss to the Marlins after getting hit in the head by a pitch in the sixth inning.
Peralta took a pitch to the side of his helmet from Marlins starter Jose Fernandez. The D-backs outfielder was face down in the batter's box for several minutes while being attended to by head athletic trainer Ken Crenshaw.
"That was a scary moment. As soon as I saw the ball out of his hand, I saw it right in my face. I'm trying to protect myself," Peralta said. "It still got me good on my ear. That first moment when I landed on the ground, I was so scared, but it happens."
Peralta got up on his own power and walked off the field, but A.J. Pollock entered as a pinch-runner at first base. D-backs manager Chip Hale said Peralta passed all of the concussion tests, and Peralta said he feels completely fine.
"I feel good, I don't feel anything," Peralta said. "I'm good, I'm ready to go."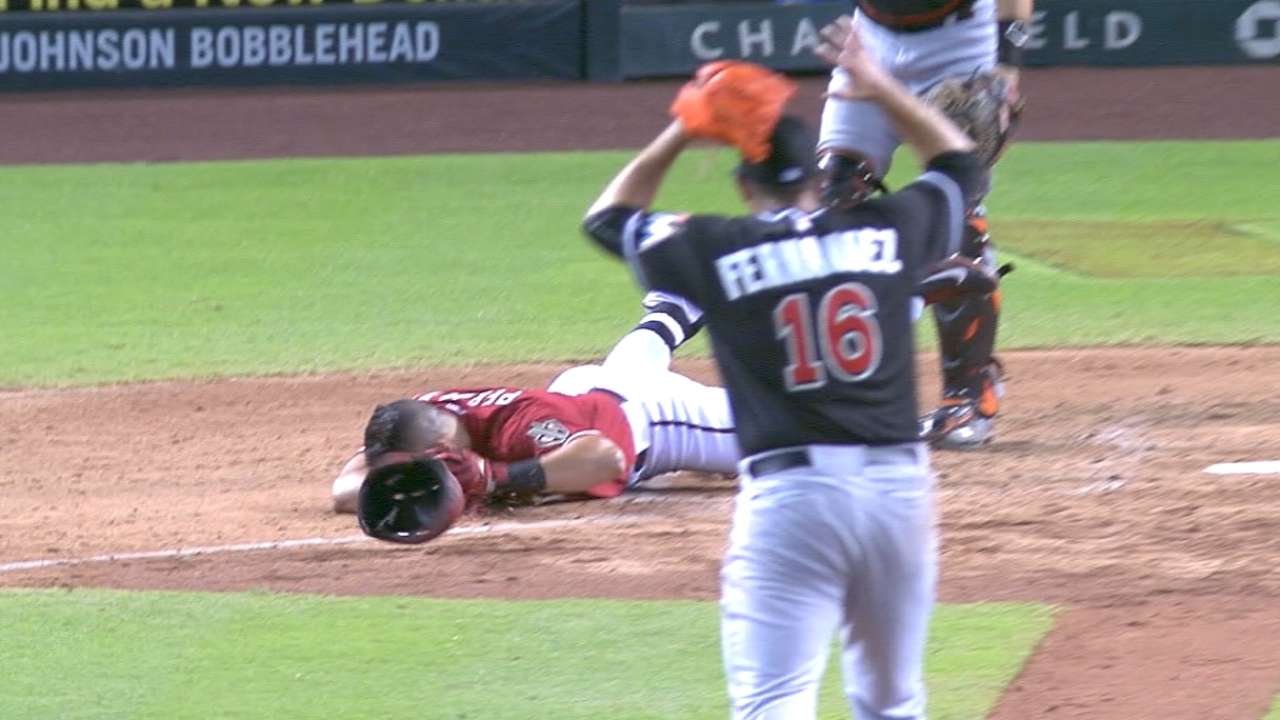 Peralta said he didn't feel there was any intent on Fernandez's part, understanding that it was incidental.
While Peralta was being attended to, D-backs hitting coach Turner Ward was ejected by home-plate umpire Vic Carapazza. Ward was displeased with Fernandez walking up to the plate and getting close to Peralta. It was Ward's second career ejection.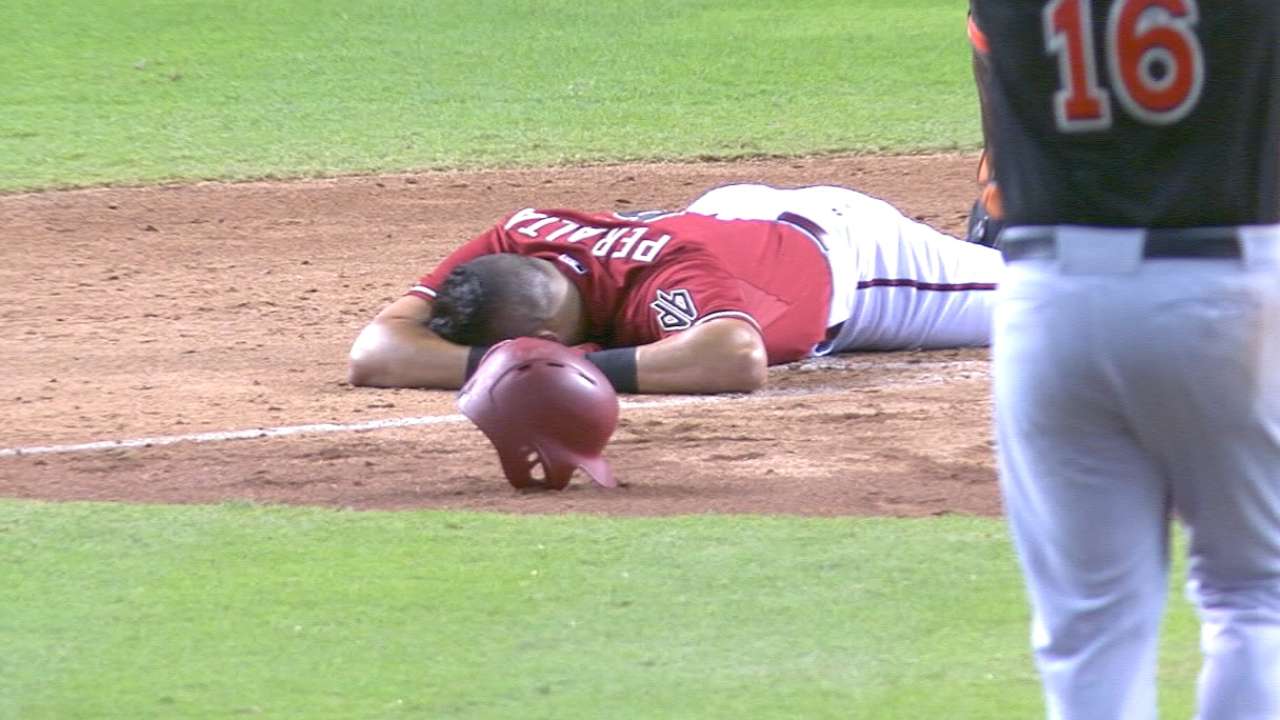 The following inning, D-backs reliever Dominic Leone hit Christian Yelich and was immediately ejected by Carapazza. It was Leone's first career ejection.
"He just came out, guns hot, and threw me out," Leone said. "I guess he felt that there was something there, wanted to make a statement. By all means, I was out there to just pitch, be aggressive, and get outs."
Jake Rill is an associate reporter for MLB.com. This story was not subject to the approval of Major League Baseball or its clubs.