Gausman laments first inning in return
Righty back from Triple-A, allows 3 runs in opening frame
NEW YORK -- Orioles right-hander Kevin Gausman was sure of one thing before his start Wednesday night.
"If I pitch one inning," Gausman said on Tuesday, "I'm probably going to be optioned."
Gausman lasted a bit longer than one inning in a 4-3 loss to the Yankees. He pitched six innings and gave the Orioles a fair chance to win in his first start back from Triple-A Norfolk. But the first inning was the one he wished he could have back, with the Yankees scoring three of their four runs in the opening frame.
The Yankees sent eight batters to the plate in the first inning, with Jacoby Ellsbury, Brett Gardner, Mark Teixeira and Brian McCann all collecting hits -- Teixeira's being a two-run homer.
"That entire lineup is just veteran guy after veteran guy. That first inning I was definitely more around the center of the plate than any others," Gausman said. "I think after that, I really established throwing my fastball in for strikes, and I think it showed after that."
After his first-inning bump, Gausman scattered just two hits and one run through the next five frames. The right-hander entered the start having surrendered 17 earned runs in the first inning throughout his career, the highest total for any inning except for the fourth, in which he had given up 25.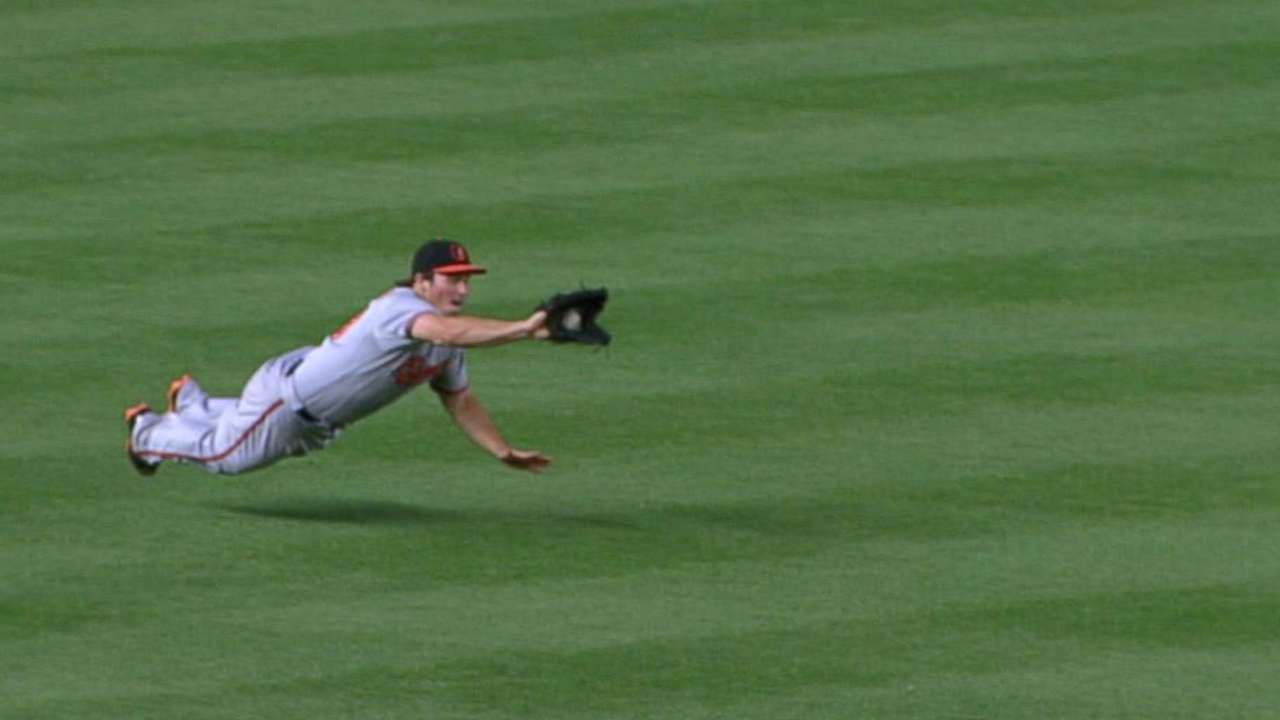 O's manager Buck Showalter said he was proud of the way Gausman presented himself and added that the mistakes in the first inning had to do with his breaking ball.
"By the way he came back and pitched after that, he was very competitive. I've got no problem with pitch selection, just where he got them," Showalter said. "He made some really good pitches later on. He kept us in the game, and we got engaged in it because he didn't implode."
Gausman didn't receive much offensive support and has now had just four runs of support across his four starts.
The general consensus from the Orioles heading into the start was that if Gausman proved himself, he would stay in the Major Leagues. He's shuttled back and forth between the Majors and Minors this season and went to Norfolk over the All-Star break to stay on a regular schedule. Showalter seemed pleased with Gausman's performance Wednesday, and now Gausman is hoping to find some sort of routine.
"That's what it's all about, is kind of getting into a routine, especially for a starting pitcher," Gausman said. "You lose your routine, you can kind of get out of whack. Maybe we're prima donnas in that sense, but it's just one of those things that we find what works for us. I think when you know every given day what you're going to be doing that day, it only helps you."
Grace Raynor is an associate reporter for MLB.com. This story was not subject to the approval of Major League Baseball or its clubs.