Fuld, A's help raise funds for juvenile diabetes
Outfielder among players at annual Root Beer Float Day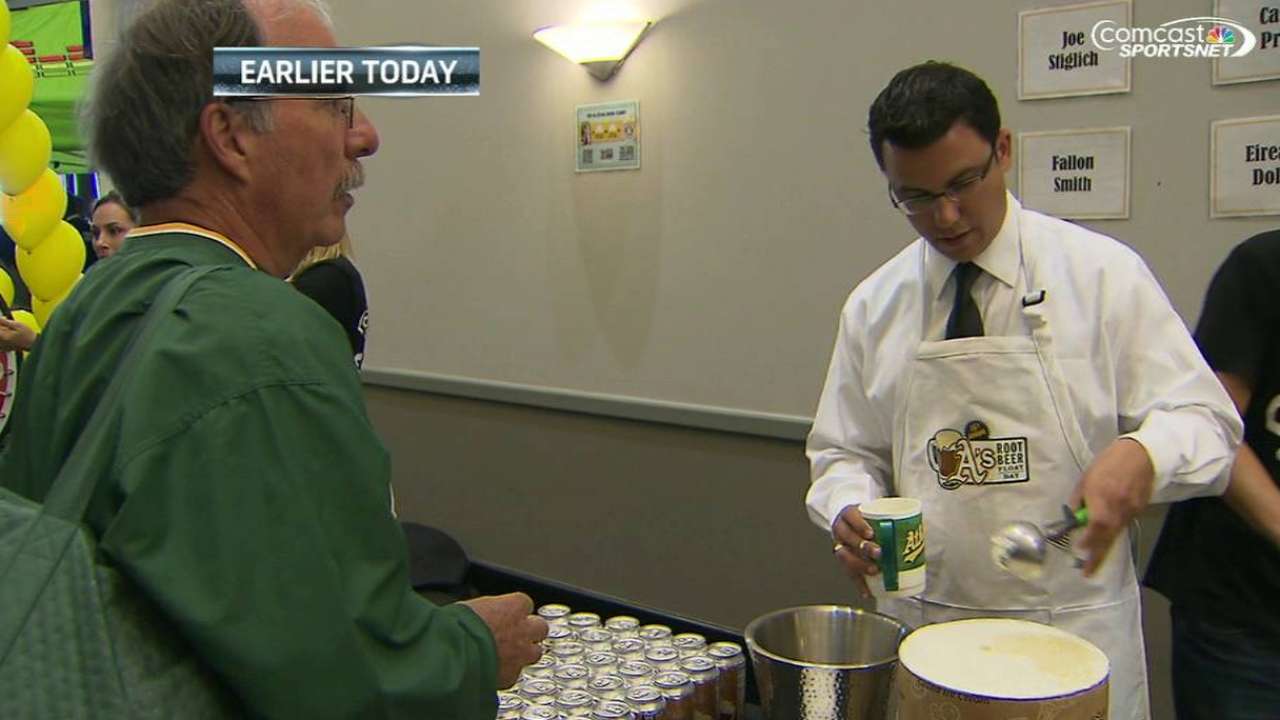 OAKLAND -- Sam Fuld remembers the day he was diagnosed with Type 1 diabetes and his daily life changed forever.
"One day I was a normal 10-year-old, and the next day I was in the hospital learning how to give myself shots and how to check my blood sugar and how to deal with everything in between," the A's outfielder said.
Fuld monitors what he eats every day, and as he's thrived in the Majors, he's made sure to raise awareness and money for Type 1 diabetes.
One of his go-to organizations to support is the Juvenile Diabetes Research Foundation, which is why he didn't hesitate when asked to take part in the A's 16th annual Root Beer Float Day on Wednesday at the Coliseum. The A's raised $34,709 on Wednesday and have raised more than $448,000 in the event's history.
Fuld joined nine teammates, manager Bob Melvin and other celebrities including Ronnie Lott and Polina Edmunds at the event, serving root beer floats (both with sugar and without) to fans. Fuld also signed 200 mugs Tuesday that were sold for $25 a pop.
The Eastside Club at the Coliseum overflowed with jubilant fans who got to meet their favorite players, support a worthwhile cause and devour scrumptious root beer floats.
A sea of green and yellow lined the hallways, as employees navigated the crowd with gargantuan tubs of ice cream and seemingly infinite cans of root beer.
"It's a little different than most fundraising events," Fuld said. "It's just fun. You think root beer floats, and it's immediately enticing."
Fuld said a common misconception about Type 1 diabetes is that those with the condition brought it upon themselves. In fact, it's something kids can't control.
He said there aren't certain trigger foods he can't have, as many people believe. Instead, he has to keep tabs on what foods he eats and know where his blood sugar is at all times.
"It's life changing," Fuld said. "It's a daily challenge."
While many people don't understand the daily struggles having Type 1 diabetes presents, one person who does is Melvin, whose daughter has it.
Much like Fuld, Alexi Melvin constantly keeps track of what she eats. She attended the event and served floats at the sugar-free station.
Melvin said he marvels at Fuld's ability to thrive as a professional athlete while dealing with Type 1 diabetes. Before some day games, Melvin will check in with Fuld and make sure his blood sugar is high enough.
The two of them talk about the condition often, and Melvin said Fuld is a terrific resource for young athletes dealing with a similar situation.
"It's pretty amazing to be able to do what Sam Fuld does," Melvin said.
Another person who admires Fuld's drive is teammate Mark Canha. As he exited the madness at the Eastside Club, an appreciative Canha was mobbed my adoring fans looking for everything from autographs to selfies.
He reflected on the importance of the event, summing it up quite simply:
"Who doesn't love a good root beer float?"
Worth noting
• Melvin said outfielder Coco Crisp felt good after taking batting practice Tuesday and will continue to swing in the coming days. Crisp, who has missed most of the season while recovering from elbow surgery and neck problems, will play a part in deciding whether he goes through a rehab assignment.
Trevor Hass is an associate reporter for MLB.com. This story was not subject to the approval of Major League Baseball or its clubs.