Posey playing his way into another MVP discussion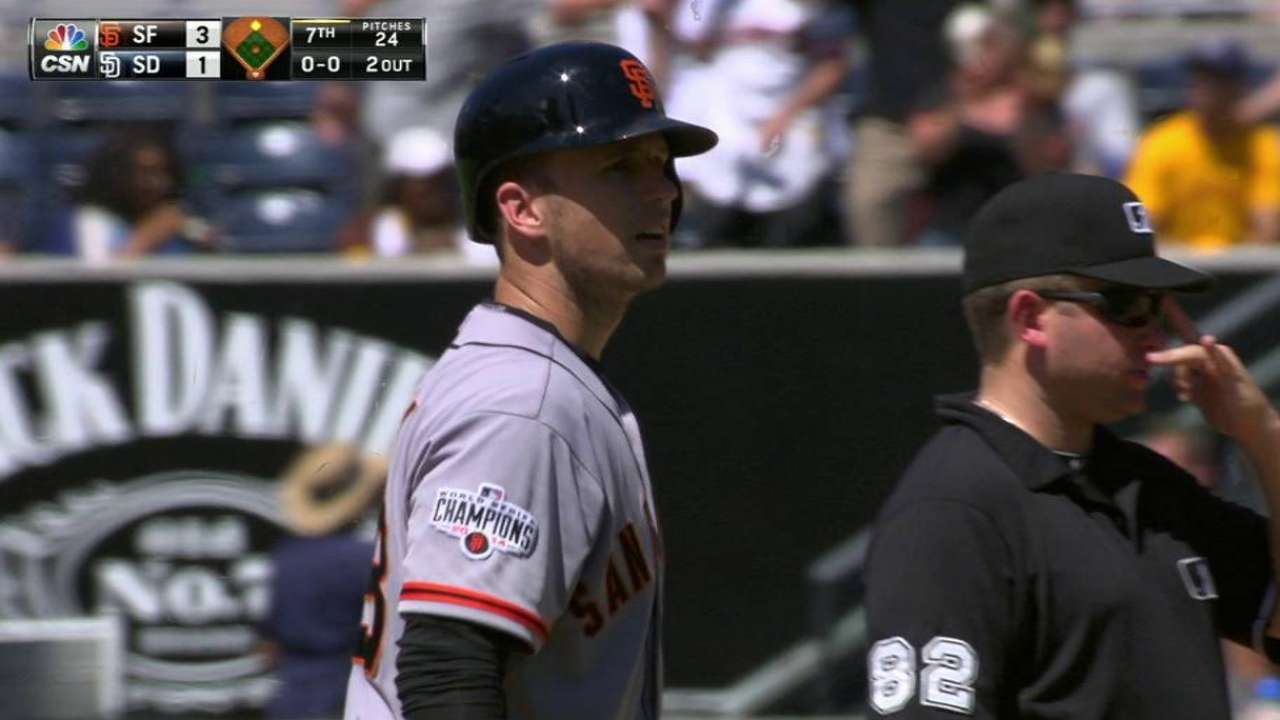 SAN DIEGO -- Evaluating contenders for postseason honors is a premature exercise in late July, but it's fair to entertain the notion that Buster Posey has played himself into consideration for his second National League Most Valuable Player Award.
Posey furthered his cause Wednesday as the Giants overwhelmed the San Diego Padres, 7-1. The San Francisco catcher went 2-for-5 with a two-run double in the seventh inning that broke a 1-1 tie. The double sustained a pattern for Posey, who's batting .476 (20-for-42) with runners in scoring position and two outs. It also helped the Giants conclude their two-city, six-game trip with a 5-1 record.
Posey's output in his 88 appearances compares favorably with the production he maintained through the same juncture in 2012, when he won the MVP Award. His current "slash line" (batting average, on-base percentage and slugging percentage) is .318/.384/.494, garnished by 14 homers and 66 RBIs. His corresponding figures three years ago were .313/.379/.500, to go with 13 homers and 60 RBIs.
Posey has surged in July, as was the case in 2012. That year Posey hit .381/.448/.595 for the month with 21 RBIs. With six games remaining this month, Posey's July figures stand at .396 (21-for-53) with 12 RBIs. Though the latter number may seem lean, it's balanced by Posey's 27 RBIs in June. He also entered Wednesday with a .415 on-base percentage and a .521 slugging percentage.
The three-time All-Star must continue to excel to match his final 2012 numbers (.336/.408/.549). But the 24 homers and 103 RBIs he accumulated that year are well within reach.
Asked to quantify his offensive performance, Posey repeated a familiar refrain:
"I'm not trying to do too much," he said. "Just keep it simple. Every day's different. You have to adjust to how you feel, each day or night."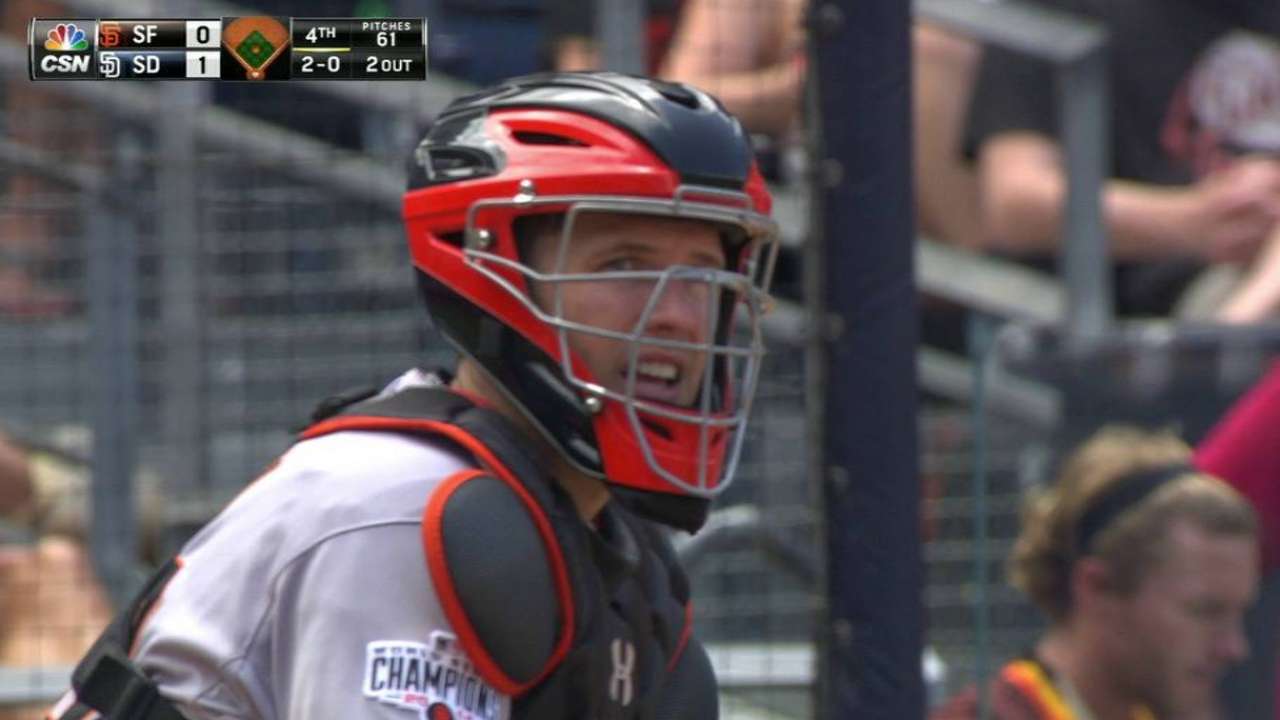 Posey felt ready, yet respectful when he he confronted Padres right-hander Brandon Maurer with two on and one out in the seventh.
"Maurer's tough," Posey said. "He throws hard and has a 'power' slider. Fortunately I was able to get a pitch that was up enough."
That was a 2-1 slider that Posey lined to the opposite field, which is among his hallmark characteristics when he's thriving.
"He hit it like he knew it was coming," said Matt Duffy, who scored on the play. Padres right fielder Matt Kemp attempted a diving catch, but the ball eluded him, enabling both Angel Pagan and Duffy to come home.
Posey acknowledged that he has been fortunate to hit fourth behind Joe Panik and Duffy, who have consistently reached base ahead of him. They hit .435 (10-for-23) and .333 (9-for-27), respectively, on San Francisco's trip.
Wednesday, the top of the order was complemented nicely by Brandon Belt -- whose sixth-inning homer off Padres reliever Marcos Mateo forged the temporary tie -- and Brandon Crawford, who lashed his second homer in two games in the eighth. Each of San Francisco's starting position players hit safely.
"The main thing is, we've got a lineup full of guys who are going to grind out at-bats. That makes it tough for the opposing pitcher," Posey said.
Chris Haft is a reporter for MLB.com. Read his blog, Haft-Baked Ideas, follow him on Twitter at @sfgiantsbeat and listen to his podcast. This story was not subject to the approval of Major League Baseball or its clubs.