Padres' oft-reliable bullpen struggles vs. Giants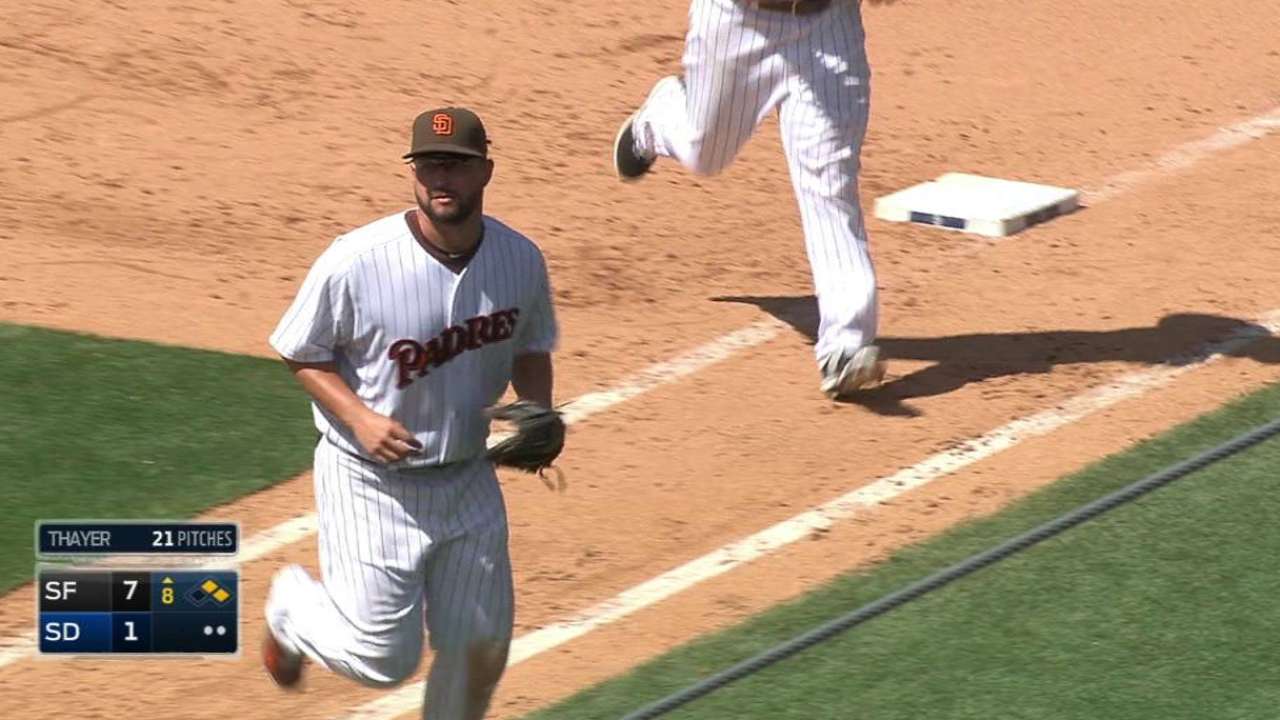 SAN DIEGO -- The Padres' bullpen couldn't get the job done, giving up six runs in the seventh and eighth innings Wednesday, as San Diego fell to San Francisco 7-1.
Before entering the series against the Giants, San Diego's bullpen had allowed 35 hits -- only two of them home runs -- and 15 runs in 39 1/3 innings for a 2.75 ERA in the month of July.
But in the last two games of their series against the Giants, the Padres' bullpen allowed 10 earned runs -- three during Tuesday's game and seven on Wednesday.
"They've been great all year," interim manager Pat Murphy said. "It's baseball. It comes down to a few pitches. Credit the Giants. They capitalized and made us pay."
The Padres had a 1-0 lead heading into the sixth inning, when Brandon Belt tied the game with a 407-foot homer off of Marcos Mateo. San Diego then brought Brandon Maurer to the mound for the seventh. Entering Wednesday's game Maurer had allowed just five earned runs in 35 innings since the beginning of May.
But he struggled Wednesday, giving up a hit to Angel Pagan and walking Matt Duffy, before Buster Posey hit a go-ahead two-run double down the right-field line. The next batter, Hunter Pence, also did some damage, with an RBI single.
"Maurer is in unchartered waters in only his second big league season," Murphy said. "But, again, we threw well enough to get out of that inning. It's not about him not having good stuff. They got three runs, but they weren't hard hit at all. They were well-placed."
In the eighth inning, the bullpen continued to struggle. Dale Thayer gave up a homer to Brandon Crawford, before RBI singles from Justin Maxwell and Matt Duffy tacked on two more runs.
With Padres relievers having been solid for most of the season, the possibility of fatigue arises in the second half of the season. They entered Wednesday's loss with the fourth most relief innings pitched in the NL.
"There might be a guy like Maurer and the fifth, sixth inning guys that maybe have been put in tough spots," Murphy said.
San Diego will start the final series of their 10-game homestand on Thursday as the Marlins come to Petco Park to play four games.
Beth Maiman is an associate reporter for MLB.com. This story was not subject to the approval of Major League Baseball or its clubs.