Shields: 'I definitely had more in the tank'
Padres starter sharp, but removed in 5th for pinch-hitter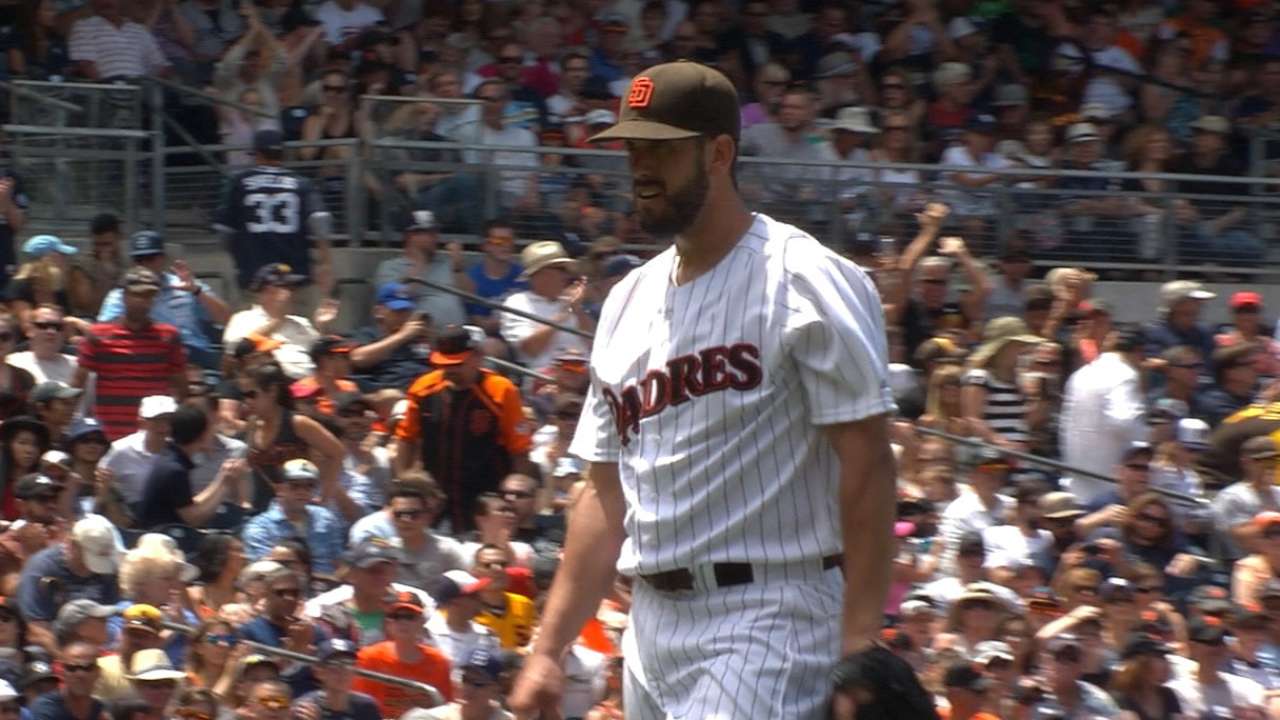 SAN DIEGO -- It may be nearly August, but there have been a few times this season when Padres pitcher James Shields has been abruptly reminded that he now pitches in the National League.
One of those occurred on Wednesday, when Shields was lifted from his start after five scoreless innings and 96 pitches for a pinch-hitter against the Giants at Petco Park.
"In a National League game, you're never really surprised to be pinch-hit for," said Shields, who spent the first nine seasons of his career in the American League. "It is just part of the game."
Shields was denied his ninth victory of the season and was long gone by the time the Giants scored all seven of their runs over the final four innings on their way to a 7-1 victory over the Padres.
Shields had been staked to a 1-0 lead -- on a Jedd Gyorko home run in the second inning -- when he was lifted for a pinch-hitter. He insisted he could have kept pitching, but also understood the decision by interim manager Pat Murphy to lift him.
"I was still good to go. I've been in that situation a few times in my career. I definitely had more in the tank," Shields said.
"But it's not my decision -- it's our manager's decision."
Shields threw 21 pitches in the first inning, 19 in the second, 17 in the third, 23 in the fourth and, finally, 16 in the fifth inning.
Oddly enough, that fifth inning was the lone clean inning -- three up, three down -- for Shields all afternoon.
But with Buster Posey, Hunter Pence and Brandon Belt due up in the sixth inning, Murphy said he wanted Marcos Mateo to face those hitters. Mateo got Posey and Pence, but allowed the game-tying home run to Belt.
"[Shields] worked hard in those five innings, 96 pitches," Murphy said. "There was a certain part of the order coming up that I knew Mateo could get out. I think James understood it, too.
"He pitched well, but he labored."
This game marked the first time Shields hasn't thrown at least 100 pitches in a start since June 25, when he left a start against these same Giants after throwing 81 pitches in four innings. He allowed a season-high seven runs in that start though.
After Shields exited, having allowed three hits with three walks and seven strikeouts, the game really got out of hand.
San Diego reliever Brandon Maurer allowed three runs in the seventh inning. The Giants added three more runs in the eighth against Dale Thayer, running away with the series finale.
As for Shields, who lowered his ERA to 3.77, he felt good about his stuff. He made a few fixes in his mechanics and his fastball had some fuzz on it early, which balanced well against his often-devastating changeup.
"It was about as good as it's been. I was commanding the zone well, using my fastball quite a bit and keeping them off-balance. I felt great today," he said.
Corey Brock is a reporter for MLB.com. Keep track of @FollowThePadres on Twitter and listen to his podcast. This story was not subject to the approval of Major League Baseball or its clubs.