O's taking buyers' approach for Deadline
Baltimore seeking outfield production, pitching depth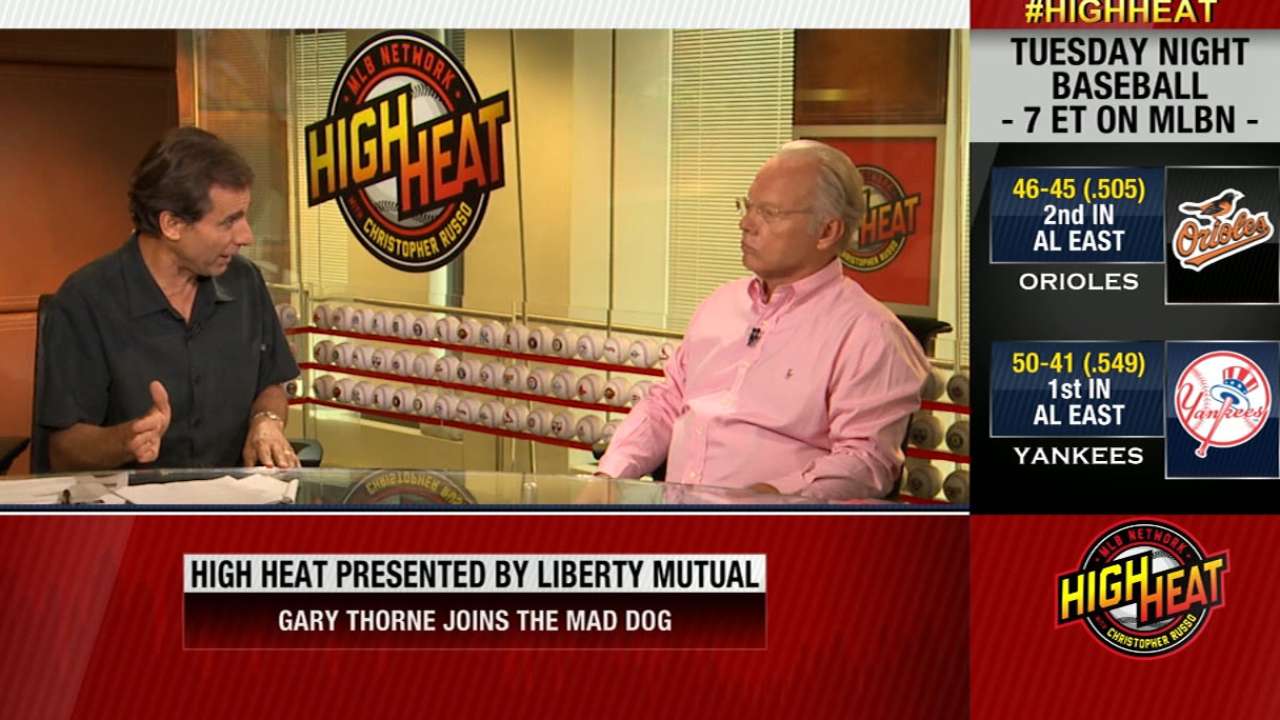 NEW YORK -- The Orioles indicated Wednesday that they feel they are postseason contenders and will look to be buyers at the July 31 Trade Deadline. Specifically, they are looking for more offensive production out of their outfield, as well as pitching depth.
"We are going to approach our season as though we're going to advance to the playoffs, so we're going to continue to build and add to our team where we can," said Orioles executive vice president of baseball operations Dan Duquette. "There's a lot of baseball to be played and there's a lot of teams in the hunt. When you're a few games off the pace, if you have a team that jells or you have a couple additions that you make to your ballclub and now you're winning the close games, you can turn your season around.
"We're still in there. We're still competing."
The O's entered Wednesday in third place in the American League East, five games back of the first-place Yankees. Toronto was 4 1/2 games back. Duquette said he believed that playoff spots are going to be earned in the next six weeks, between now and September.
When he was asked about rumors surrounding the possibility of trading right-hander Kevin Gausman, who started Wednesday night against the Yankees, Duquette didn't indicate such a move was in the Orioles' plans.
"Really? Interesting. There's a lot of teams that are looking for pitching and the first place they look is for young pitching that's emerging at the Major League level," he said. "They could have that player on their team for a long time and it would give them a solid foundation to any winning program, so that's why a lot of young starting pitchers are traded. But we're glad we got Kevin."
The Orioles' offensive struggles have been no secret all season, and if the Trade Deadline can help get a spark out of their outfield, Duquette said the team will need to take a look at those options.
"There's a lot of teams that are in contention and there's a lot of markets where they're not sure if they want to be subtracting from the current team," he said. "So that means there's a lot of clubs that are trying to add and there's only a couple of markets that have declared that 'We're going to be sellers.'
"It's a supply-and-demand equation. There's a lot of teams chasing a few players."
Grace Raynor is an associate reporter for MLB.com. This story was not subject to the approval of Major League Baseball or its clubs.