Wilson, Hardy getting it done in no-role 'pen
Tigers relievers could be used at almost any time during games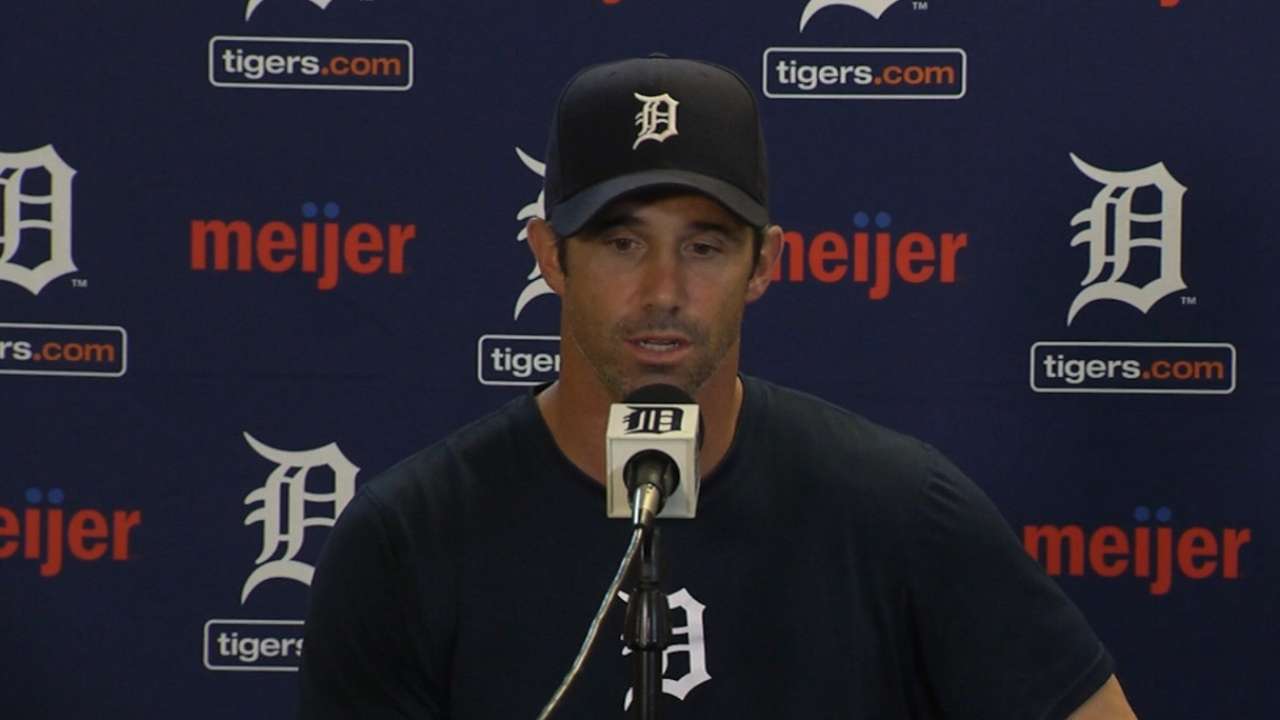 DETROIT -- The phone rings in the Tigers bullpen, and Blaine Hardy and Alex Wilson look at each other. It could be the second inning, or it could be the ninth. Or in Wilson's case, it could be extras.
"Who's it going to be? You or me?" Hardy said of the look, which happened again in Wednesday's 9-4 win.
And it's not just in the bullpen.
"We live in the same place right now," Wilson said, "and it's a running joke: Who's gonna get the call today?"
This is the reality of the no-role Tigers relief corps. Other than closer Joakim Soria, anybody could get a call at any time. But the way things are going, it's more the case for Wilson and Hardy than anybody else.
As rare a case as Detroit's bullpen is -- and the AL-worst 5.86 ERA in July entering Wednesday bears it out -- the numbers tell just part of the story. The two most effective Tigers relievers at this point are the two relievers in the bullpen who can go long.
Wilson and Hardy are finding themselves in more close and late situations as Detroit's setup relievers struggle, but they're also finding themselves covering innings when starters falter, which has happened a lot lately.
Essentially, they're covering a wide swath of ballgame.
"I wouldn't say we have the most prototypical bullpen," Hardy said of the no-roles look. "But that's one thing I kind of like that about our bullpen. I like having to be ready."
Still, it's a dual role that's tough to cover over a long stretch. While manager Brad Ausmus went batter for batter Tuesday night to get favorable matchups and get through the sixth and seventh with Al Alburquerque, Ian Krol and Bruce Rondon, he kept Wilson in reserve in case of extra innings, and trusted Neftali Feliz to get out of the eighth-inning jam he created. Franklin Gutierrez's pinch-hit grand slam ruined those plans.
One night later, Wilson faced one hitter, and it was one of the biggest at-bats of the night. With two on and two outs in the seventh inning of an 8-4 game, Nelson Cruz stepped up after homering in his previous two at-bats. Ausmus lifted starter Anibal Sanchez for Wilson, knowing it would be his only batter.
"I don't know that ideally he's a single-batter matchup pitcher," Ausmus said. "But I felt like tonight, we had to get Cruz out, and he was our best option."
His cutter/slider combination is tough on right-handed hitters. Once Wilson used sliders to put Cruz in a 1-2 count, however, he finished him off with a high fastball. It took seven pitches, five of them fouled off, but he got him.
"It kind of feels good to do that every now and then," Wilson said, "but it's definitely a little different feeling. When you come in with two outs and runners at first and third and their big gun up to hit, it gets your blood pumping."
Wilson hesitated to call it his biggest appearance of the year, listing off his spot start against Oakland May 27, his 3 2/3 scoreless innings against the Angels May 30, and his double-play grounder from Salvador Perez in another one-batter appearance May 8 against the Royals. The situations are so different, they're tough to compare.
Ausmus could change Wilson's role again, depending on what happens. When asked if he's ever thought about using Wilson as a starter, Ausmus acknowledged the idea has been pondered.
"It has been discussed," Ausmus said, "and I won't say that it's not a possibility. There's a little bit of risk in taking a guy who's had success in one role and moving him into another."
Jason Beck is a reporter for MLB.com. Read Beck's Blog, follow him on Twitter @beckjason and listen to his podcast. This story was not subject to the approval of Major League Baseball or its clubs.