LaRoche counting on experience to bust slump
White Sox DH looking to improve confidence, not mechanics, in order to return to form
CHICAGO -- Adam LaRoche is midway through his 12th year in the Major Leagues, where he's seen his share of struggles at the plate. And that experience is exactly why he isn't concerned about being unable to turn his season around.
Entering Wednesday, LaRoche had gone 8-for-50 with just two walks, two RBIs, two runs scored and no home runs in July. In his first year with the White Sox, the designated hitter is hitting .221 with nine home runs and 33 RBIs.
LaRoche isn't worried about making a mechanical adjustment in his swing or hitting a certain pitch any better, he noted, since the biggest adjustment needs to be made in his head.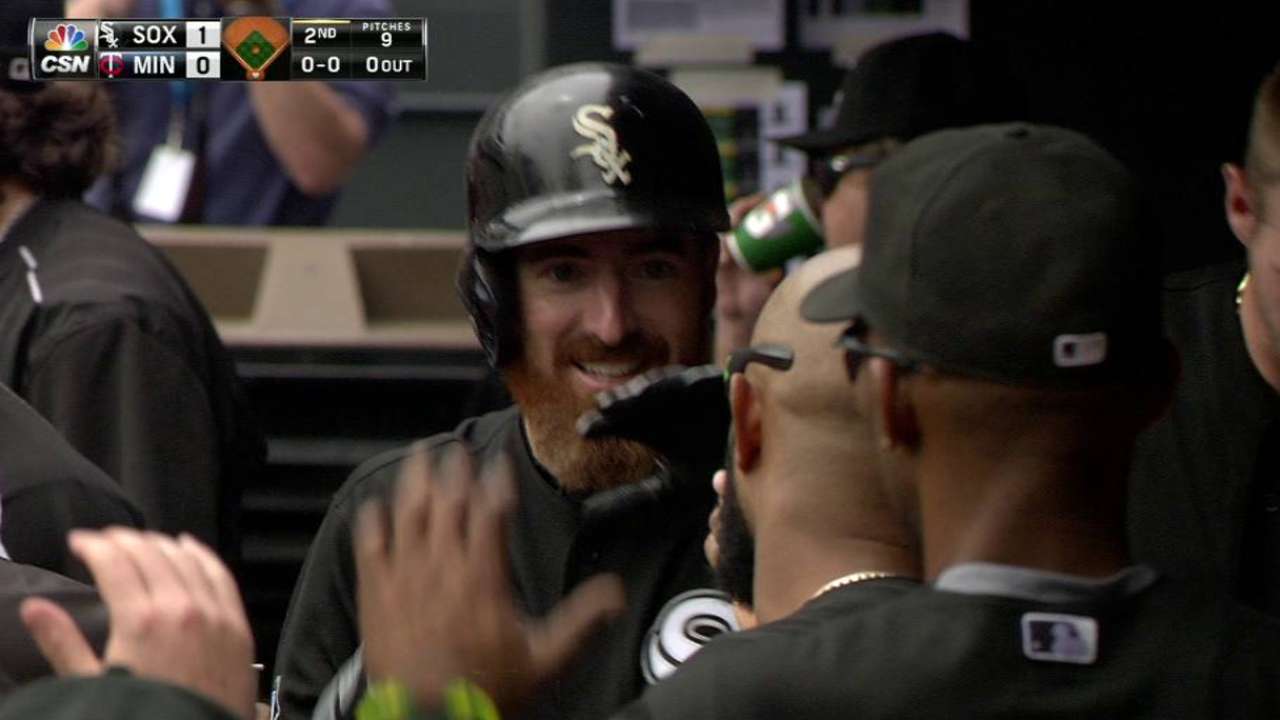 "You keep swinging and you keep working," LaRoche said. "There's only so much video you can watch, only so many things you can go back and look at that you think might have been different in the past. The fact is you just have to get in the box and be confident, expect good things to happen.
"I've always said, 'If you expect bad things to happen, they're more likely to happen. If you expect good things to happen, it's more likely to happen.' So it's about getting that confidence up."
When LaRoche fell into a slump last year with the Nationals, he didn't panic and was rewarded for his patience. Through July 22 last year, he was hitting .275 with 13 home runs, but he went on to hit 13 more in the months of August and September alone.
Before Wednesday, LaRoche had hit safely in each of his last three games, but he's struggled with runners on base. In 140 chances, he had recorded just 23 hits and tallied a .310 slugging percentage.
"He's a pro, so he can handle that," said White Sox manager Robin Ventura. "It doesn't mean it makes him feel any better. The numbers are where they are, but he's a guy who has done it in the past. He's had his ups and downs, but he always seems to fight his way back."
In the past, LaRoche said he's reached base on three poorly hit balls and built off that. Other times, he's maintained the same approach at the plate, regardless of the outcome. Those are the times, LaRoche says, when you can fall into a bigger slump.
Still, the even-keeled and patient veteran still gets irritated when he can't produce. LaRoche has been in the "mental grind" before, as he calls it, and with his team struggling to begin the second half, he's hoping to do so quickly.
"I'm sure I've had times when I've said, 'This is baffling, the worst it's ever been,' " he said. "But, yeah, it's confusing, frustrating, and you think you've figured it out for an at-bat or two, and then it's gone.
"In the past, I've been able to figure it out and then hold onto it for a while. You just keep going and keep pushing."
Greg Garno is an associate reporter for MLB.com. This story was not subject to the approval of Major League Baseball or its clubs.