Astros honor life of longtime scout Matthews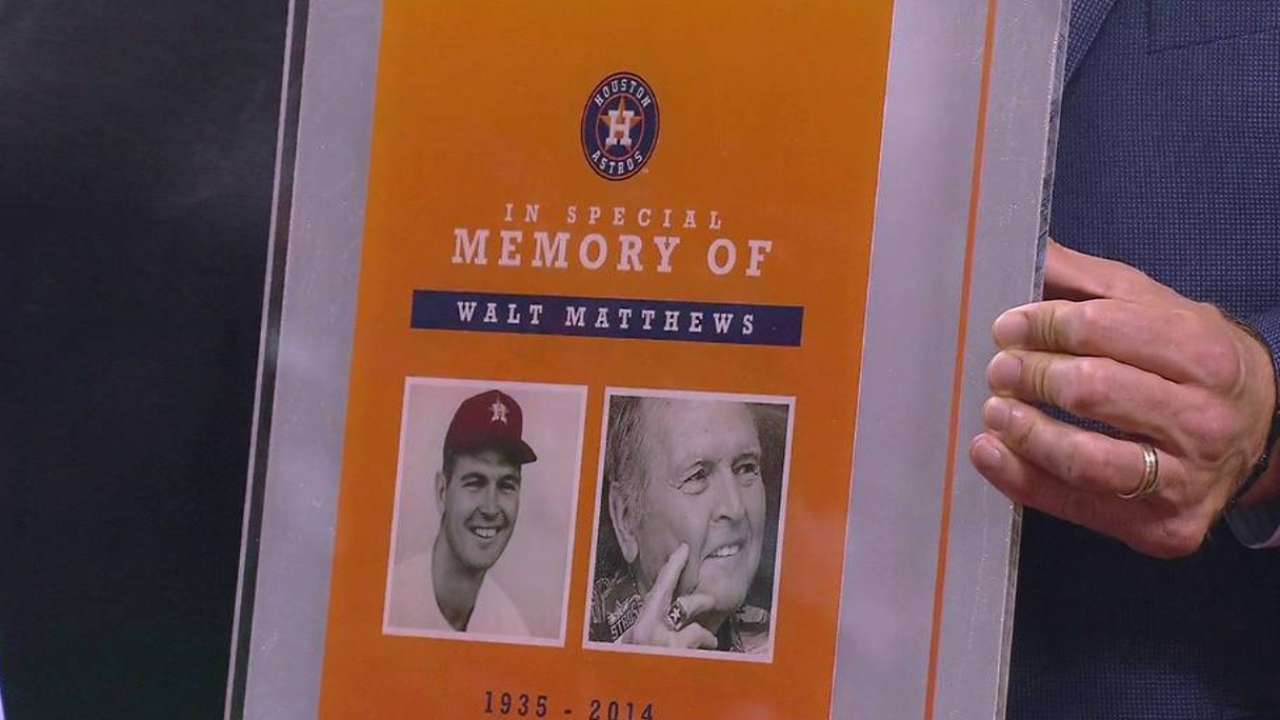 HOUSTON -- The Astros honored the career of long-time scout Walt Matthews during a pregame ceremony prior to Wednesday night's game against the Red Sox.
Matthews, who passed away last year at the age of 79, served the organization for 51 years, which is the longest in franchise history. The team presented his widow, Vicki Matthews, with a plaque, and her 11-year-old grandson, Jaxon, threw out the ceremonial first pitch. The Astros have placed a plaque honoring Matthews in the press box on the wall outside of the media dining room at Minute Maid Park.
Astros veteran pro scout Paul Ricciarini was a close friend of Matthews and credits him with being a major influence on his career.
"I think of Walt, the man, so unselfish and just so much larger than life," he said. "I used to call him another Duke Wayne. He had that kind of presence and just that engaging personality. He had a great sense of humor, great wit. Boy I tell you, he was as good as it gets because he would always take the time for all of us. If we had questions, he could sense if we were confused about an issue with scouting and he'd sit right in without embarrassing or undermining and just help you work through it."
In addition to his long career as a scout, Matthews served the organization as a Minor League player and manager. Prior to his baseball career, Matthews starred in both baseball and football at the University of Arkansas, helping to lead the Razorbacks to the 1955 Cotton Bowl as a defensive tackle.
Upon graduation, he was drafted by the St. Louis Cardinals, but would spend the majority of his Minor League career as a first baseman and outfielder in Houston's farm system with the Durham Bulls beginning in 1961. Matthews set a franchise record with 30 home runs in 1963 while with the Bulls.
More importantly, Matthews was credited with helping many young players, most notably an 18-year-old Joe Morgan, with whom he played with at Durham in 1963. As a result of the racial slurs and threats Morgan faced from opposing fans that season, he intended to quit the team and return to his home in California.
But Matthews encouraged Morgan to stay and was successful in reducing the racial abuse. As a result of Matthews' encouragement, Morgan stayed the course and continued to flourish, ultimately going on to a Hall of Fame career. Morgan has often spoke about the influence that Matthews had on his early career.
Matthews became a talent scout for the Astros in 1967, and would remain with the organization until his retirement in 2012. After a lengthy illness, he passed away on April 28, 2014.
"He was a tremendous inspiration and influence on so many people, not just because of the wisdom from a scouting and baseball acumen, but for the person that he was," Ricciarini said. "There was so much character, so much fun to be around. Walt was a terrific athlete himself, so he could really back up what he used to talk. We miss him terrifically. Each day I think of him, and that says a lot about someone. There's not a day that goes by I don't think of Walt."
Brian McTaggart is a reporter for MLB.com and writes an MLBlog, Tag's Lines. Follow @brianmctaggart on Twitter and listen to his podcast. This story was not subject to the approval of Major League Baseball or its clubs.