Pearce opts for DL to rest ailing oblique
Versatile veteran sits to create roster spot for Gausman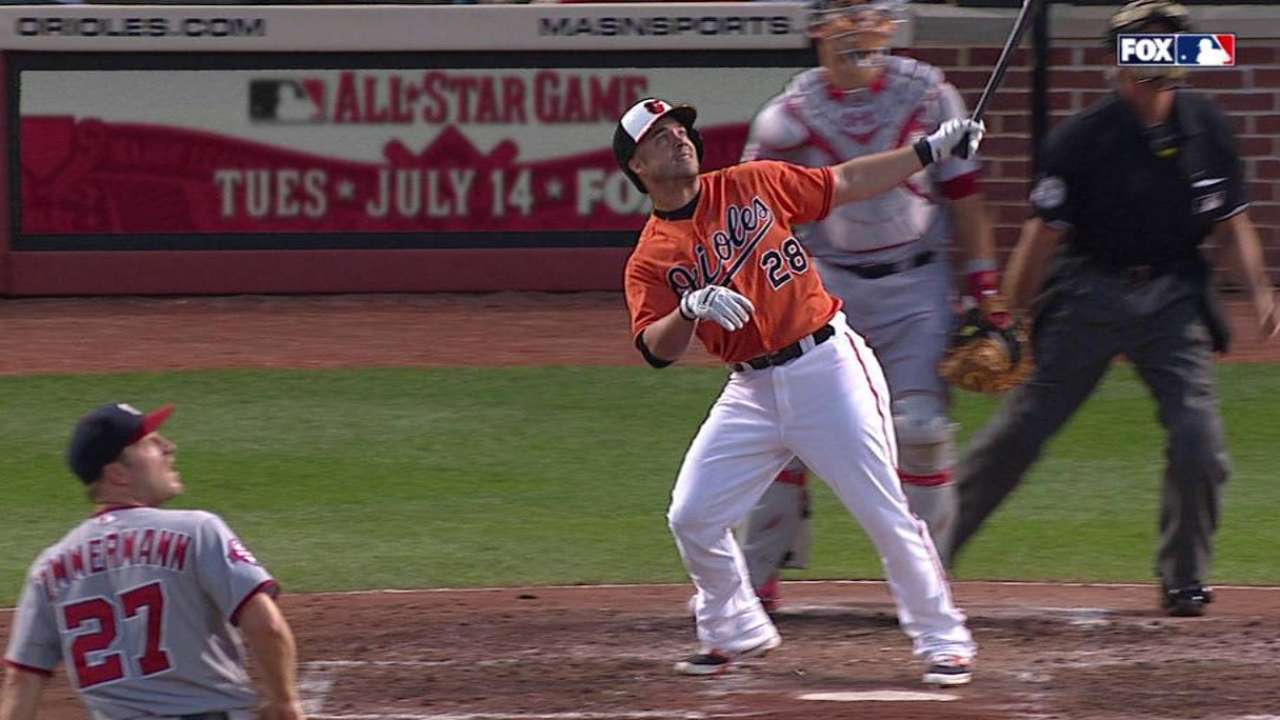 NEW YORK -- Buck Showalter had an idea Tuesday afternoon of who the Orioles would send down to make room for right-hander Kevin Gausman, but he indicated at this point in the season, no move is an easy one for the O's. To a certain extent, Wednesday was the exception.
"[Steve Pearce] came in my office about 2:30 today and said, 'Listen, I know we've got a pending move coming,''' Showalter said. "He said, 'I'm kind of at the point where [the left oblique] is really bothering me. It really hasn't gotten any better the last day or two.'"
And so, Pearce is headed to the 15-day disabled list, retroactive to July 19, with a left oblique strain.
Showalter said Pearce told him that he didn't want the Orioles to have to make another move Wednesday, only for Pearce to possibly land on the DL a couple of days later, so he was proactive in his conversation with the manager.
Pearce said he expects to take a train back to Baltimore on Wednesday night so that he can have an MRI on Thursday. After the MRI, he plans to join the team in Florida for a road series against the Rays.
The infielder/outfielder said he has never had an oblique injury before, but that the pain began to escalate over the course of a few days.
"It just needed to be done. It kind of stinks that I'm going on it, but it needed to be taken care of," he said. "It's getting to a point where it's still feeling more threatening than I'd like."
Showalter said J.J. Hardy has had some experience with this type of injury and gave Pearce some advice earlier in the day.
Pearce is hitting .227 with 24 RBIs and seven homers. He has played double-digit games at first base, second base and left field. He's also played six games in right field. Showalter said Pearce had been on the medical report for a few days and received some treatment in Detroit.
"He's a guy that he doesn't complain about anything," Showalter said. "He just posts up, so I appreciate his honesty and I'm sure there's a player on our team that really appreciates it."
Gausman was recalled from Triple-A Norfolk, where he spent part of the All-Star break to stay on a regular schedule. A strong outing Wednesday could keep him at the Major League level.
Grace Raynor is an associate reporter for MLB.com. This story was not subject to the approval of Major League Baseball or its clubs.