Recharged Brantley delivering for Tribe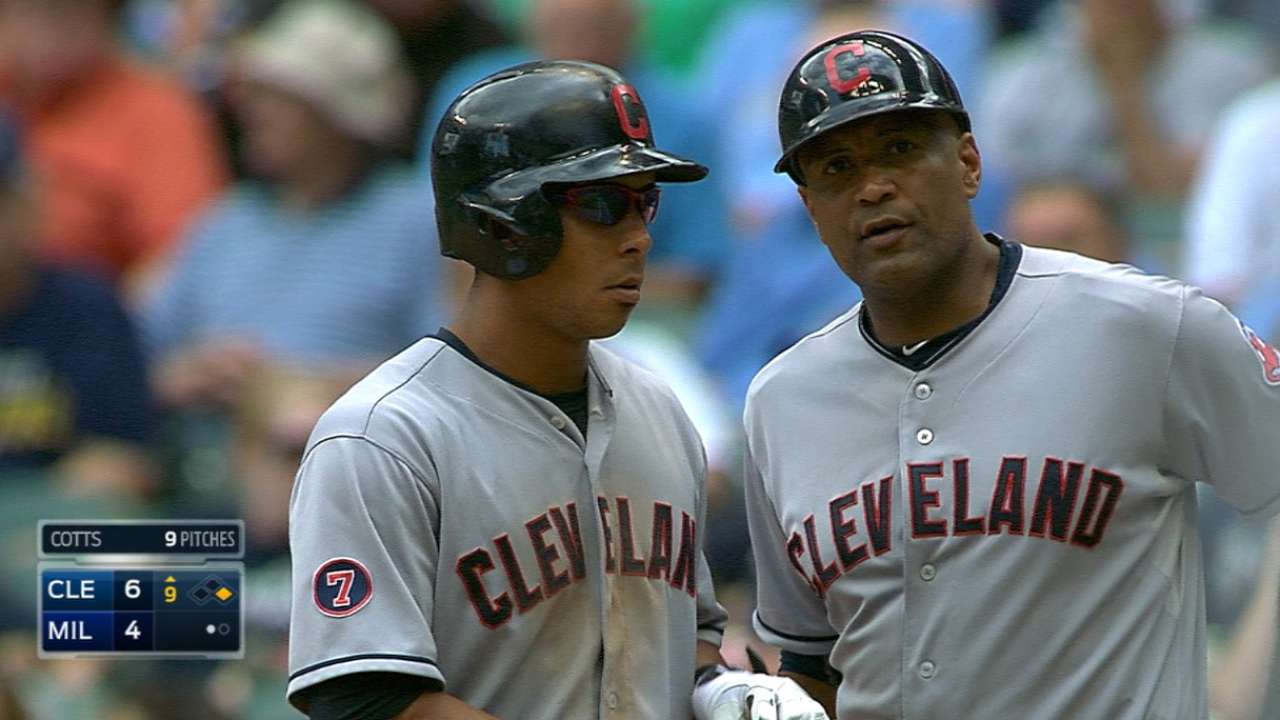 MILWAUKEE -- Do not expect to find any sawdust on Michael Brantley's batting gloves. When runners are in scoring position, the Indians' smooth-swinging outfielder does not grip the bat handle too tight.
On Wednesday, Brantley put his poise on display in a 7-5 victory over the Brewers at Miller Park, which he once thought would become his home ballpark. The exception to Cleveland's issues with runners in scoring position took it to the team that originally drafted him, finishing a triple shy of a cycle in a four-hit, four-RBI performance to conclude Cleveland's five-game road trip.
When Brantley sees runners on base, he has only one thing on his mind.
"Get the runners in," Brantley said. "It's point blank and simple. Do whatever I can to get the runners in."
Brantley makes it sound so easy, and he makes it look that way, too.
With his 4-for-5 showing, Brantley improved his season average to .364 (32-for-88) with runners in scoring position and .471 (24-for-51) with RISP and less than two outs. Take Brantley out of the mix, and the Indians are batting just .211 with RISP this season. Accounting for 18.4 percent of Cleveland's hits with RISP, Brantley's production lifts the Indians' season average to .229.
With runners on the corners in the third inning, Brantley pulled a 1-0 changeup from Brewers righty Kyle Lohse to right field for a three-run homer (his seventh blast of the year). In the fifth, Brantley slashed a pitch to left field to score Jason Kipnis from second base. For good measure, Brantley added a double in the seventh inning and a single in the ninth.
Brantley said "there's no secret" to hitting with RISP.
Indians manager Terry Francona went a little more into detail on what has made Brantley successful.
"One, he's a really good hitter," Francona said. "And he doesn't need to do more, because he's such a good hitter. But he realizes that. He's smart and he knows for the most part how guys are going to attack him. He doesn't take a ball that's outside and pull it, or something offspeed and roll over. He stays on balls and he just stays through the ball -- probably more so when runners are in scoring position, which is good.
"He's not very susceptible to something slow, even in a fastball count."
Brantley was taken by the Brewers in the seventh round of the 2005 Draft, but was dealt to the Indians as a player to be named to complete the trade that sent CC Sabathia to Milwaukee in '08. The Indians only received Brantley because Milwaukee reached the playoffs that fall. Cleveland would have received infielder Taylor Green had the Brewers not clinched a spot in the postseason.
Brantley, who had never played the Brewers until this week, has no ill will toward his old organization.
"Absolutely not. I've got the utmost respect for those guys over there," Brantley said. "The first-base coach and third-base coach were my managers -- Mike Guerrero and Eddie Sedar. ... They taught me a lot. Any time you get to see them and play in front of them, it kind of gets you excited. It was a unique trade, but I've always got to be thankful. They gave me the first opportunity to play professional baseball."
Brantley enjoyed a breakout showing last year (earning a Silver Slugger Award and finishing third in American League Most Valuable Player voting), but battled through a back issue through this season's first few months. Since the All-Star break, the outfielder has looked rejuvenated, going 9-for-19 (.473) with two homers, three doubles and nine RBIs in the first five games of the second half.
Now, Brantley is batting .302 with 34 extra-base hits, 55 RBIs and more walks (42) than strikeouts (26).
Perhaps the break provided the kind of rest Brantley required.
"It sure looks like it," Francona said. "He's back to doing what he does."
"Any time that you get a four-day break," Brantley said, "you get to spend some time with your family and just kind of get away and relax your mind from the daily grind of baseball, it's going to help. Coming back, I was excited to be back here with my teammates and getting the second half started. We've got a lot of work to do in the second half."
That includes continuing to lead the way with runners in scoring position.
"The more chances you get, the better opportunities we're going to have, obviously," Brantley said. "It's a learning process every day that we go out there. Hopefully, we build off of it."
Jordan Bastian is a reporter for MLB.com. Read his blog, Major League Bastian, follow him on Twitter @MLBastian and listen to his podcast. This story was not subject to the approval of Major League Baseball or its clubs.