Counsell keeping faith in Lohse despite woes
With Peralta set to return and Trade Deadline looming, Brewers have decisions to make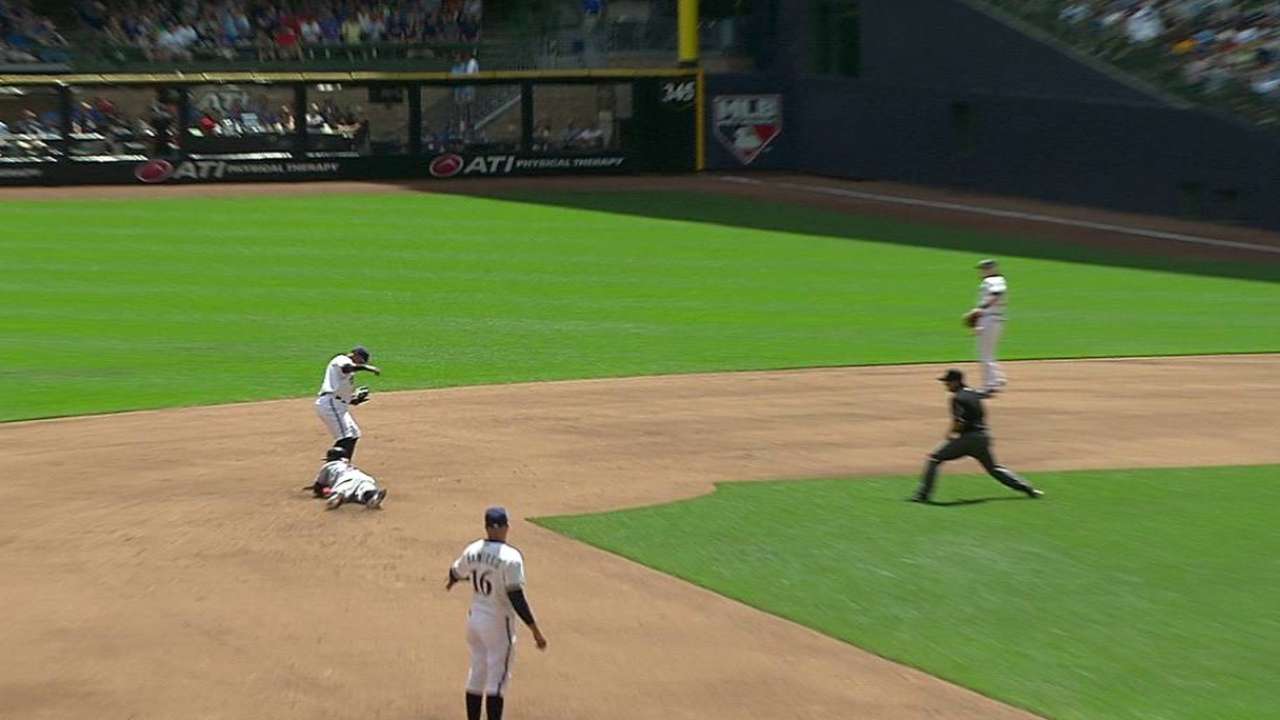 MILWAUKEE -- After a 7-5 loss to the Indians on Wednesday at Miller Park, Craig Counsell and Kyle Lohse slipped into the same uncomfortable territory that claimed previous Brewers managers and big-money pitchers. Just like Ned Yost and Ron Roenicke before him, Counsell remained committed to his struggling veteran starter. And just like Jeff Suppan and Randy Wolf, Lohse said decisions about the Brewers' starting rotation were not his to make.
"Ever see a guy try to pull something off the shelf, drops it, tries to put it back, knocks it over some more and the whole thing falls down?" Lohse said after allowing five runs and 10 hits in five innings, pushing his ERA after 20 starts to 6.29.
"Yeah, [it feels] about like that. … It's real frustrating. I just keep doing everything I can in between starts to get things going."
Counsell said there would be another start for Lohse, on Monday in San Francisco. But the Brewers' rotation figures to have a different composition by the time the team returns from a West Coast road trip, partly because the July 31 non-waiver Trade Deadline is looming, and partly because right-hander Wily Peralta appears ready to rejoin the Brewers after two months on the disabled list with a left oblique strain.
Peralta will join the team in Phoenix after making three Minor League rehabilitation starts, Counsell said Wednesday morning. But Counsell could not say whether Peralta's next start would be in a Brewers uniform, or whether the team would buy some time by sending him back to an affiliate for one more Minor League start.
Peralta's fate is tied to that of Lohse, who surrendered two more home runs Wednesday and fell to 5-11 in a stunningly difficult season that followed four terrific ones.
For the 17th time in his 20 starts, Lohse allowed at least one home run. He served up two: Indians rookie Francisco Lindor connected for a first-inning solo shot, and former Brewers farmhand Michael Brantley erased a 4-1 Brewers lead with a three-run homer in the third. Brantley added a go-ahead RBI single off Lohse in the fifth.
"To me, he's got a great ability to pitch with runners on base and that hasn't gone anywhere, but he's got to keep the ball in the park," Counsell said. "That's the difference in his starts where he goes six innings, two runs, and where they put up four or five runs."
With Peralta ready to return, Matt Garza still in the midst of a long-term contract and Mike Fiers, Jimmy Nelson and Taylor Jungmann pitching so well in July, why keep Lohse in the rotation?
"Well, I think his track record keeps him [in the rotation]," Counsell said. "He's had two darn good years here, and you hope he gets it going."
Lohse should be a prime trade candidate for a Brewers team stuck in last place in the National League Central. He went 54-30 with a 3.28 ERA from 2011-14, spanning his final two seasons in St. Louis and the first two seasons of a $33 million, three-year contract with Milwaukee. Lohse's worst ERA in those years was 3.54, his mark last season while allowing 22 home runs in 198 1/3 innings.
As of Wednesday, Lohse's 2015 home run count had already surpassed his '14 mark. Of Lohse's 23 long balls, 15 have come at Miller Park, where he owns a 8.15 ERA in 11 starts.
"Obviously if I had the answer, like if it was plain and simple, I'd be able to turn it like that," Lohse said. "We're trying everything we can. I feel healthy, feel good. It's just a matter of figuring out what we're doing out there during games, it's just not working, because bullpens are good. Everything in between starts is good, and then we're just giving up way too many runs."
Adam McCalvy is a reporter for MLB.com. Follow him on Twitter @AdamMcCalvy, like him on Facebook and listen to his podcast. This story was not subject to the approval of Major League Baseball or its clubs.