McClendon: Walker's inconsistency expected
In first full season in rotation, 22-year-old having rollercoaster year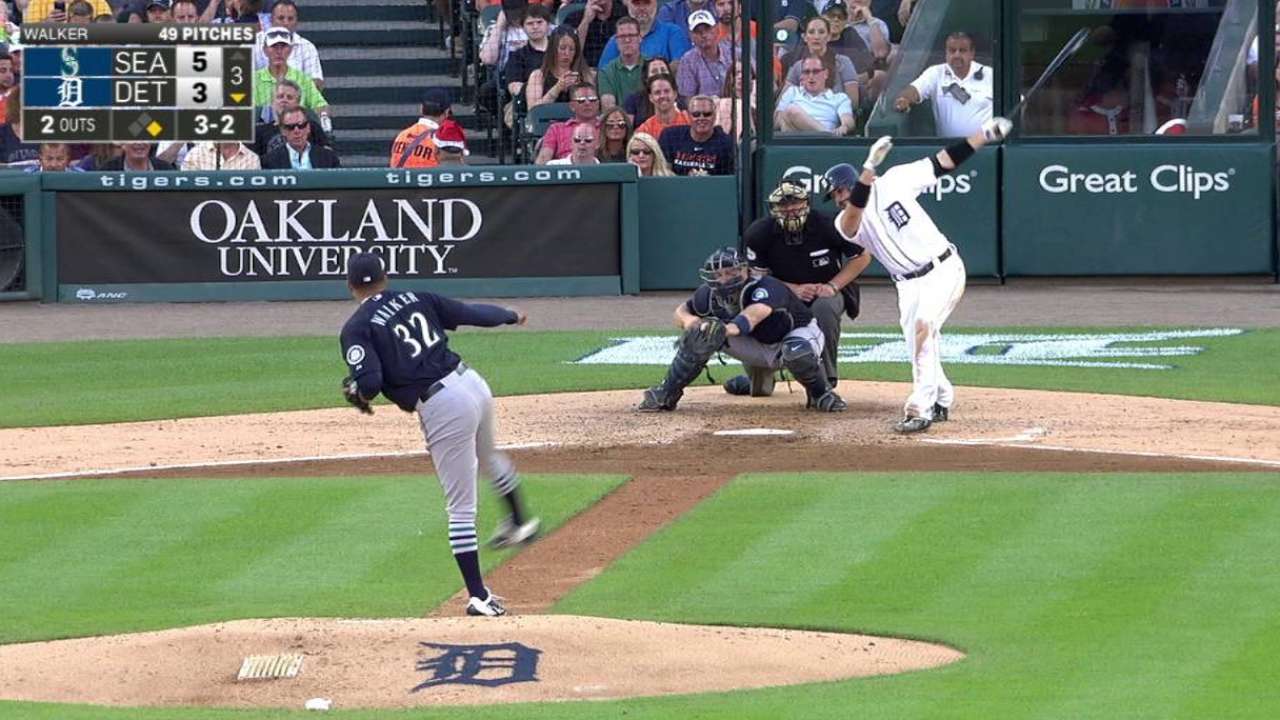 DETROIT -- The topsy-turvy season of Taijuan Walker has taken a downturn his last few starts as the Mariners' young right-hander has been hit hard twice by the Tigers and seen his ERA bounce back over 5.00 for the year.
But manager Lloyd McClendon said Wednesday he's not concerned about the 22-year-old's progress in his first full season in the Mariners' rotation.
"Nothing has changed with Walker," McClendon said. "We said you hope you get three-of-five good starts and in the course of the season he's going to struggle from time to time. But in the end he's going to make you proud and I think he's done that. You expect some clunkers from a rookie from time to time."
Walker had turned things around after a poor start to the season by going 5-0 with a 1.67 ERA over a dominant five-start stretch from June 10 to July 1, but he's had Tiger troubles now in two of his last three starts.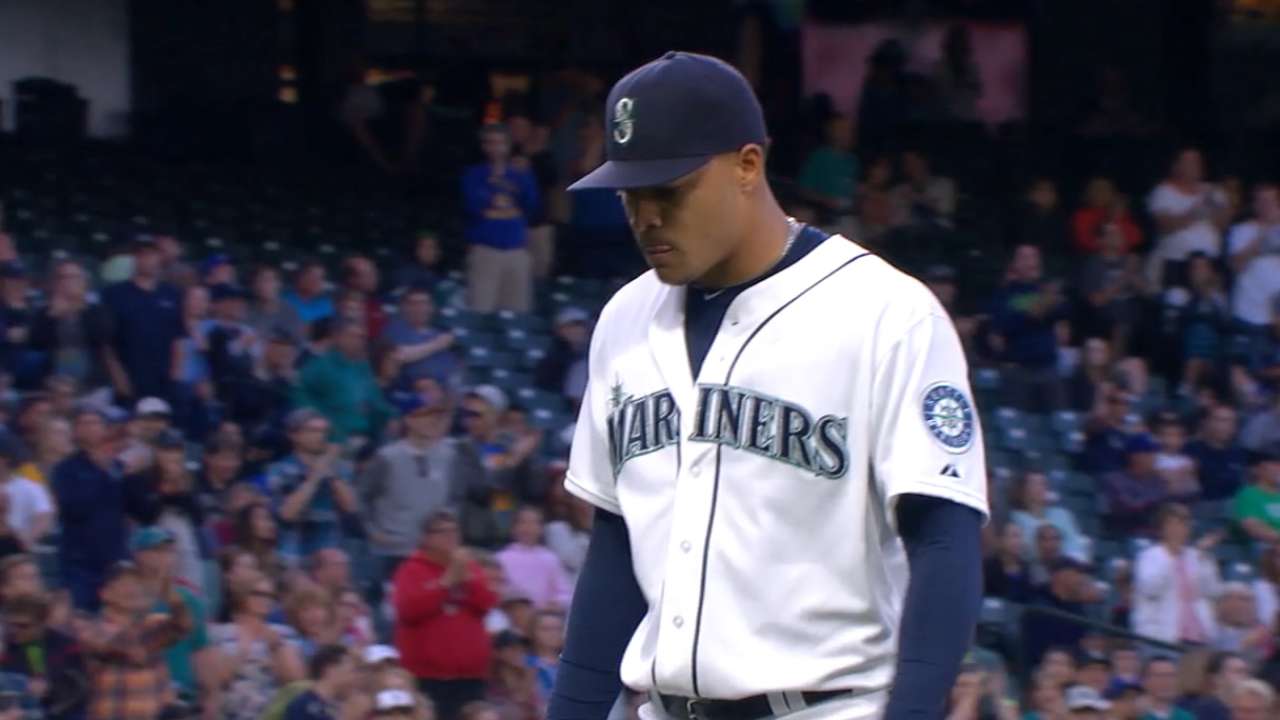 Detroit has racked up 11 runs (10 earned) and five home runs in 10 1/3 innings against Walker in two games now since July 7. Coupled with a loss to the Angels in the final game before the All-Star break, he's posted a 9.39 ERA over his last three outings to see his ERA hiked back up to 5.06 for the year.
One thing that's remained constant: Walker continues to throw strikes in impressive fashion, as he had four strikeouts with no walks in Tuesday's no-decision in Seattle's 11-9 victory, giving him 65 strikeouts with just four walks over his last 10 starts.
Still, McClendon said command is Walker's problem when he's not getting his best results. The youngster's mid-90s velocity doesn't change, but when his location is sharp, he's much tougher.
"His stuff was plenty good [Tuesday], but he missed spots down when he was trying to go up. He missed middle when he was trying to go away. He just didn't have his command," McClendon said after Walker gave up seven hits and six runs (five earned) in 4 1/3 innings.
Walker's command, even during his struggles, is still much improved from the early season when he went 1-5 with a 7.33 ERA while walking 23 in his first nine starts.
"Sure, it's better," McClendon said. "Detroit had a lot to do with [his struggles]. They've got a good lineup over there."
"Those guys don't miss mistakes," Walker said. "It was frustrating because the offense gave me a huge lead and I gave it up. But the guys picked us up and we got the win."
WORTH NOTING
• After being one of two teams in the Majors (along with the Dodgers) who didn't hit a grand slam in 2014, the Mariners have four slams this year after Franklin Gutierrez unloaded the bases in Tuesday's win. The A's lead the American League with five grand slams, with Seattle tied with the Yankees for second-most in the league.
• Seattle's pitchers allowed the fewest homers in the AL in the first month of the season (14 in 22 games). But since May 1, the Mariners are tied with the Tigers for the most long balls allowed (87 in 72 games) going into Wednesday's action.
• Helped by Nelson Cruz's 22 homers, the Mariners went deep 100 times -- sixth most in the AL -- in their first 94 games. Last year they didn't record their 100th homer until the 125th game.
• Saturday's game against the Blue Jays at Safeco Field will be a 1:10 p.m. PT start in order to avoid conflict with the Seafair Torchlight Parade, which begins at 7:30 p.m. in downtown Seattle.
Greg Johns is a reporter for MLB.com. Follow him on Twitter @GregJohnsMLB, read his Mariners Musings blog, and listen to his podcast. This story was not subject to the approval of Major League Baseball or its clubs.