Betances feeding off Bronx energy
Reliever shines in multiple roles out of Yankees bullpen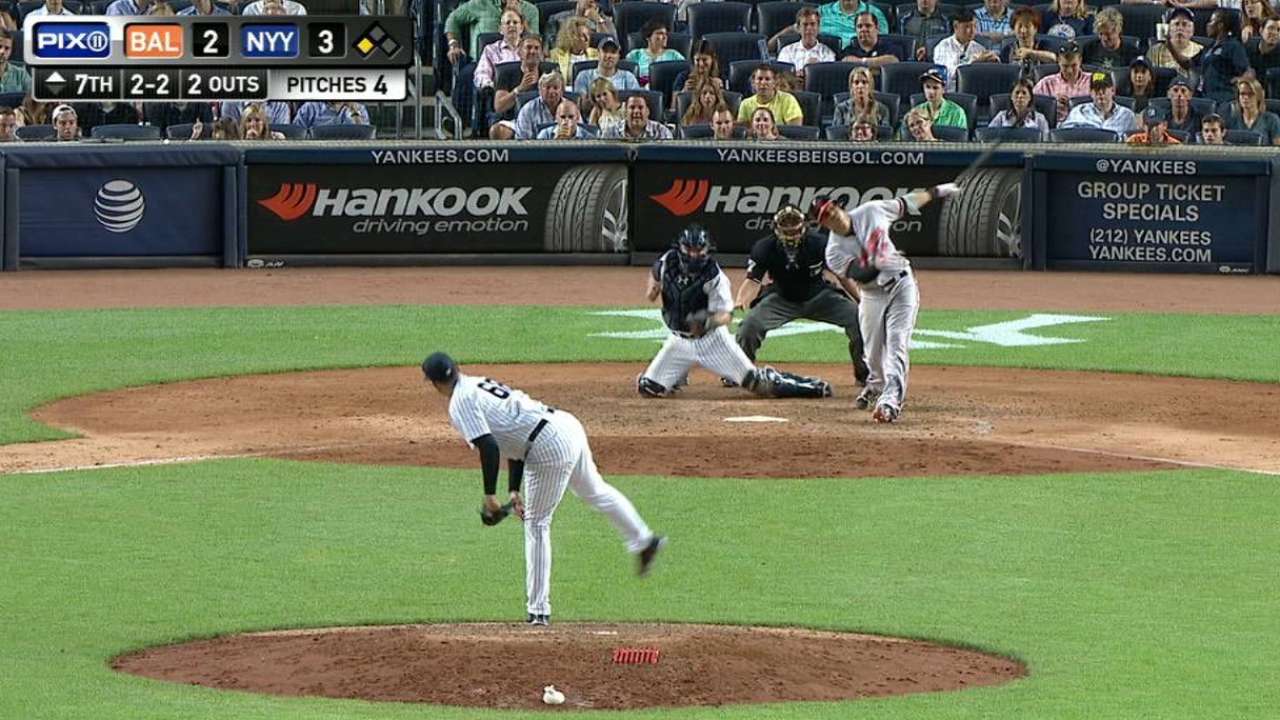 NEW YORK -- The bat head helicoptered toward Dellin Betances, who completed his follow-through without even so much as a flinch. It may have appeared fearless, but truth be told, the Yankees reliever didn't notice the shattered lumber until a few shards touched his glove.
Betances felt somewhat fortunate after Chris Davis' eighth-inning single in Tuesday's 3-2 Yankees victory over the Orioles; if dodging broken bats is the most challenging part of an outing, the All-Star will take it. He has embraced life out of the bullpen and is making a difference in the American League East race.
"Every time I go out there, I believe in myself," Betances said. "I believe I can go out there and do the job. I guess in the last year or so I've gotten a lot of experience and I've learned from a lot of veteran guys how to go about certain situations. The key is to try to have a game plan and attack it."
Betances had a key seventh-inning showdown with Baltimore All-Star Manny Machado on Tuesday and got the better of the third baseman, striking him out on a nasty slurve in the dirt. Betances has struck out 46 of his last 105 batters faced and leads all relievers with 81 strikeouts, having excelled both as a setup man and as a fill-in closer while Andrew Miller was on the disabled list.
"He's been great. No different than last year," Yankees manager Joe Girardi said. "He's really picked up where he left off and done a tremendous job, whether we've closed with him or he's thrown parts of the seventh or the eighth. He's just had a tremendous year."
A New York City product who grew up as a Yankees fan, attending David Wells' perfect game with the Bleacher Creatures, Betances said he especially feeds off the adrenaline of entering a game in the Bronx. Opponents surely can attest to that.
"This means a lot, because I've gone through a lot," Betances said. "It wasn't easy for me to get here, and now that I'm here, I'm trying to do the best job to help the team win, and obviously it's nice doing that at home. I'm living the dream, sometimes I've got to pinch myself. It's surreal at times, to be honest with you. Every time I put the uniform on, it's a blessing, and I just try to go out there and do the best job I can do."
Worth noting
• Outfielder Mason Williams, who has been on the disabled list since June 21 with right shoulder inflammation, will travel to Tampa, Fla., on Thursday for the next stage in his rehab. Girardi said Williams is not ready to play in games, but he has been increasing his throwing distance.
• The Yankees may insert a sixth starter at some point during their July 27-30 series at Texas, Girardi said, but there are no concrete plans to do so. Michael Pineda, CC Sabathia and Nathan Eovaldi are scheduled to pitch in a series at Minnesota that begins on Friday.
• Masahiro Tanaka, who starts on Thursday against the Orioles, has thrown 74 innings in 12 starts after tossing 136 1/3 in last year's injury-shortened campaign. Despite that, Girardi reiterated on Wednesday that Tanaka will not be subject to any innings limitations over the season's final months.
Bryan Hoch is a reporter for MLB.com. Follow him on Twitter @bryanhoch and read his MLBlog, Bombers Beat. This story was not subject to the approval of Major League Baseball or its clubs.