Cubs erase five-run deficit to stun Reds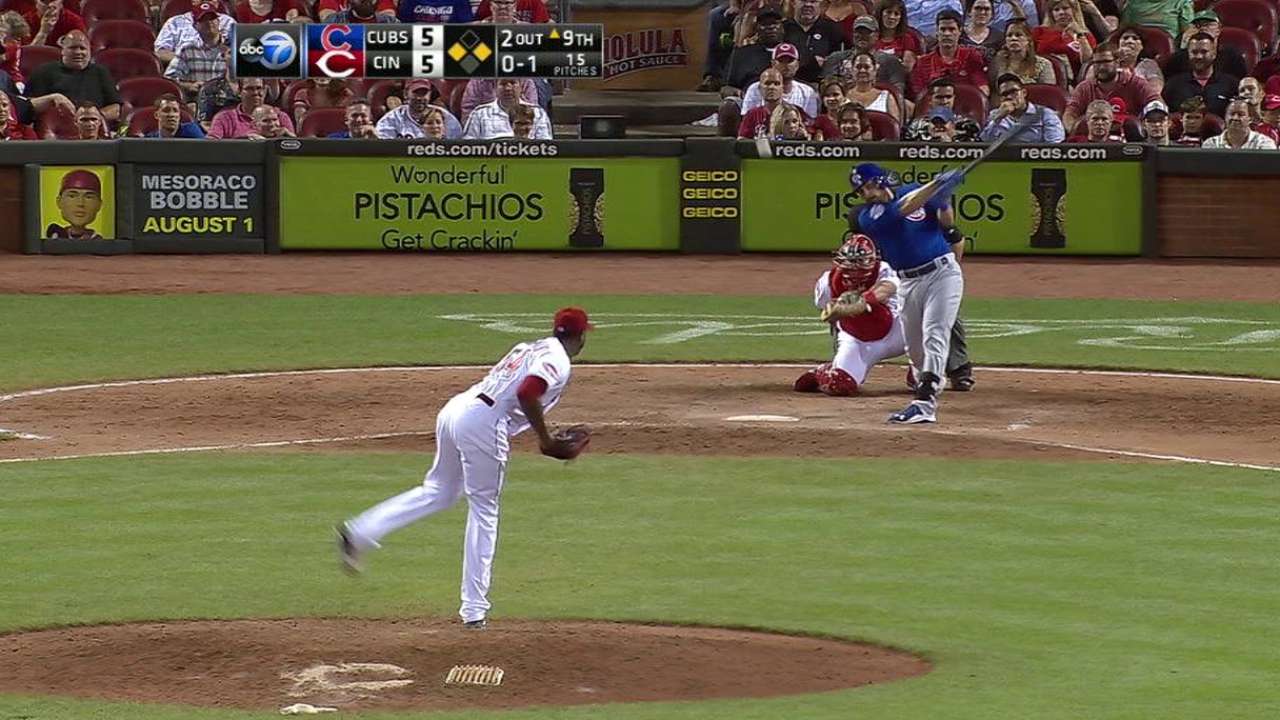 CINCINNATI -- The Cubs scored six unanswered runs to pull off a 6-5 victory over the Reds on Wednesday at Great American Ball Park to earn a split of a day-night doubleheader and the four-game series. Cincy won the twin-bill opener, 9-1.
Pinch-hitter Taylor Teagarden provided an RBI single to center field off Reds closer Aroldis Chapman in the top of the ninth to snap a 5-5 tie. Before that, Cincinnati's bullpen had worked five scoreless innings. Chapman's personal scoreless streak ended at 14 innings over 13 games.
• Reds' big bats back Leake in opener
• Teagarden beats Chapman for game-winning hit
• Votto reaches base nine times in one day
"Every win is huge," Teagarden said. "We started the first half right there in the hunt and we realize what's at stake here in the second half. Everyone is in it for the same reason. We are here every night to win the game and it seems like you get different contributors every night."
The Reds gave starting pitcher Tony Cingrani a 5-0 lead when 10 men batted in a five-run second inning that including Billy Hamilton's two-run double off Cubs starter Dallas Beeler. Cingrani promptly gave the whole lead away when Chicago sent 10 to the plate in the third and tied it up.
With one out in the ninth inning, Cubs leadoff man Dexter Fowler was thrown out at the plate by left fielder Marlon Byrd trying to score from second base on Anthony Rizzo's single. Rizzo went to second on the throw, and Chapman was ordered to issue the first intentional walk of his career, putting Jorge Soler on first. After Rizzo stole third base, Teagarden lined a single to give Chicago the lead. Hector Rondon pitched a scoreless eighth inning with two hits, but left the bases loaded to earn the victory.
MOMENTS THAT MATTERED
Maddon wins chess match: A bold call by Cubs manager Joe Maddon paid off in the top of the third inning as his team rallied vs. Cingrani. After the Reds issued a two-out intentional walk to .173 hitter David Ross so they could face Beeler, Maddon summoned Kris Bryant to pinch-hit. Bryant hit a two-run single to left field and made it a 5-5 game. Bryant was expected to get the second game off, but remained in the game at third base.
"How about KB coming up off the bench like that, early in the game being ready for the moment," Cubs manager Joe Maddon said. "That's pretty spectacular. A lot of guys wouldn't be ready for that moment, but he was." More >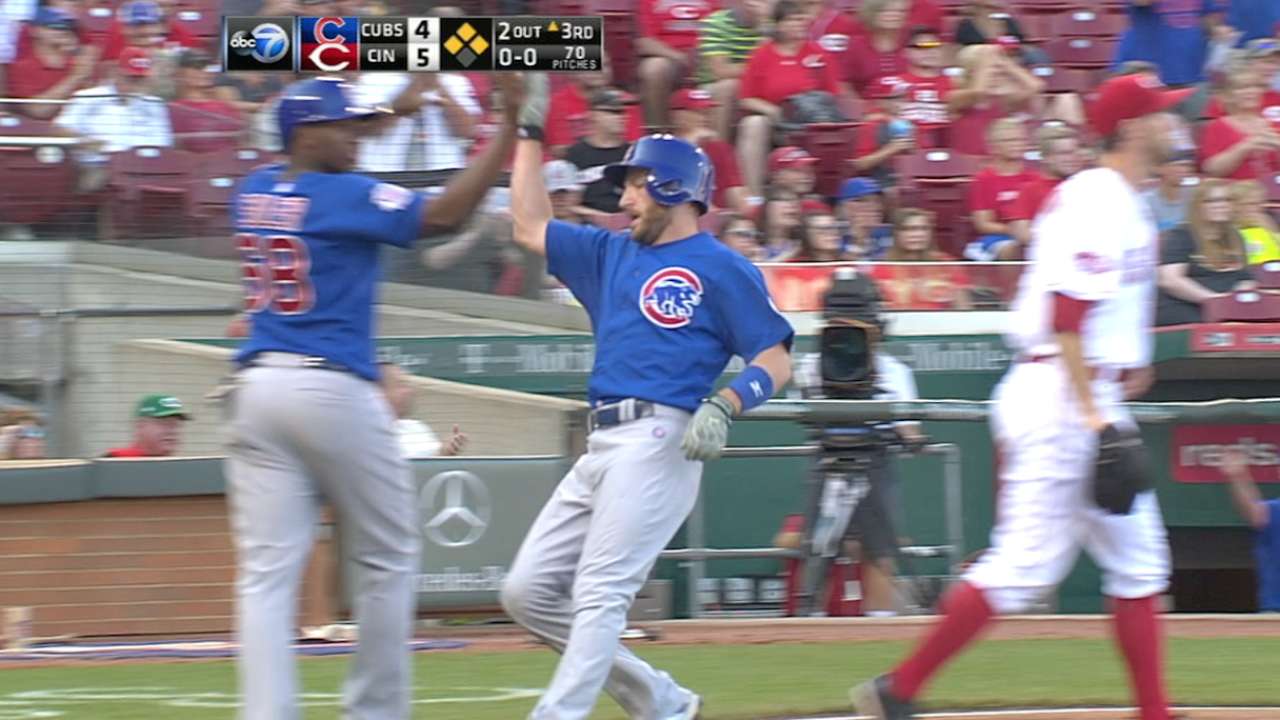 Hip save, and a beauty: It was a 5-5 game when the Reds' Skip Schumaker reached on a one-out infield single against Rondon in the eighth. Hamilton followed by rolling a hit into center field and speeding for a double. Joey Votto was intentionally walked to load the bases for Todd Frazier, but bad luck came when Frazier's comebacker bounced off Rondon's hip, straight to first baseman Rizzo, who fired home for a forceout. Jay Bruce followed with a routine flyout to left field.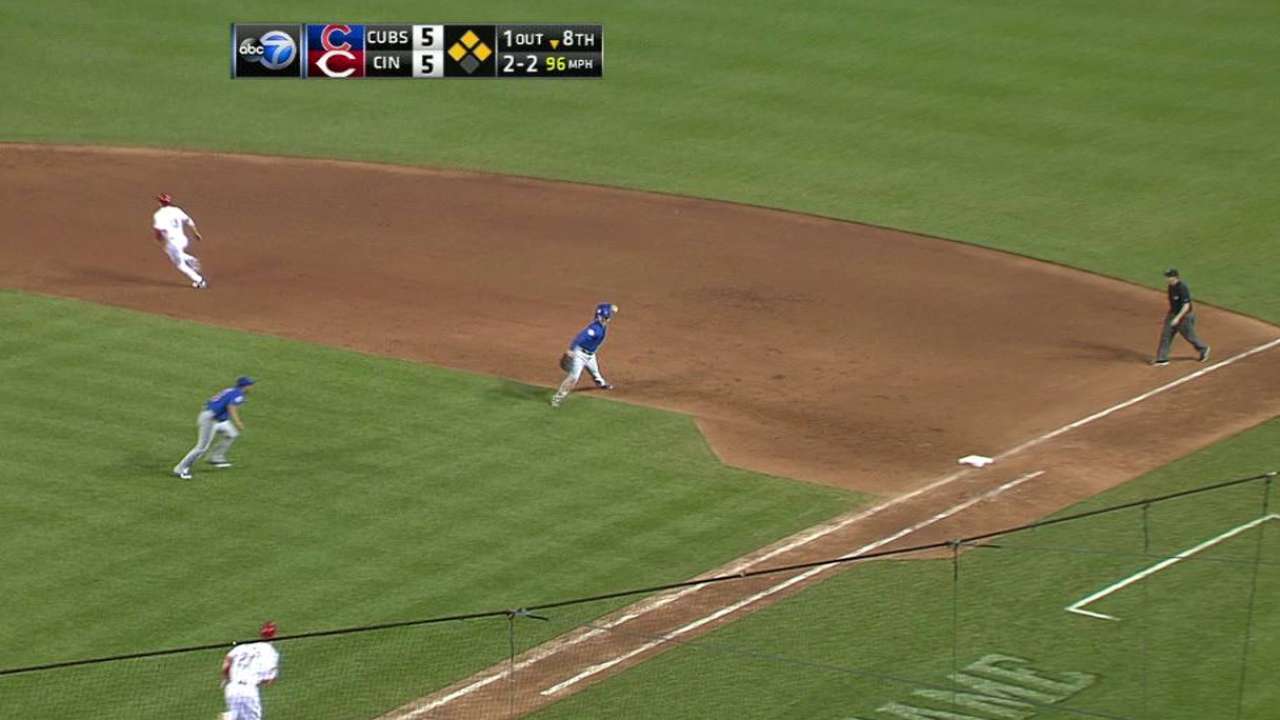 Motte-ly's crew shines: The Cubs had to turn to their bullpen after Bryant pinch-hit in the third, and it answered with seven scoreless innings. Five relievers combined to scatter seven hits, with Jason Motte closing the door in the ninth to pick up his sixth save.
"The bullpen did a heck of a job today, coming up and just going out there doing what we were asked, and that was to get guys out," Motte said. "We are ready to go regardless of the inning. That's what happened today, and the guys did a heck of a job out there keeping the game where it was and giving our guys a chance to score some runs." More >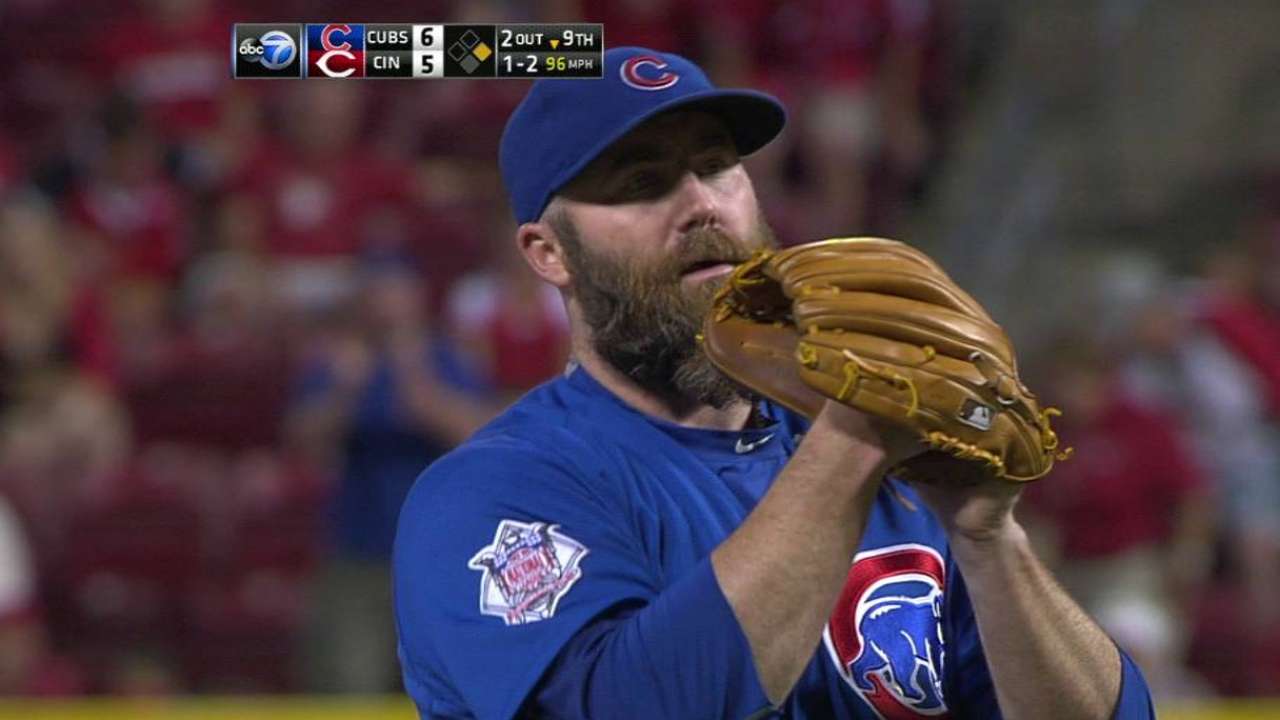 Villarreal picks up slack: Reds reliever Pedro Villarreal doused Cingrani's conflagration in the third to keep the Cubs from taking the lead. Villarreal worked around two hits to pitch a career-high 4 1/3 scoreless innings, retiring the first seven batters he faced. Of his 47 pitches, 34 were strikes.
"He gave us a chance to win that game," Reds manager Bryan Price said. "That was exactly what we needed right there. It's what we need more of - guys coming in and pounding the strike zone, getting quick outs."
QUOTABLE
"By the third inning, it was kind of a debacle. When I gave up that run, I started overthrowing. I settled down against [Addison] Russell, then the intentional walk and then I just got myself in a hole, 3-0, against Bryant. And that's how they scored five." -- Cingrani, who was optioned to Triple-A Louisville after the game.
UPON FURTHER REVIEW
Rules check: In the sixth inning with Ross on first base, Bryant hit a grounder back up the middle with second baseman Ivan De Jesus Jr. fielding it and flipping it to Eugenio Suarez for the forceout at second base. However, Maddon came out of the dugout to argue that Suarez had not touched the bag. After a long discussion, the umpires came to the headset for a rules check regarding whether the force at second base was a reviewable play. The umpires on the field ruled that the throw was "a true throw" and therefore the force play at second base was not reviewable. The out was allowed to stand.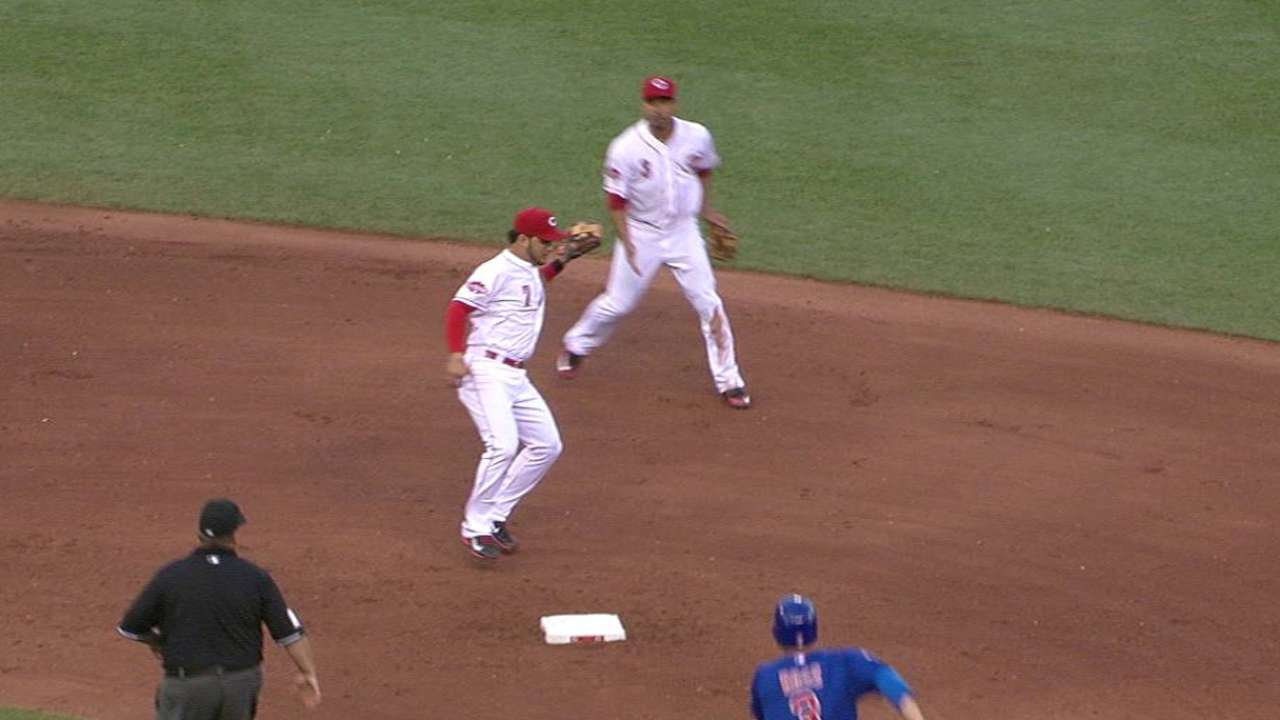 Block or not to block: The Cubs challenged whether Reds catcher Brayan Pena illegally blocked the plate when Fowler was thrown out in the ninth inning. After a one-minute and 31-second review, it was determined there was no violation by Pena and the call was confirmed to keep the game tied at 5-5.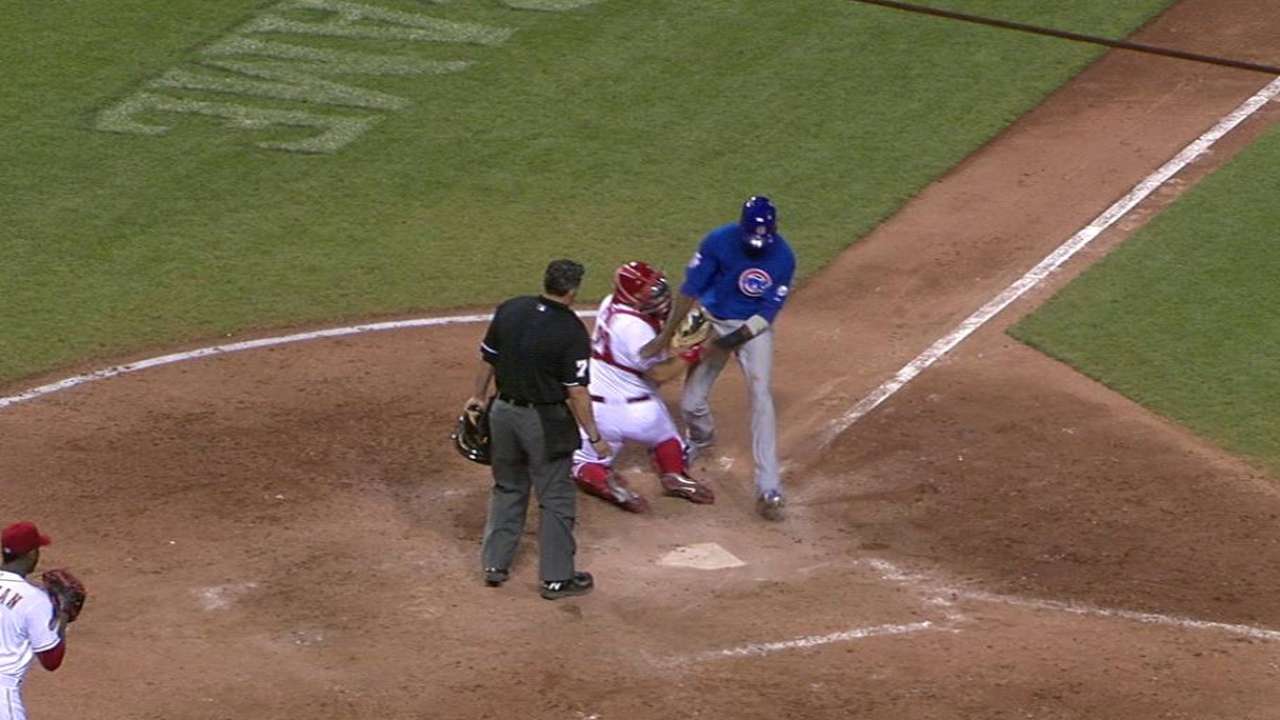 WHAT'S NEXT
Cubs: Chicago will get the day off Thursday before returning home to start a three-game series against the Phillies on Friday. Jon Lester (5-8, 3.37 ERA) will make his first start since carrying a no-hitter into the eighth inning against the Braves on July 18. First pitch is at 3:05 p.m. CT.
Reds: Anthony DeSclafani (5-7, 3.99) gets the call as the Reds open a series against the Rockies at Coors Field on Friday at 8:40 p.m. ET. The rookie allowed a career-high six earned runs and gave up two homers on Saturday vs. the Indians in his second-half debut.
Mark Sheldon is a reporter for MLB.com. Read his blog, Mark My Word, follow him on Twitter @m_sheldon and Facebook and listen to his podcast. Robert Bondy is an associate reporter for MLB.com. This story was not subject to the approval of Major League Baseball or its clubs.