MLB.com Columnist
Richard Justice
5 best trade fits for Kazmir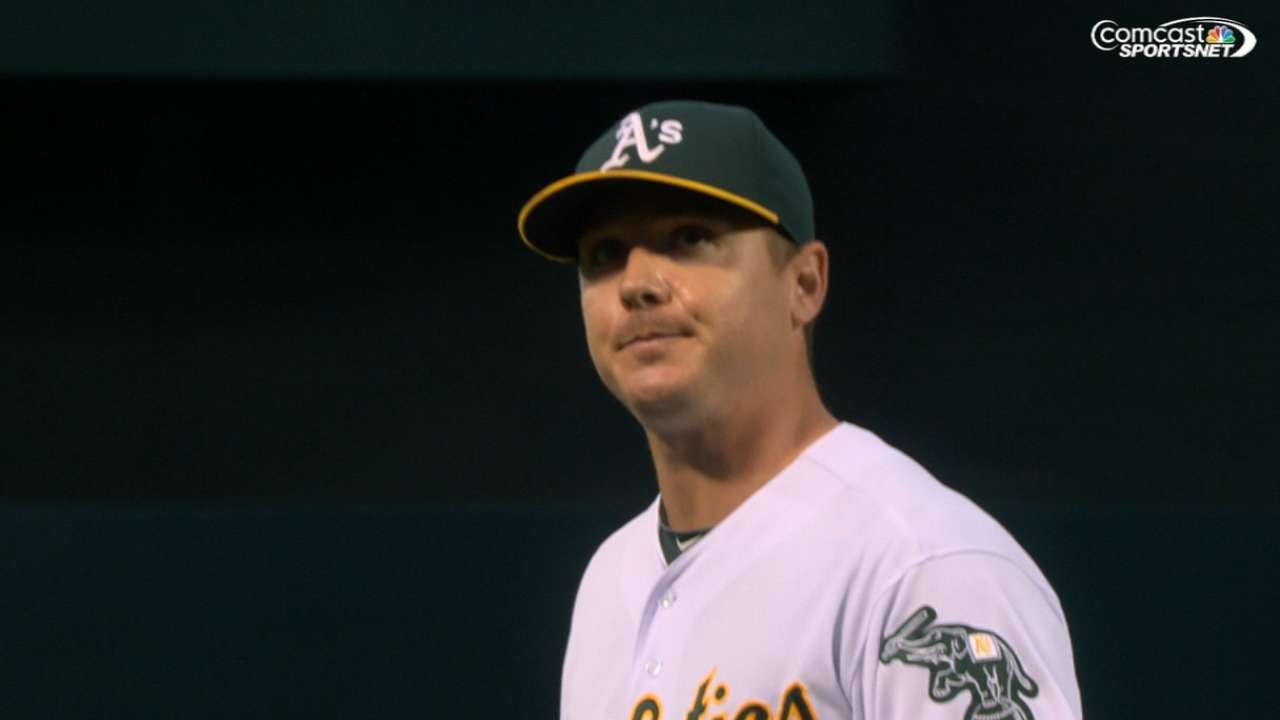 In the past two months, only one American League team has won more games than the Oakland Athletics.
As Oakland general manager Billy Beane considers whether to buy or sell, this surely is the thing that bothers him the most. He can take some small comfort in the fact that he got it right when he tore his roster apart and put it back together.
In the past 51 games -- and this is no small sample size, is it? -- the A's are 29-22. Only the 31-20 Angels have won more.
Wait, it gets better.
Oakland's 2.82 staff ERA during these 51 games is the best in the AL, and their rotation's 2.62 ERA is the second best in all of baseball, behind only the Cardinals', which is 2.57.
In Scott Kazmir, Sonny Gray, Kendall Graveman and Jesse Chavez, the A's have a front four that is probably the AL's best.
Surely, part of Beane is tempted to stay the course, to play this thing out and see if Oakland can make a run at a fourth straight playoff berth.
On the other hand…
Despite two months of solid baseball, the A's remain far out of the playoff conversation. At the beginning of play on Wednesday, they were last in the AL West and 11 games behind the first-place Angels. And that second Wild Card berth offered little comfort: Oakland is eight games out in that race and has nine teams to pass.
One thing Beane has always been, though, is practical. So, as painful as it might be, Beane probably will end up trading Kazmir by the July 31 non-waiver Trade Deadline.
Here's why:
Kazmir, who might be making his final start for the A's today against the Blue Jays, is a free agent after the season, and Oakland seems unlikely to win any kind of bidding war for him. And his value will never be higher.
At 31, Kazmir is having the best season of his career -- a 2.38 ERA and a 1.085 WHIP. Once upon a time, he was a young guy who threw hard.
Since taking off virtually all the 2011 and '12 seasons, Kazmir has completely remade his game. He still has that 92-mph fastball that originally got him to the big leagues, but he returned with a full arsenal, adding a cutter and curveball to a slider and changeup.
Kazmir is also better at knowing how to attack hitters and to match his strength against their weaknesses. As valuable as he has been to the A's, and as much as he could help a charge back into contention, there's probably more value for Oakland in dealing him.
If Thursday afternoon's start at home against the Blue Jays isn't Kazmir's last for the A's, the clock is almost certainly ticking.
At a time when the market for starting pitching is tremendous, here are five places Kazmir seems most likely to end up:
1. Astros
Kazmir grew up in the Houston suburbs and became a high school legend. He still calls it home. When Kazmir's career seemed on the brink, he returned there, and with some help from pitching guru Ron Wolforth at the Texas Baseball Ranch, he regained both his velocity and confidence. In 79 starts since, Kazmir has a 3.44 ERA and has gotten better each season. He would love a chance to return home and help his hometown team make its first postseason appearance in a decade. Likewise, the Astros would love to have Kazmir. Cole Hamels appears to be their first choice, because he's signed for four more seasons, but Houston has grown uncertain over whether he'll even be traded. Likewise, Cincinnati's asking price for Johnny Cueto may be higher than Astros general manager Jeff Luhnow is willing to pay. Kazmir makes more sense by the day if Beane does indeed decide to deal him. Houston has the farm depth to make it happen.
2. Dodgers
Just when the Dodgers seemed focused on help for a shaky bullpen, lefty starter Brett Anderson limped off the field with an Achilles injury on Tuesday. Now the team seems likely to pursue starting pitching in addition to whatever help it can find for the bullpen. Like the Astros, the Dodgers have the pieces to pull off such a deal, and because they have deep pockets to pursue anyone they want, they won't be scared away by Kazmir's potential free agency.
3. Royals
Suddenly, an area of strength is a cause of concern. Kansas City general manager Dayton Moore was already kicking the tires on potential top-of-the-rotation starters when lefty Jason Vargas exited Tuesday's start with an injury. With Yordano Ventura struggling and Kris Medlen just back from Tommy John surgery, the Royals would like some October insurance. Because Hamels has an estimated four seasons and $90 million remaining on his contract, and because he can veto a trade to Kansas City, he's an unlikely option. Kazmir, having pitched in the AL, has the advantage over Cueto and Mike Leake.
4. Yankees
The Yanks may win a 28th championship without doing a single thing. But general manager Brian Cashman is shopping hard for one more proven starter. Cueto may be No. 1 on his list, but adding a left-handed starter to Yankee Stadium makes sense. The Yankees intend to be cautious about trading their top prospects, but Kazmir would significantly position the club for the postseason.
5. Blue Jays
Toronto is checking in on an assortment of starting pitchers. Cueto seems to be the first choice and Hamels is a close second. But Beane is an aggressive trader, and if the Blue Jays make an offer with which he's comfortable, he will end the auction and do the deal.
Richard Justice is a columnist for MLB.com. Read his blog, Justice4U. This story was not subject to the approval of Major League Baseball or its clubs.