Cash says it's gut-check time for Rays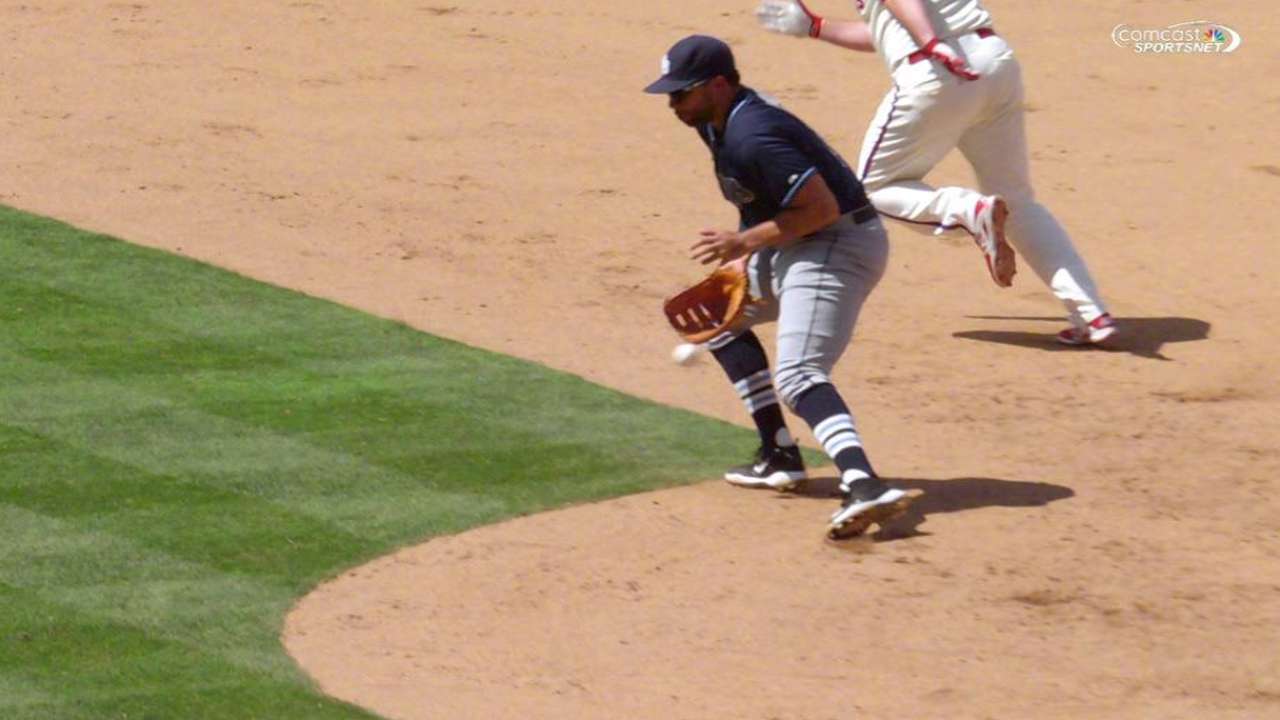 PHILADELPHIA -- Kevin Cash is not one whose emotions fluctuate widely in either direction. So even though the Rays finished their six-game road trip on a sour note, losing 5-4 in 10 innings to the Phillies on Wednesday afternoon at Citizens Bank Park, the Rays' manager did not wave arms, yell or point fingers at players. But clearly he was frustrated.
"I don't know what else to say," Cash said. "That was ugly. Not executing. Did a lot of things poorly. The Phillies got it done. Give them credit. They played well. Capitalized on their opportunities. We did not. That basically sums up the ballgame."
The Rays committed three errors, stranded 12 baserunners, made baserunning mistakes, and did not pitch when they needed to, prompting a reporter to ask Cash if Wednesday's game was the worst of the season.
"That was pretty rough to sit there and go through," Cash said. "We just had opportunity after opportunity. Don't capitalize. I don't need to point out each at-bat, but it was pretty obvious what took place.
"Kicked the ball around a little on defense. Threw it around. ... We have to make our own breaks. They were presented to us. It wasn't like anything was working against us. We just didn't execute and get it done."
The Rays finished the road trip to Toronto and Philadelphia with a 2-4 mark to fall to 48-49 on the season. They are 8-19 since June 20 heading into Thursday's off-day, which Cash allowed might be a good time for his team to regroup.
"Kind of a little bit of a gut check for all of us," Cash said. "Myself included. If 24 hours off helps evaluate that, then so be it. But we need to kind of flip a switch here now."
James Loney, who had one of the errors, noted that at some point of every season a team faces a "gut check" period.
"Whether it's the beginning, the middle or the end of the season," Loney said. "I mean, obviously you have to score more than they do and we just haven't been doing that lately."
Jake Odorizzi left after five innings leading 3-2. Brandon Gomes took over for the Rays' starter and surrendered two runs on three hits in one-third of an inning, prompting him to declare, "That one's on me."
"That's the type of game that we've taken pride in this year," Gomes said. "We've taken the lead and then the bullpen comes in and shuts them down. To go out there and just give it up like that, it's not easy to swallow."
Logan Forsythe said that the team is currently "good in some areas" but "we're just not firing on all cylinders."
"But I think that's soon to change," Forsythe said. "We'll get going well. You know team's go through it."
Bill Chastain is a reporter for MLB.com. Listen to his podcast. This story was not subject to the approval of Major League Baseball or its clubs.