Collins blames himself for 'huge' loss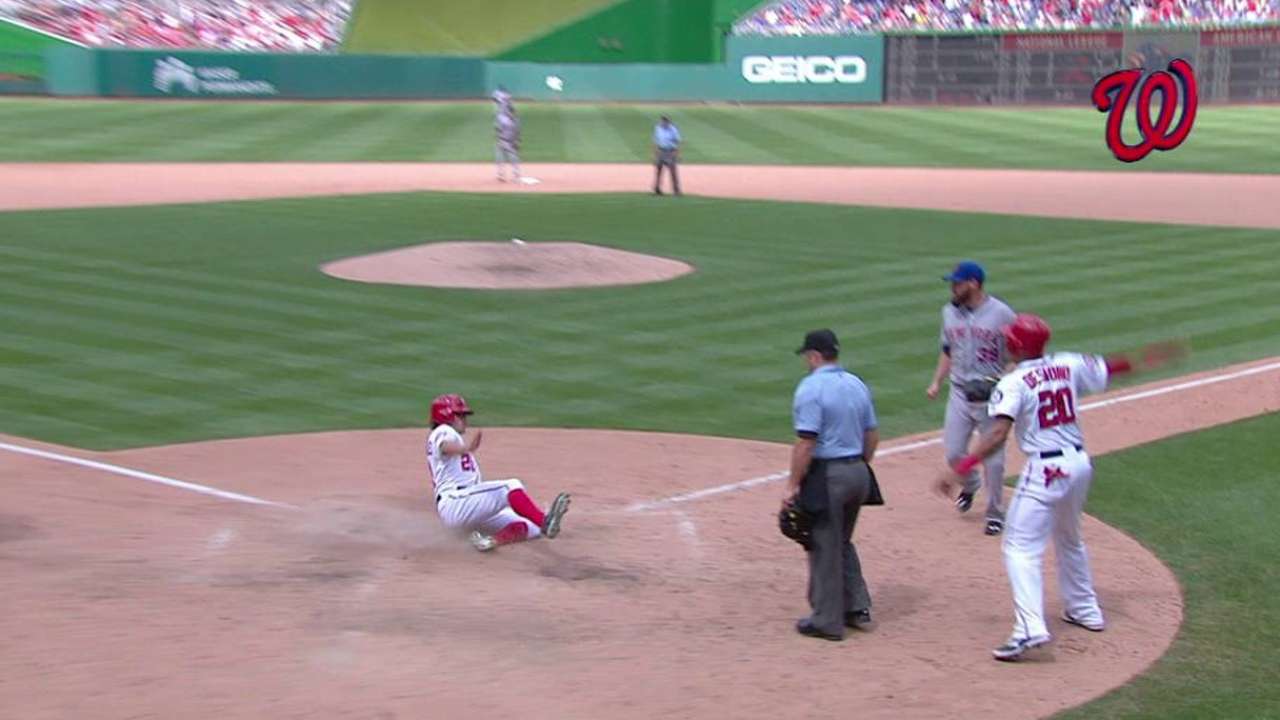 WASHINGTON -- Despite all that went wrong over their six-game road trip fresh off the All-Star break, the Mets looked up in the eighth inning on Wednesday to find themselves four outs from a series win over the Nationals. A team that was 41-3 when leading after seven innings was in position to move within one game of the National League East lead for the first time in a month.
Then Bobby Parnell gave up the game-tying and go-ahead runs in the eighth, all three Mets to bat in the ninth struck out and manager Terry Collins' club dropped what he called a "huge" 4-3 game to the Nats.
"It was a big loss for us," Collins said. "We sat there with two outs with the game, and couldn't put it away."
Collins went out of the way to blame himself, saying four times it was "my fault" for not bringing in closer Jeurys Familia for a four-out save. Noting that he began warming up Familia too late in the eighth, Collins said he did not stall long enough for his closer to face Nationals leadoff hitter Michael Taylor with the game on the line. Instead a shaky Parnell faced Taylor after giving up a one-out walk, a single up the middle and a line-drive second out.
Taylor responded with a single to left, plating both runners. As Familia continued to warm up, Danny Espinosa followed with an RBI double to give the Nationals their first lead of the day.
"It's my fault," Collins said. "He's just been pitching so good, I had all the confidence in the world we'd get out of it."
In an abrupt interview, Parnell called it "poor timing for a bad day on my part," less than 24 hours after he'd wowed his teammates with his best velocity readings in two years. Parnell dialed his fastball to the upper-90s again on Wednesday, but this time the results were not nearly as clean.
"These guys did everything they're supposed to," Parnell said of his teammates. "I just didn't do my part."
Yet the fight for blame did little to mask the fact that the Mets, for the fifth time in six games since the All-Star break, scored three runs or fewer. All of their offense came in the fourth inning, when Kirk Nieuwenhuis doubled home two runs and Kevin Plawecki singled in one. The Mets gave starter Noah Syndergaard no other support, forcing Hansel Robles, Jenrry Mejia and Parnell to operate with a razor-thin margin for error.
In Tuesday's win over the Nationals, that formula worked. On Wednesday it didn't, and now the Mets are heading home to Citi Field, where perennial NL Cy Young candidates Clayton Kershaw and Zack Greinke await in consecutive games.
Whoever's to blame, the Mets will need to rebound quickly.
"They're big leaguers," Collins said. "We've got arguably the best pitcher in baseball pitching against us [on Thursday] night. So we can't get down. We've got to get ready for him."
Anthony DiComo is a reporter for MLB.com. Follow him on Twitter @AnthonyDiComo and Facebook, and listen to his podcast. This story was not subject to the approval of Major League Baseball or its clubs.