Indians rally to halt Brewers' win streak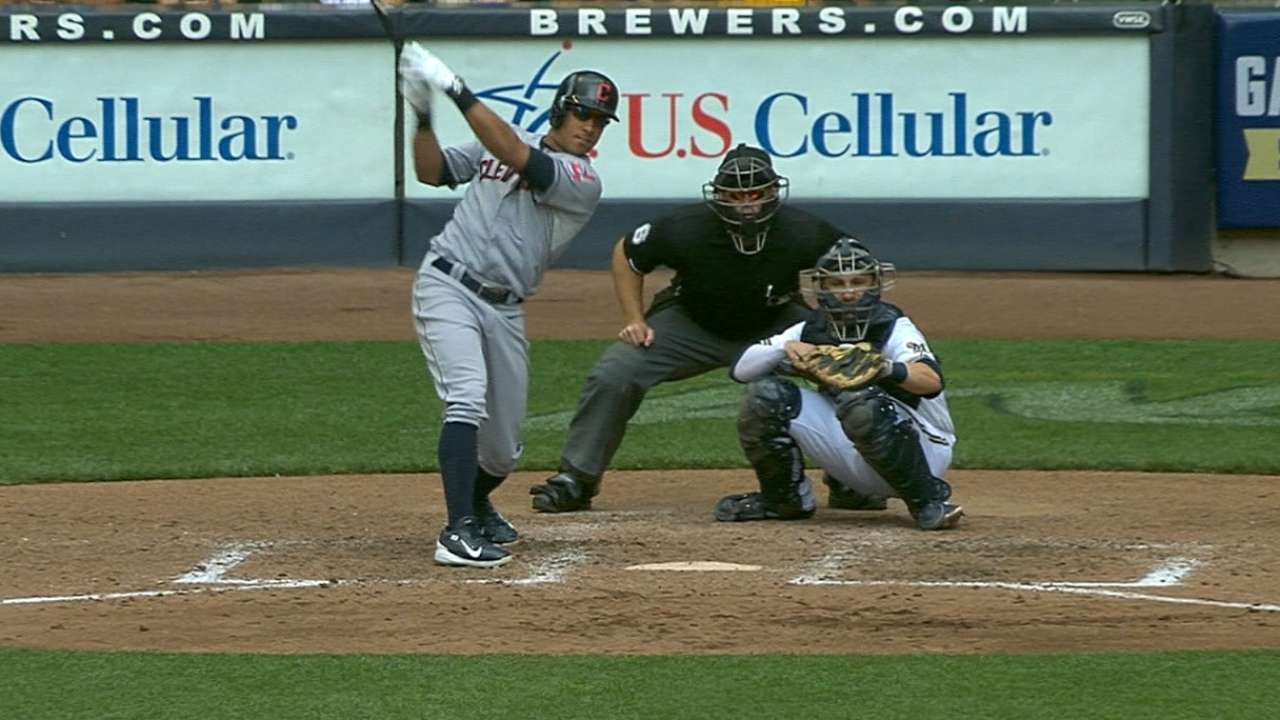 MILWAUKEE -- Onetime Brewers prospect Michael Brantley burned his former team for four hits and four RBIs in leading the Indians to a 7-5 win at Miller Park on Wednesday and a split of this two-game Interleague series.
Brantley, who has proven to be the key piece of the prospect package sent to Cleveland in the July 2008 trade for CC Sabathia, hit a tying three-run home run off Brewers starter Kyle Lohse in the third inning, a go-ahead single in the fifth and finished a triple shy of the cycle as the Indians overcame a shaky start from rookie right-hander Cody Anderson (four runs in 2 2/3 innings). Five Indians relievers combined to hold the Brewers at bay over the final 6 1/3 frames.
"Cody, probably coming off the break, was maybe a little too strong," Indians manager Terry Francona said, "He was having trouble driving the ball down. He left some changeups up. To his credit, he gave up 10 hits and nine were singles and he didn't walk anybody. So even though it wasn't a great outing, the game wasn't out of reach. And then Brantley ties it up and our bullpen did a great job."
Adam Lind had four hits and four RBIs for the Brewers, who brought the winning run to the plate in the bottom of the ninth inning, but Lohse endured another poor outing at a time during which his hold of a spot in Milwaukee's starting rotation is tenuous. He surrendered five earned runs on 10 hits, including home runs for Brantley and Francisco Lindor.
"You have tough spots, you just keep grinding," Lohse said. "That's why I've been able to stay in the game as long as I have. I know how to grind through those tough spots. There were a couple innings there that really could have gotten away, especially late. I know how to pitch. I know my stuff's there, I've just got to stop making the mistakes and just keep working hard."
MOMENTS THAT MATTERED
Striking first: Starved for runs one night earlier, Cleveland jumped on the board early against Lohse. Lindor, the rookie shortstop, worked a full count and then drove a pitch over the right-field wall for a solo homer in the first inning. For Lohse, it marked the 17th time in 20 starts that he has allowed at least one home run.
"He's playing with energy, and he's still learning," Francona said of Lindor. "I love the energy and the enthusiasm. That really helps a lot. We see what everybody loves so much. It's just, experience will do him a world of good and he's getting some right now."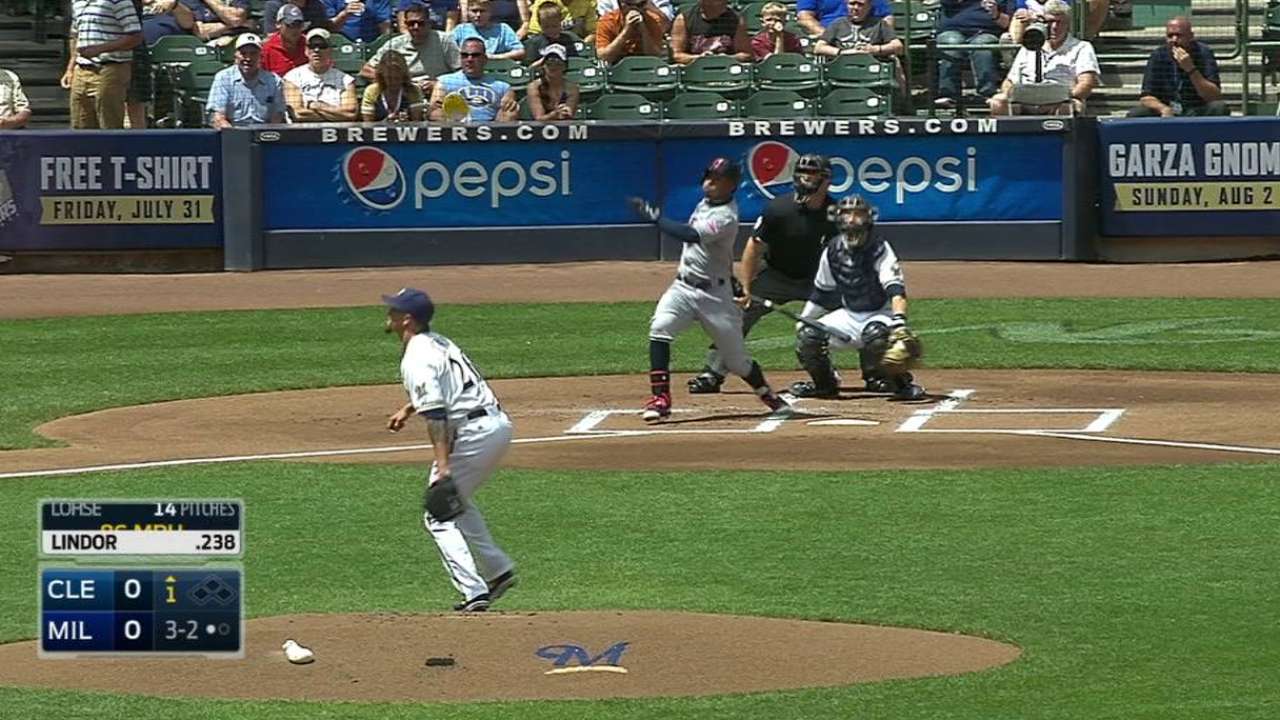 Counterattack: Anderson allowed three runs total in his first four Major League starts (30 1/3 innings). The rookie right-hander then allowed three runs in his first inning against Milwaukee. With two outs, Lind torched a two-run homer (No. 16 on the season, tying Ryan Braun for the team lead) and Jean Segura later chipped in an RBI single to put the Brewers up, 3-1.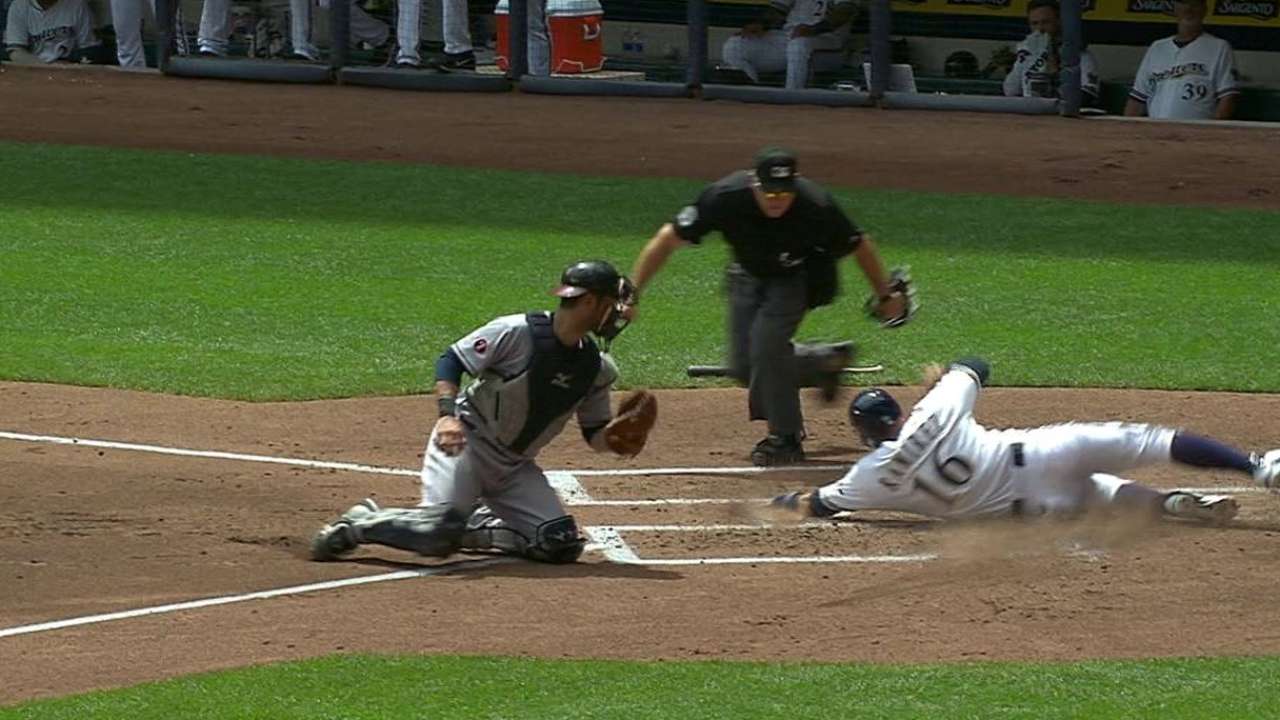 Brantley bucks trend: Hitting with runners in scoring position has been a team-wide issue for Cleveland, though Brantley (.349 in 86 at-bats entering Wednesday) has been an exception. In the third, Brantley drilled a three-run homer off Lohse to pull the game into a 4-4 tie. In the fifth, the outfielder came through with an RBI single to give the Tribe a 5-4 lead. As a team, Cleveland went 5-for-11 with RISP in the win.
"The more chances you get, the better opportunities we're going to have, obviously," Brantley said of the team's production with RISP. "We just have to make sure we start capitalizing on it a little better each time and learn from either our mistakes or when we take advantage of it. It's a learning process every day that we go out there. Hopefully, we build off of it." More >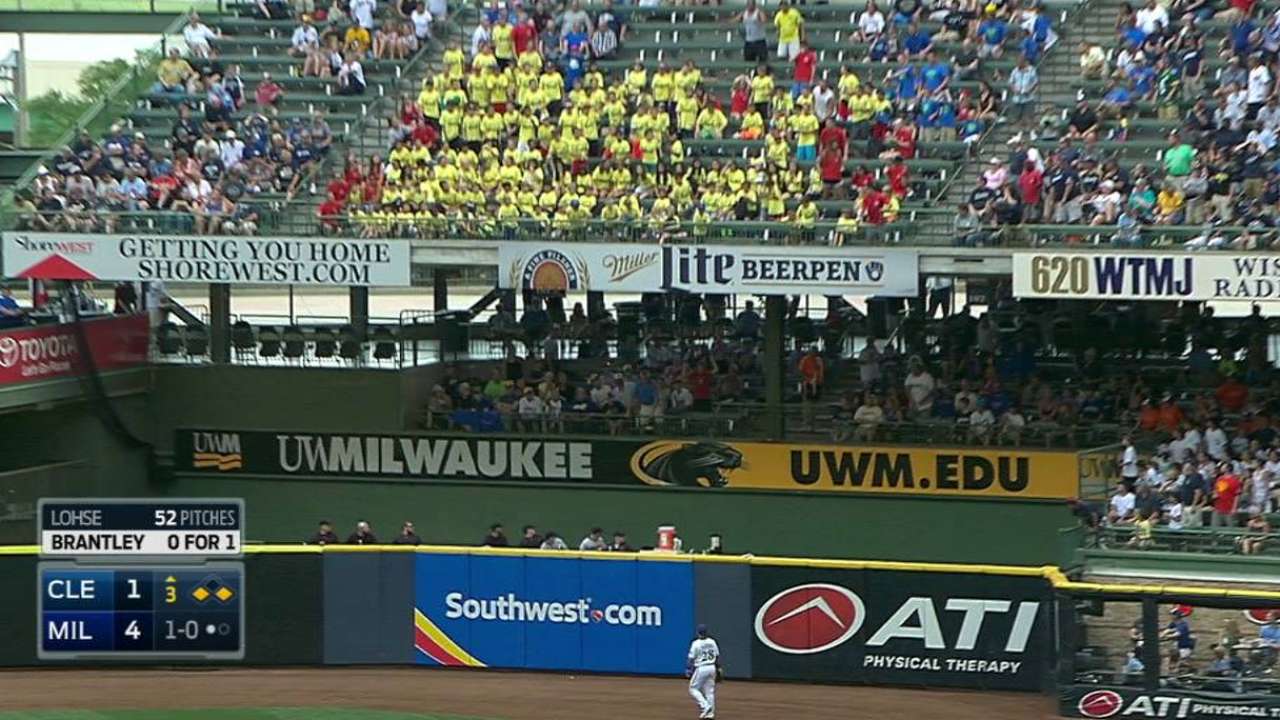 Last gasp: Jonathan Lucroy and Lind doubled off Indians closer Cody Allen in the ninth inning as the Brewers cut the deficit to 7-5 and brought the winning run to the plate with one out for left fielder Khris Davis. He worked to a 3-1 count before hitting a bouncer to third base that went for a game-ending double play, snapping Milwaukee's four-game winning streak.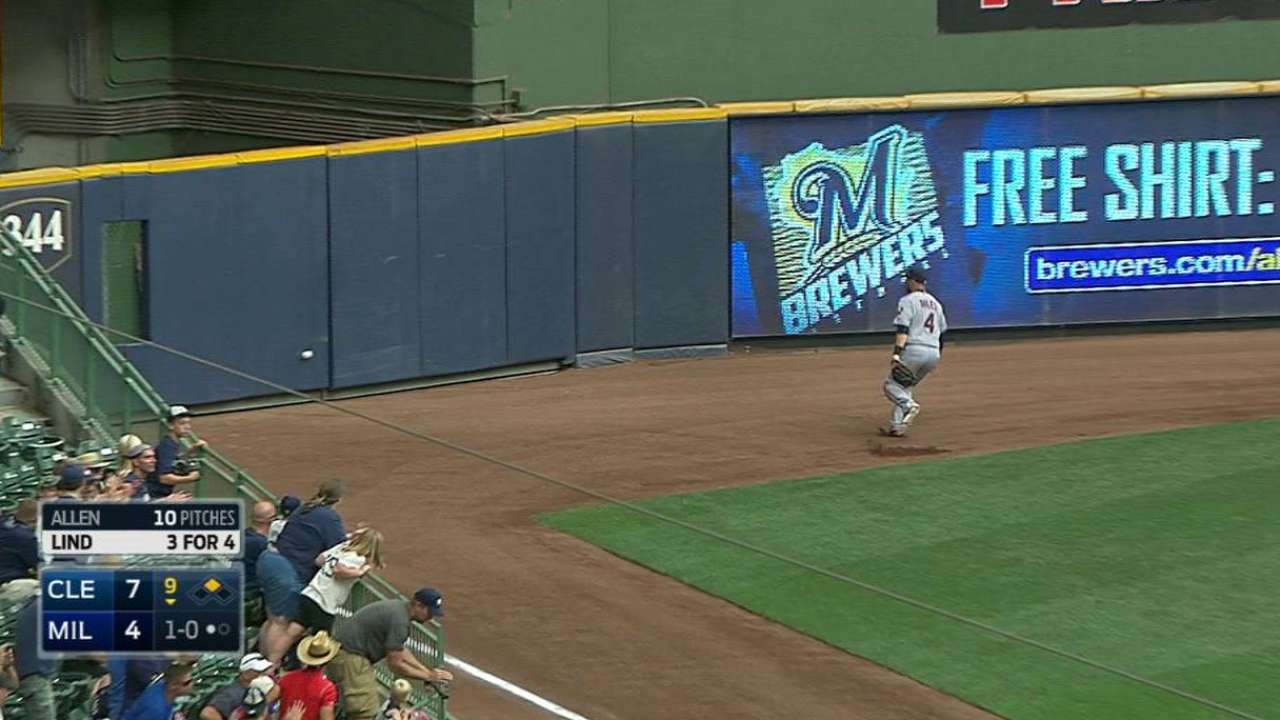 QUOTABLE
"Ever see a guy try to pull something off the shelf, drops it, tries to put it back, knocks it over some more and the whole thing falls down? Yeah, about like that."
-- Lohse, putting into words the toughest season of his career More >
TWO THE HARD WAY
A day after turning four double plays in Tuesday's win over the Indians, the Brewers turned four more in consecutive innings from the second through the fifth -- including one of the rare 2-6-3 variety. Batting with one out and runners at first and second base in the fourth inning, Indians reliever Austin Adams thought he had bunted foul. But the baseball actually stayed fair, so Brewers catcher Jonathan Lucroy threw to Segura covering third for the second out of the inning, and Segura trotted across the diamond before tossing the baseball to Lind at first base to end the inning. Here's the particularly odd part: Replays showed that Lucroy inadvertently tagged Adams on the shoulder while fielding the bunt, which, if noticed by home-plate umpire Mark Carlson, would have negated the force play at third.
"First of all, I thought the ball was behind the plate," Francona said. "And then as soon as I got back [to the dugout], [bench coach Brad Mills] said, 'Hey man, he tagged him.' So I went back out and he said, 'I can't let you [challenge] that.' So I said, 'Basically, we took it twice.' He was OK, he just said, 'I still can't let you do it.' I understand. I just didn't think it made a lot of sense."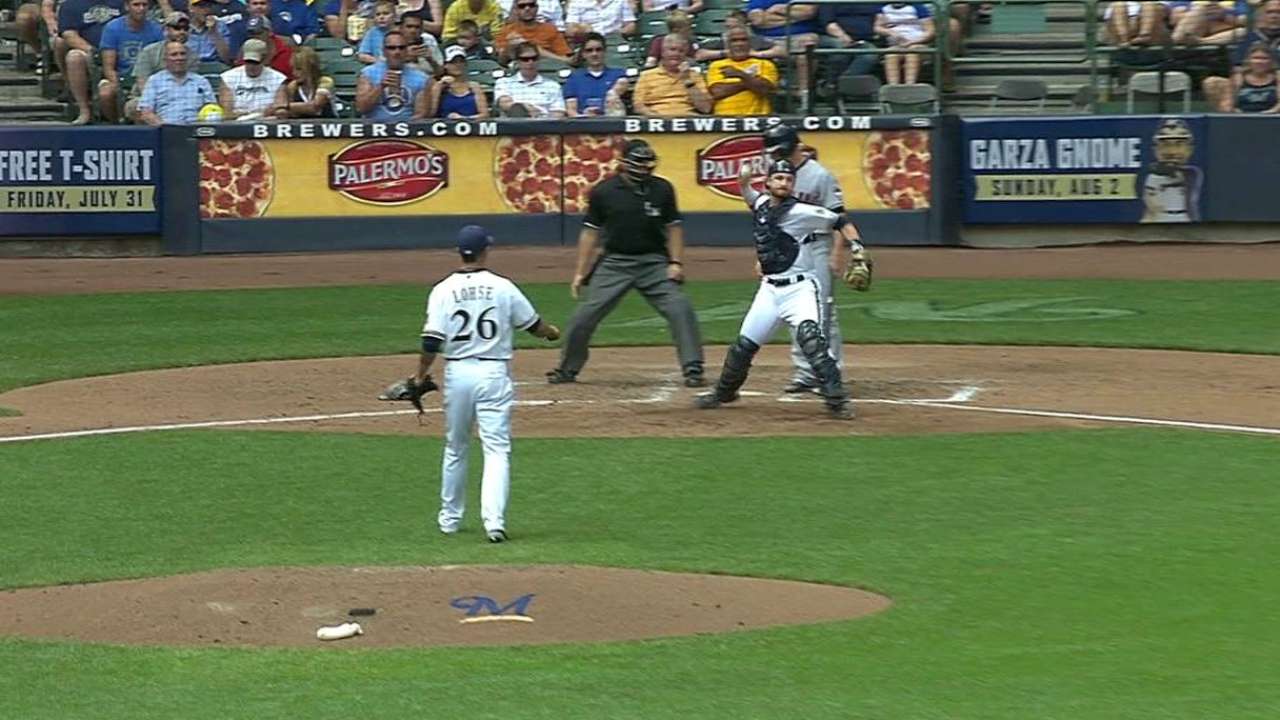 SOUND SMART WITH YOUR FRIENDS
While the Indians had four double plays Wednesday, only three were of the ground-ball variety. The last time Cleveland grounded into at least three double plays in back-to-back games was Aug. 6-7, 2012, against the Twins.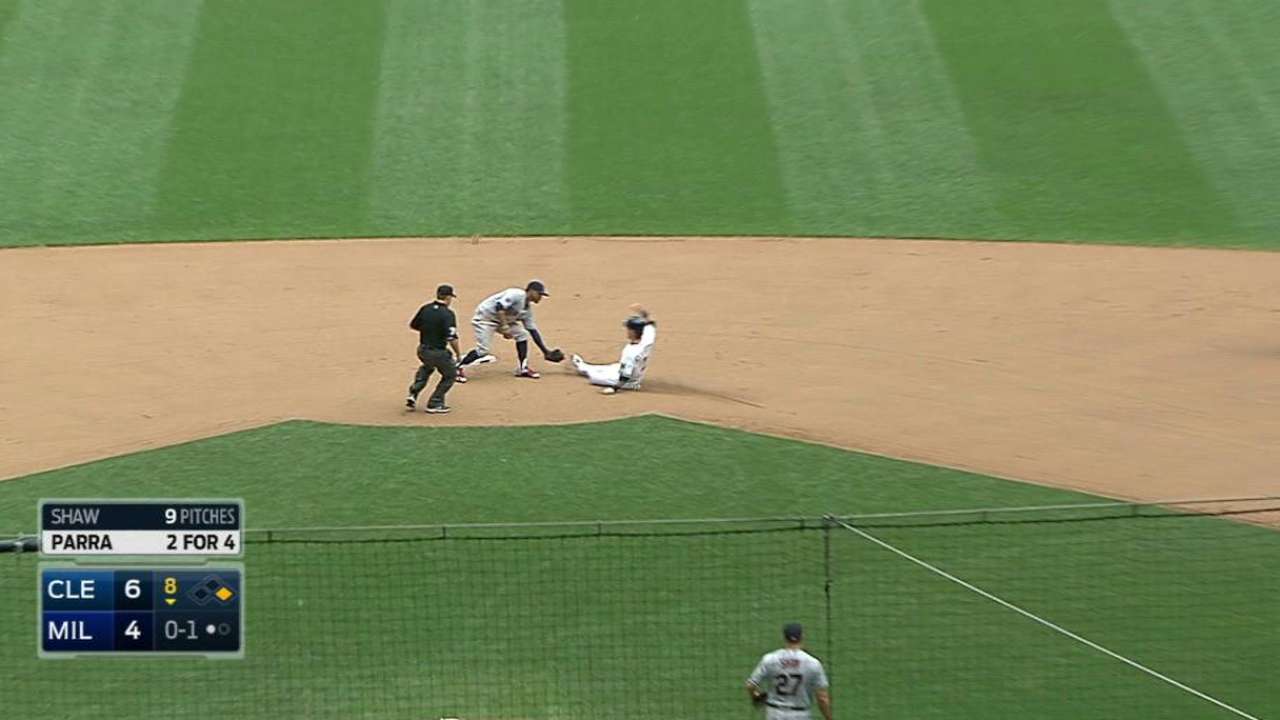 WHAT'S NEXT
Indians: Cleveland will head back home to begin a four-game set with the White Sox, starting with a 7:10 p.m. ET tilt on Thursday. Right-hander Trevor Bauer (8-6, 4.03 ERA) is scheduled to take the mound for the Tribe at Progressive Field. Bauer has gone 2-0 with a 1.33 ERA and 22 strikeouts in 20 1/3 innings against Chicago this year.
Brewers: The Brewers head west for a weeklong trip to Arizona and San Francisco that begins Thursday night against the D-backs. Milwaukee has won each of Mike Fiers' last five starts, and will seek to continue that streak against Arizona pitcher Zack Godley, who will be making his Major League debut.
Watch every out-of-market regular season game live on MLB.TV.
Adam McCalvy is a reporter for MLB.com. Follow him on Twitter @AdamMcCalvy, like him on Facebook and listen to his podcast. Jordan Bastian is a reporter for MLB.com. Read his blog, Major League Bastian, follow him on Twitter @MLBastian and listen to his podcast. This story was not subject to the approval of Major League Baseball or its clubs.