Cubs designate Richard, call up righty Medina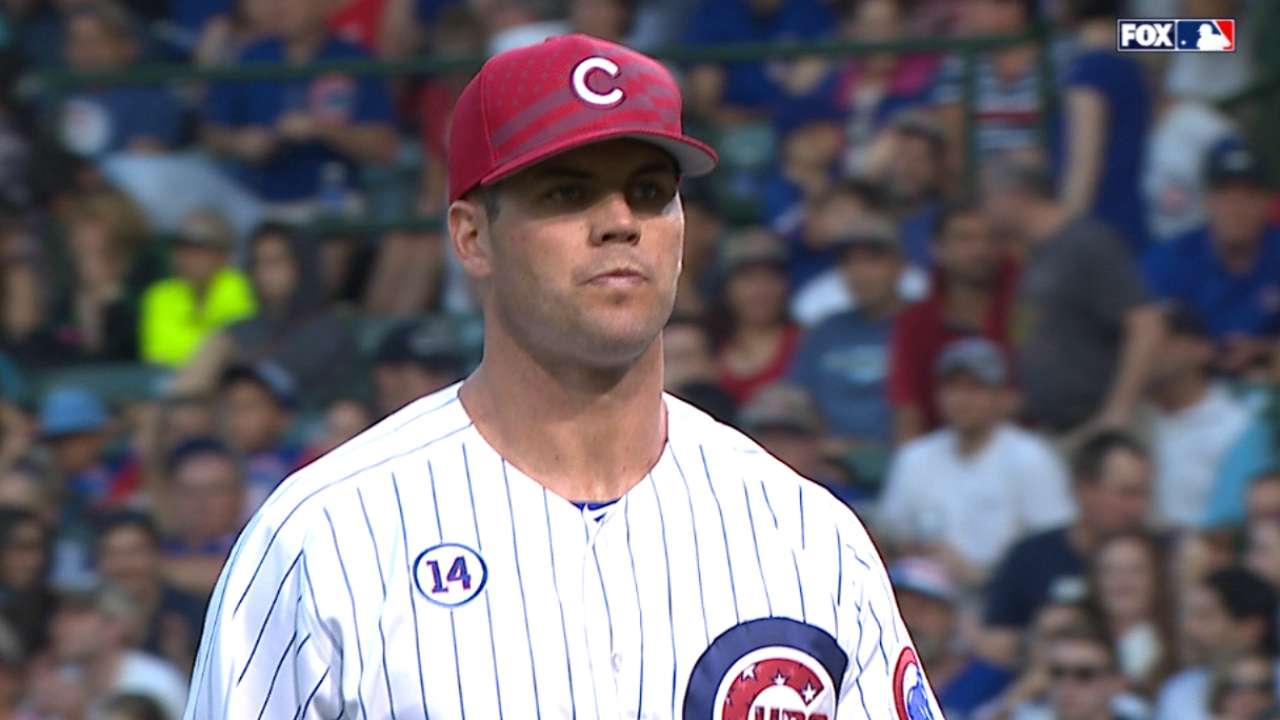 CINCINNATI -- Cubs left-handed starter Clayton Richard was designated for assignment on Wednesday, and right-handed reliever Yoervis Medina was recalled from Triple-A Iowa.
The moves occurred prior to Wednesday's doubleheader against the Reds to help strengthen the bullpen after Tuesday night's 13-inning affair between the two National League Central rivals. Six Cubs relievers combined for eight innings to help Chicago pick up the 5-4 victory.
"Well, obviously, our bullpen is in a little bit of dire straits right now," Cubs manager Joe Maddon said. "I think we are going to be fine today. I know we have an off-day tomorrow, but you still have to protect your arms, so that was it primarily. Clayton, I don't know exactly the specifics regarding the language with that, but hopefully he's going to stay connected to us and be able to get back at some point. But for right now, it was something we had to do."
Medina went 1-0 with a 2.12 ERA and one save in 15 games this season between the Mariners and Cubs. Medina was acquired by Chicago from Seattle on May 19, and he has appeared in only three games since the trade, giving up no runs on two hits while striking out three in five innings. His last appearance came on June 25 against the Dodgers.
Richard was 1-0 with a 5.40 ERA in three appearances (two starts) since he was acquired from the Pirates on July 3 for cash. Richard gave up three runs on four hits and one walk in 5 2/3 innings in his start against the Reds on Monday.
Right-handed pitcher Dallas Beeler was also recalled from Triple-A Iowa as the 26th man to start the nightcap of Wednesday's doubleheader against the Reds. He could be available to start again next Tuesday if he isn't optioned to Triple-A. But designating Richard could be a precursor for the Cubs to acquire another starter before the non-waiver Trade Deadline on July 31.
But Maddon said he is only focusing on his current roster and taking it day by day.
"I'm not getting any sense. I've not spoken with [Cubs president of baseball operations] Theo [Epstein] or [general manager] Jed [Hoyer] about any of that," Maddon said. "I think you know me, I don't really worry about that stuff. I don't, because I have faith in the guys that are there that we'll figure it out somehow, and hopefully, we'll be able to get a chance to hold onto Clayton also. … I got to be more [focused on] today, and so that's where I'm at."
Robert Bondy is an associate reporter for MLB.com. This story was not subject to the approval of Major League Baseball or its clubs.