Phillies get win on Herrera's walk-off single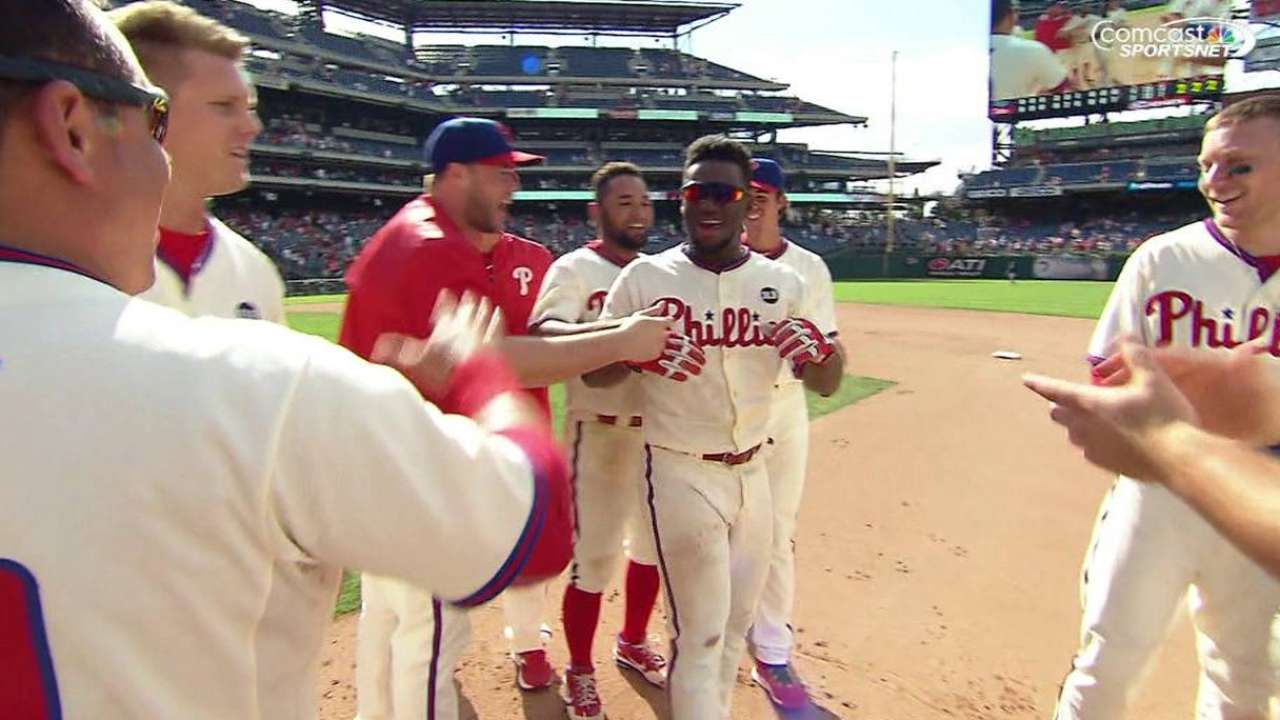 PHILADELPHIA -- Odubel Herrera's two-out single in the bottom of the 10th gave the Phillies a 5-4 walk-off win over the Rays on Wednesday afternoon at Citizens Bank Park.
Domonic Brown singled off Brad Boxberger to start the Phillies' 10th and moved to second on Carlos Ruiz's sacrifice bunt. One out later, Herrera laced a single to left-center on the 11th pitch of the at-bat and Brown raced home with the winning run and a series win.
"He did a good job of just battling," Boxberger said. "Left a pitch up there and he hit it."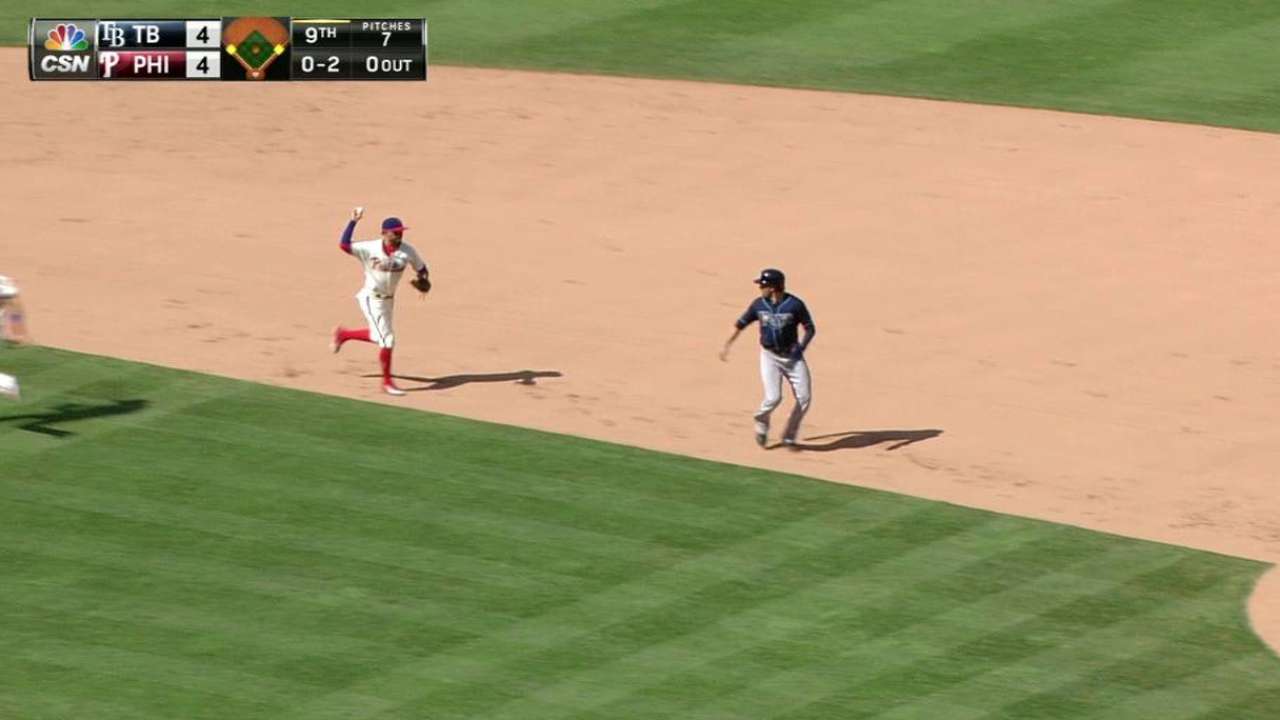 The Phillies scored first when they touched Rays starter Jake Odorizzi for two in the first when Ryan Howard grounded into a bases-loaded double play and Andres Blanco singled home another run. But the Rays battled back to take the lead in the fifth via RBI doubles by Evan Longoria and Logan Forsythe and an RBI single by James Loney.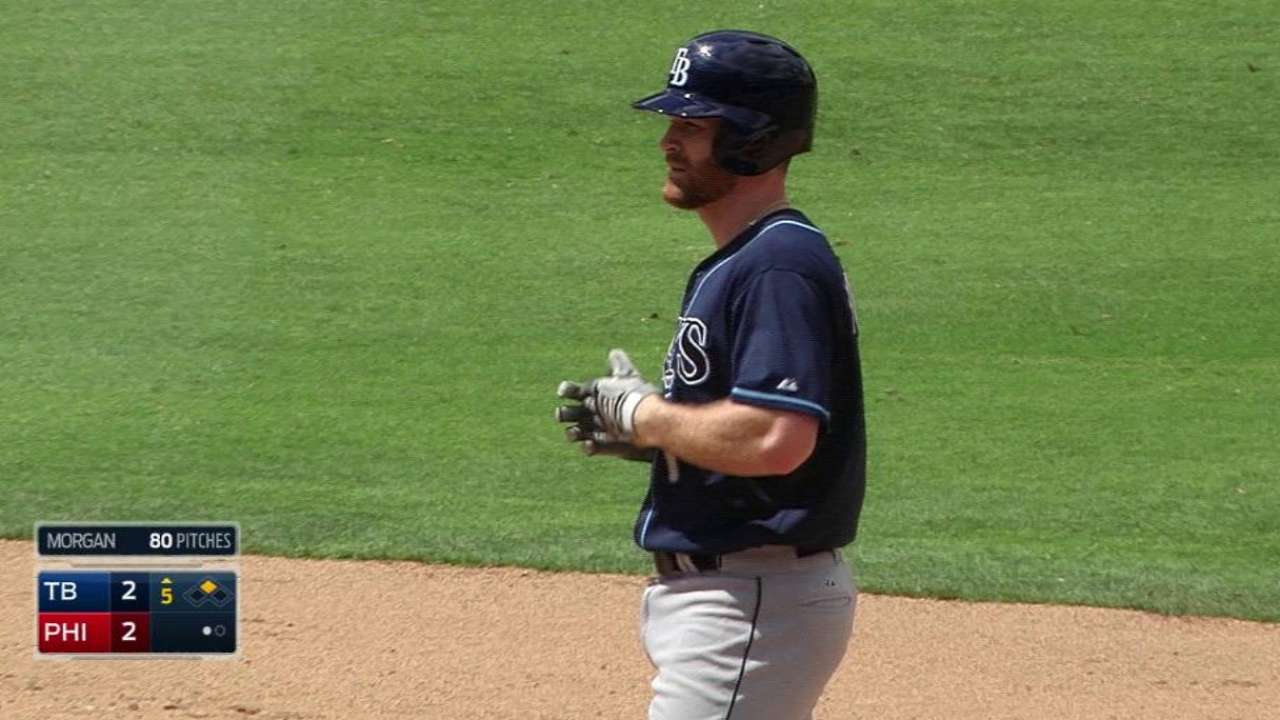 The Phillies regained the lead in the sixth when they scored twice via Cody Asche's RBI double and an error by Loney at first. Forsythe then tied the game with his 10th home run of the year, a solo shot off Jake Diekman in the seventh.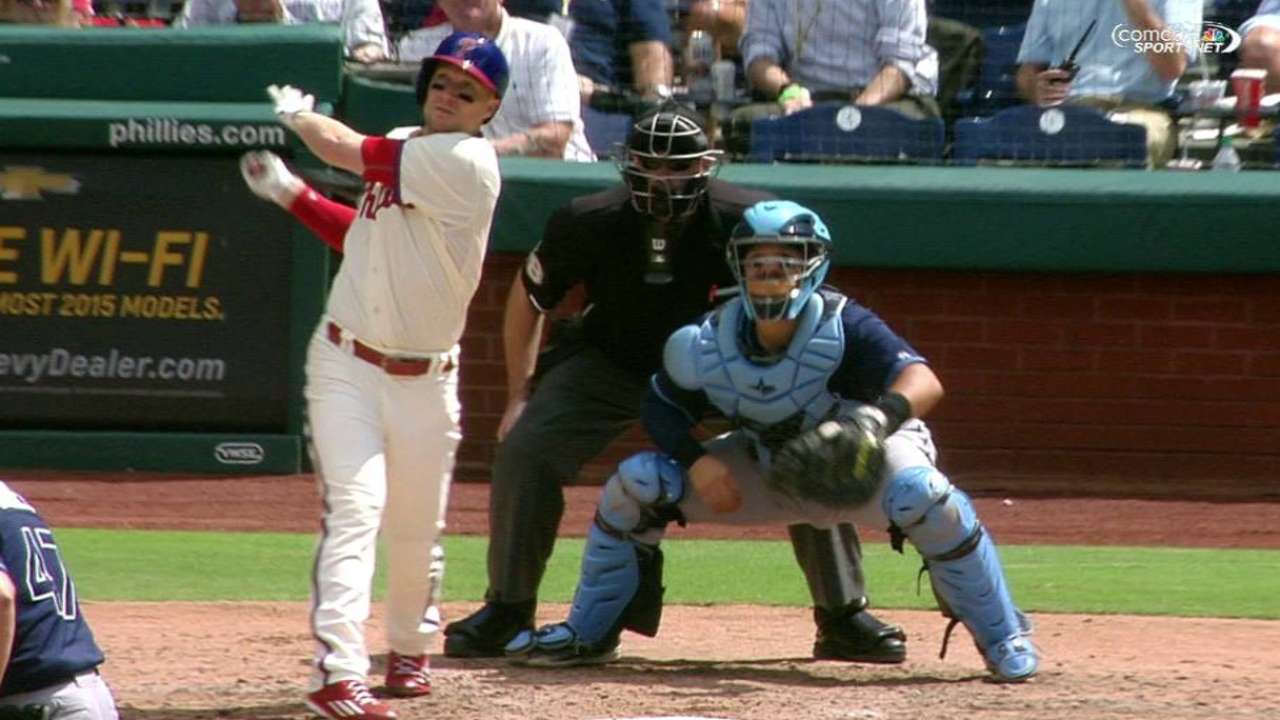 MOMENTS THAT MATTERED
Waiting for his pitch: After garnering criticism Tuesday for not running out a ground ball, Herrera didn't start Wednesday, but he came through when his team needed him. Herrera, pinch-hitting in the 10th inning for Jonathan Papelbon, worked an 11 pitch at-bat from Boxberger, fouling off seven pitches, before lining a sinking drive into left-center field, scoring Brown and securing the Phillies' second straight series win.
"I said I felt pretty good," Herrera said with first-base coach Juan Samuel translating. "They let me know ahead of time that I was going to be the third hitter. It gave me enough time to go down to the cage and do some long toss and I was very loose for that at-bat." More >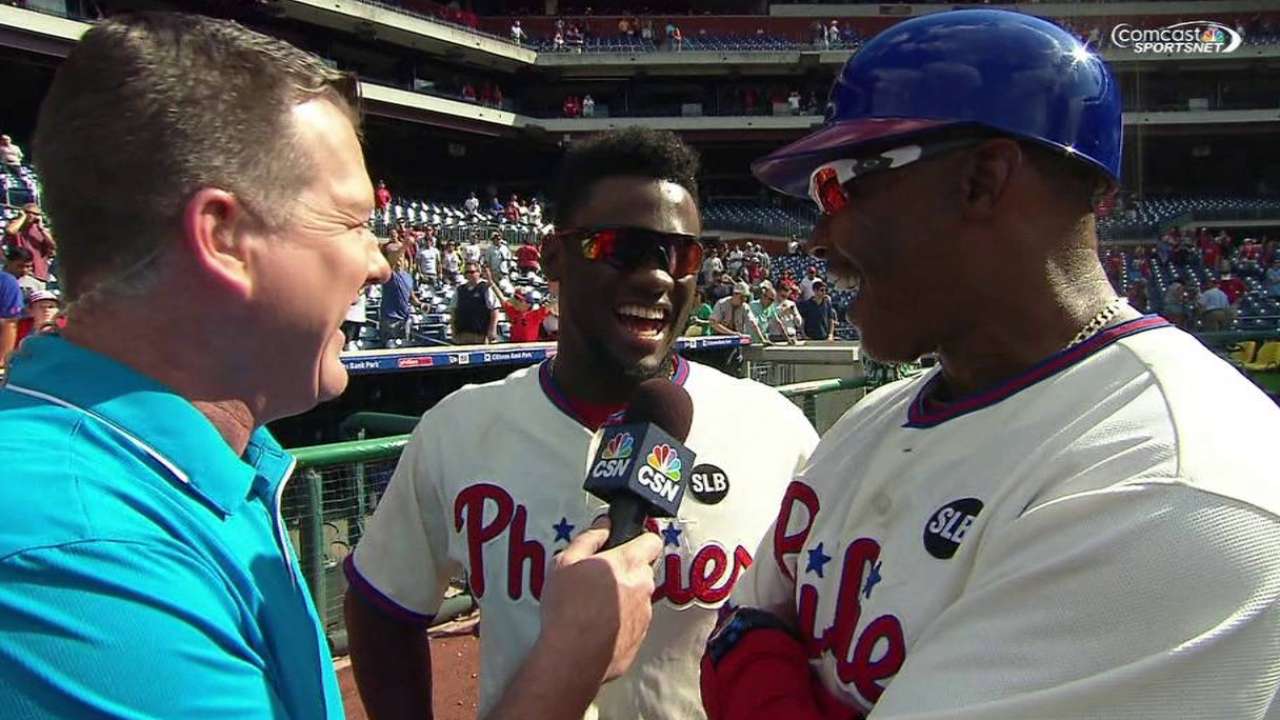 Having Pap's back: Papelbon came on for the Phillies to pitch the top of the ninth inning in a 4-4 game, but struggled from the start, walking Forsythe and allowing a single to David DeJesus. He settled down after that, forcing ground balls and letting his infield do the rest. Papelbon got Loney to ground into a 4-3-6-3-4 double play for the first two outs, but the third out came in a flashier manner. Papelbon sawed off Jake Elmore, whose swinging bunt barely made it past the pitcher's mound. Charging on the ball, Blanco made an off-balanced throw that beat Elmore and prevented Forsythe from scoring.
"I knew it was a tough play, but I always say, 'If I chase a ball and I catch it, I want to be able to make that out because it will be the sacrifice I made and it will be worth it,'" Blanco said. "I'm happy. I'm proud of it." More >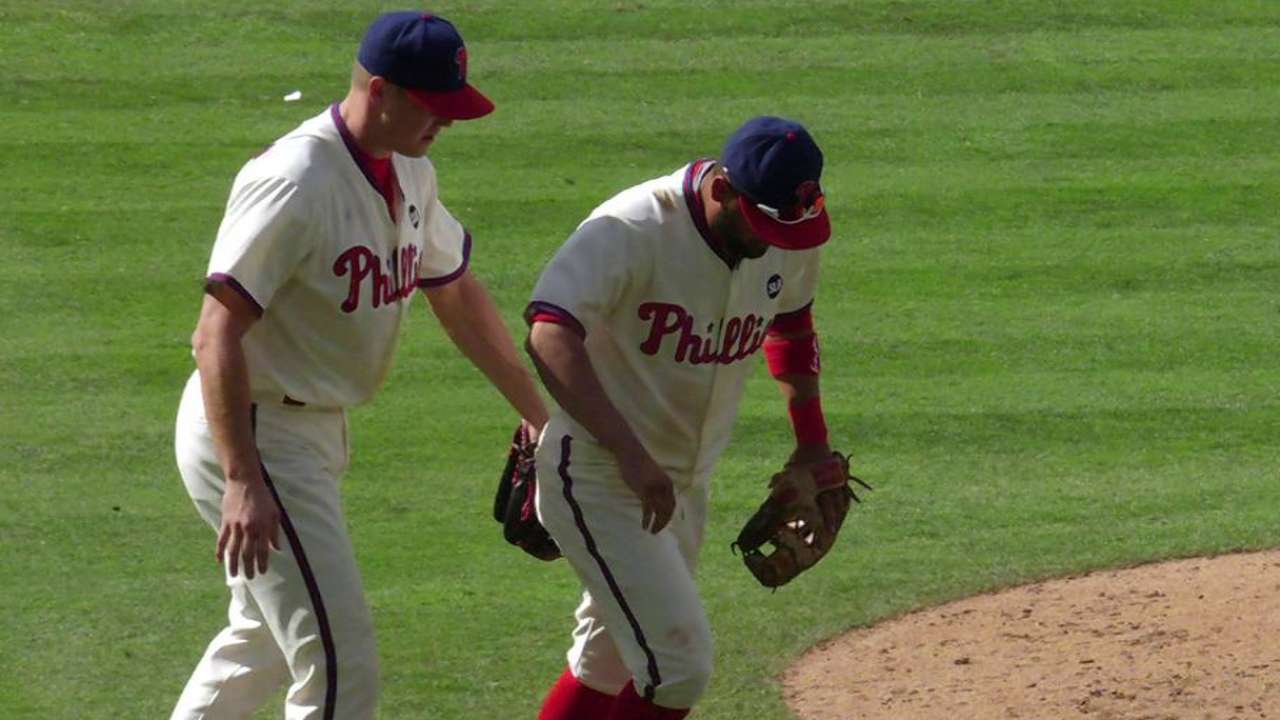 Through the wickets: The Rays' mantra has long been pitching and defense, so Wednesday afternoon's effort in the field brought some uncharacteristic results when they committed three errors. Third baseman Longoria booted Asche's routine grounder ranging to his left in the second. Catcher Rene Rivera's throwing error to second followed on the next play. Loney capped the effort when he couldn't handle a ground ball at first hit by Ben Revere in the sixth that gave the Phillies a 4-3 lead.
"It was just kind of a crazy game, a crazy road trip, you know," Loney said. More >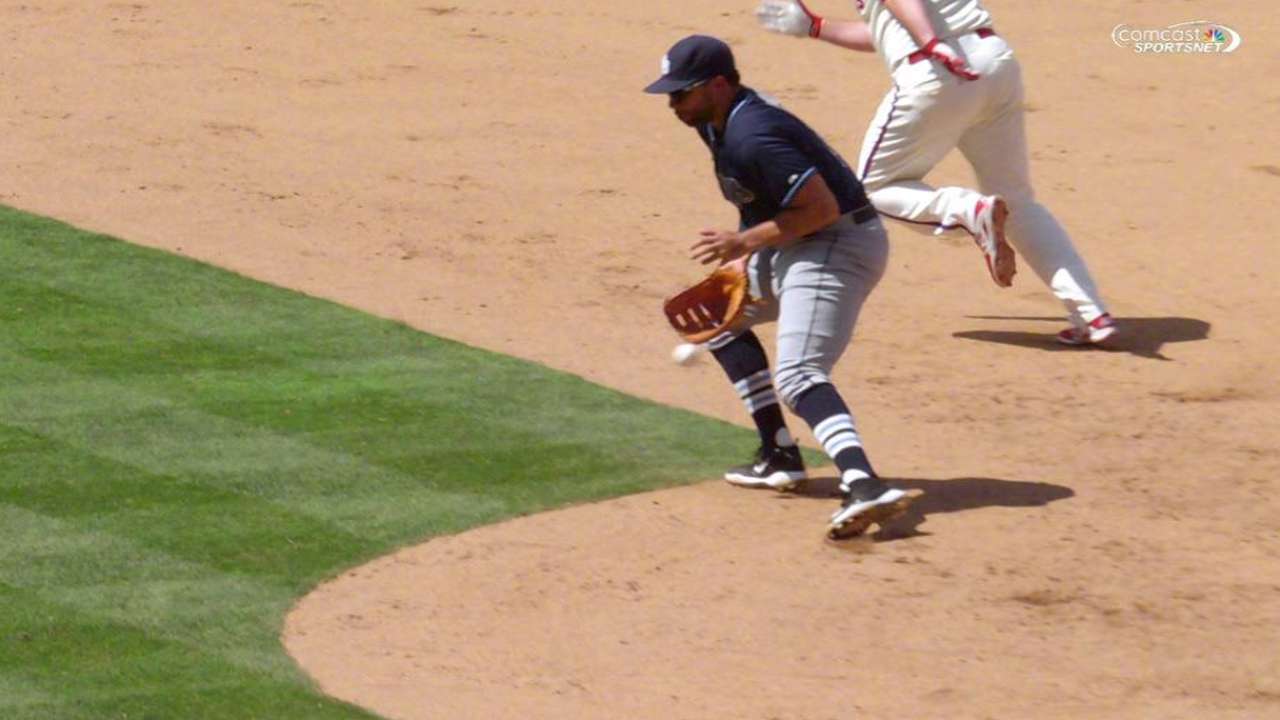 Force off: With the bases loaded in the eighth inning, Freddy Galvis dribbled a ground ball to Loney. Loney decided to tag first for the forceout before throwing home to try to get Asche, who was running from third base. The tactic appeared to have backfired, as Loney's throw came in a little late and Asche seemed to slide in underneath Rivera's tag for the go-ahead run. However, the Rays challenged the call on the field and after a three-minute, 42 second review, the call was overturned and Asche was ruled out at the plate, keeping the game tied.
"I thought he was out," Loney said. "I knew the throw had beat him. I was just hoping he didn't get his foot in there. From the replay it is hard to tell."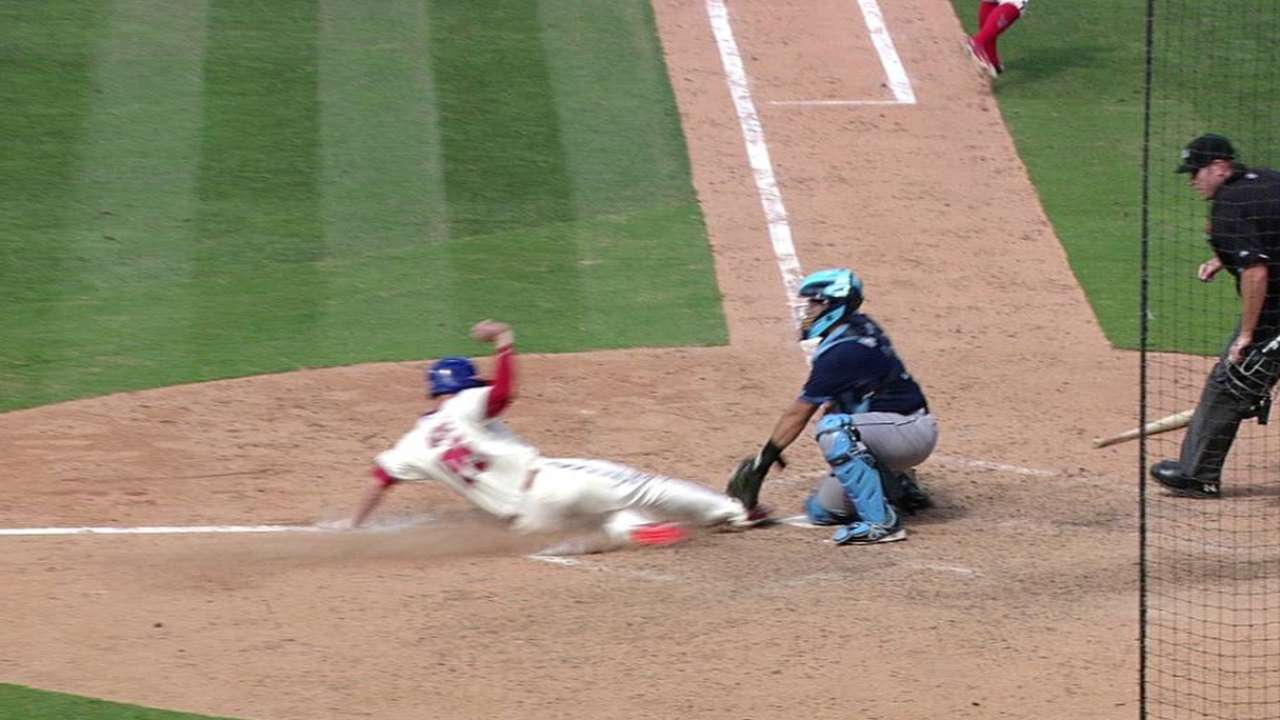 QUOTABLE
"It's difficult. We're in a funk. We're in a bad spot." -- Rays manager Kevin Cash, on the current state of the Rays
"I saw one angle that looked like it was conclusive, but I guess I was fooled. I'm not second guessing their decision. But Cody, he thought he was safe." -- Phillies interim manager Pete Mackanin, on the overturned call in the eighth inning.
SOUND SMART WITH YOUR FRIENDS
Longoria snapped an 0-for-18 streak when he doubled home a run in the fifth.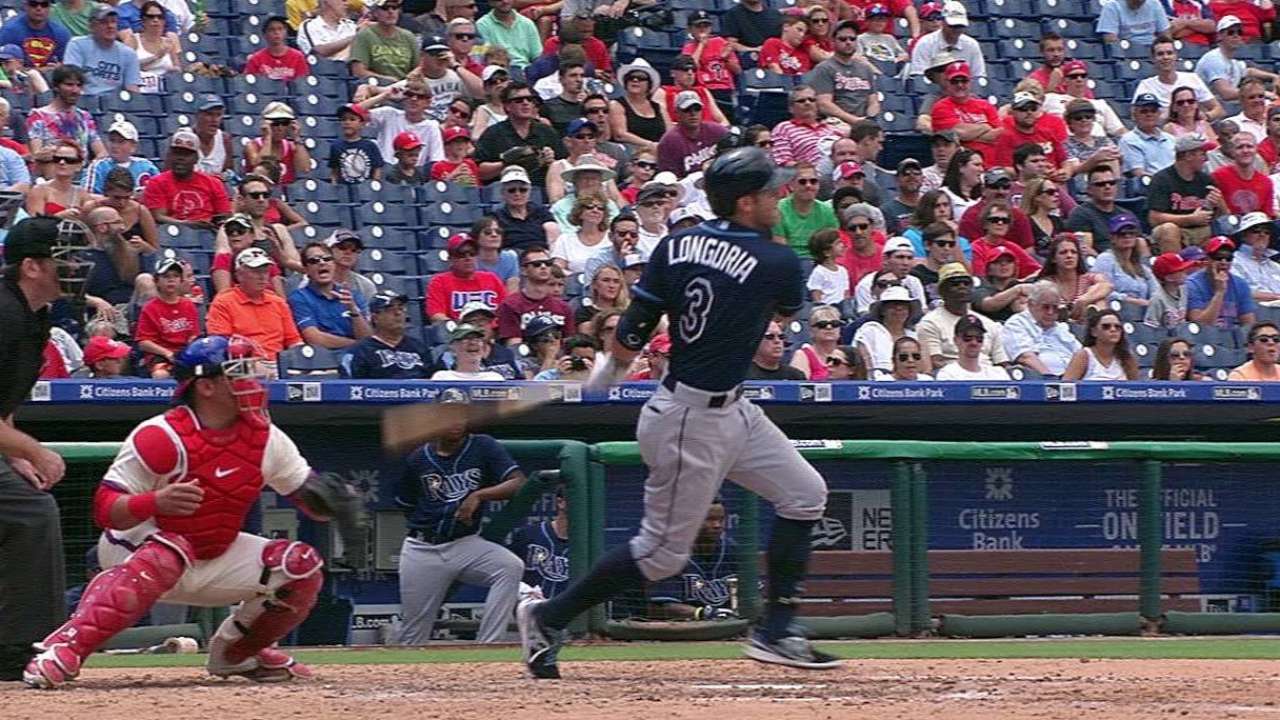 INSTANT REPLAY
Brandon Guyer led off the third inning for Tampa Bay with a first-pitch blooper down the right-field line. On the field, first-base umpire Gabe Morales ruled the ball foul, but upon further review the ball actually kicked up some chalk, landing in fair territory. The call was overturned and Guyer was granted a single. The review lasted two-minutes and 13 seconds. Phillies starting pitcher Adam Morgan picked Guyer off at second base two batters later.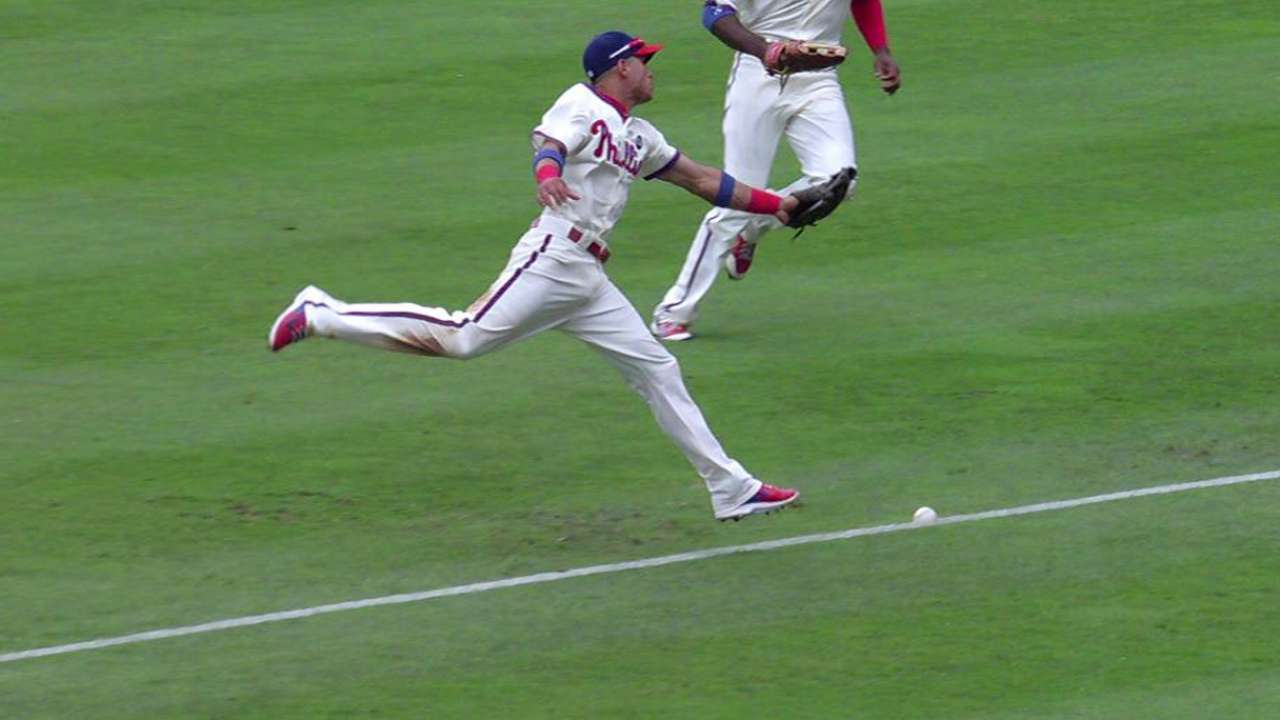 WHAT'S NEXT
Rays: Chris Archer (9-7, 2.73) will start on regular rest on Friday at 7:10 p.m. ET (despite Thursday's off-day) by flip-flopping rotation slots with Erasmo Ramirez, who will now start Saturday. The Rays' ace has lost three consecutive decisions (spanning four starts). He is 1-4 with a 5.65 ERA in seven career appearances against the Orioles.
Phillies: The Phillies head to Chicago for the start of a three-game weekend series versus the Cubs on Friday at 4:05 p.m. ET. Jerome Williams (3-7, 6.43 ERA) returns to the starting rotation for the Phils after missing more than a month of time with a strained right hamstring. The big right-hander has allowed 100 hits in 70 innings pitched this season. Maikel Franco will likely return to the lineup for the Phillies after not starting the last two games with elbow soreness.
Watch every out-of-market regular season game live on MLB.TV.
Bill Chastain is a reporter for MLB.com. Listen to his podcast. Nick Suss is an associate reporter for MLB.com. This story was not subject to the approval of Major League Baseball or its clubs.