Heston flashes no-hit stuff in earning 10th win
Giants rookie allows one single in 7 1/3 shutout innings vs. Padres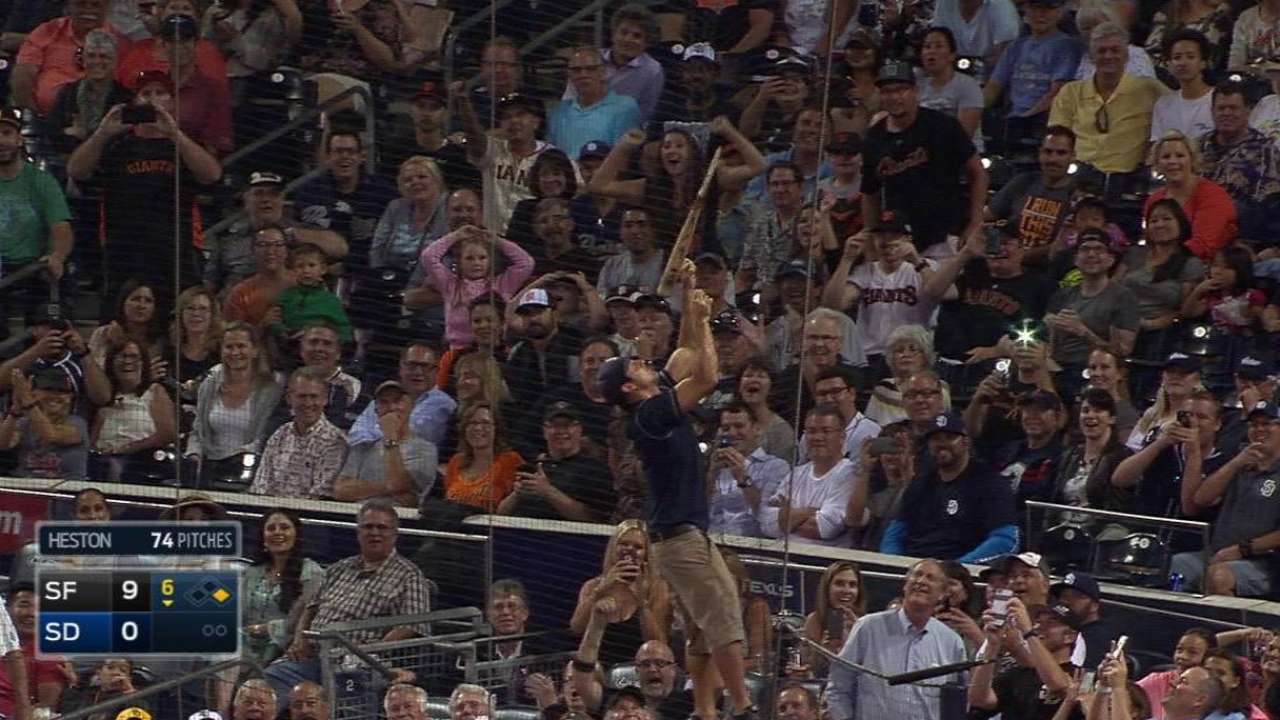 SAN DIEGO -- Chris Heston admitted his concentration briefly yielded to frustration during the Giants' 9-3 victory Tuesday night over the San Diego Padres.
That moment occurred when Melvin Upton Jr. ended Heston's bid for a no-hitter by leading off San Diego's half of the sixth inning with a broken-bat single to center field. Second baseman Joe Panik pursued the ball furiously, but it fell beyond his grasp.
Hoping to duplicate the no-hitter he threw at New York on June 9, Heston regarded Upton's bloop as "definitely disappointing." Yet he also insisted he wasn't focusing on throwing his second no-hitter of the season, a feat accomplished only by Nolan Ryan (1973), Virgil Trucks (1952), Allie Reynolds (1951) and Johnny Vander Meer (1938).
"I try not to think about those things, really," said Heston, who ultimately surrendered one hit in 7 1/3 shutout innings. "It's just about making pitches. It [a no-hitter] creeps into your mind, but I try not to think about that. I feel like the more you don't think about that stuff, the better chance you have of doing something like that."
Giants manager Bruce Bochy didn't intend to interfere with Heston. The 27-year-old's pitch count likely would have been an issue had he carried his no-hitter into the later innings. He entered the sixth inning at Petco Park having thrown 69 pitches. But Bochy was prepared to let Heston labor for his glory, just as he did on this same diamond when Tim Lincecum needed 148 pitches to no-hit the Padres in 2013. Asked what he would have done if Heston approached baseball immortality with an extremely mortal arm, Bochy said, "What do you think I would have done?"
Bochy maintained starting pitchers must push their limits occasionally to succeed more consistently.
"Sometimes it's not bad to get stretched out," Bochy said. "I really believe that it builds strength and stamina."
Heston ultimately flung a season-high 116 pitches, six more than he threw in his no-hitter. The right-hander gave San Francisco's bullpen some much-needed rest while relying primarily on his sinker, which gained extra movement in the humid environment. In the Giants' previous 16 games, their starters worked into the seventh inning just five times. Heston did the honors on two of those occasions.
While winning his fourth consecutive decision, Heston (10-5) became the first Giants rookie starter to reach a double-digit victory total since Matt Cain finished 13-12 in 2006.
"That's awesome, getting mentioned in the same sentence as him," Heston said.
Heston appears to be peaking at the right time, with the Giants having trimmed first-place Los Angeles' lead in the National League West to 2 1/2 games. He owns a 5-1 record and a 1.83 ERA in his last eight starts. In Heston's latest triumph, he welcomed the opportunity to collaborate with catcher Hector Sanchez, his frequent batterymate in the Minors. Sanchez rewarded Heston with a sixth-inning grand slam that cemented the Giants' triumph.
"We're friends, so he knows what I like to do," Heston said. "There's no learning curve."
Chris Haft is a reporter for MLB.com. Read his blog, Haft-Baked Ideas, follow him on Twitter at @sfgiantsbeat and listen to his podcast. This story was not subject to the approval of Major League Baseball or its clubs.