Padres unhappy with Giants' Sanchez
Giants catcher admires grand slam; benches later clear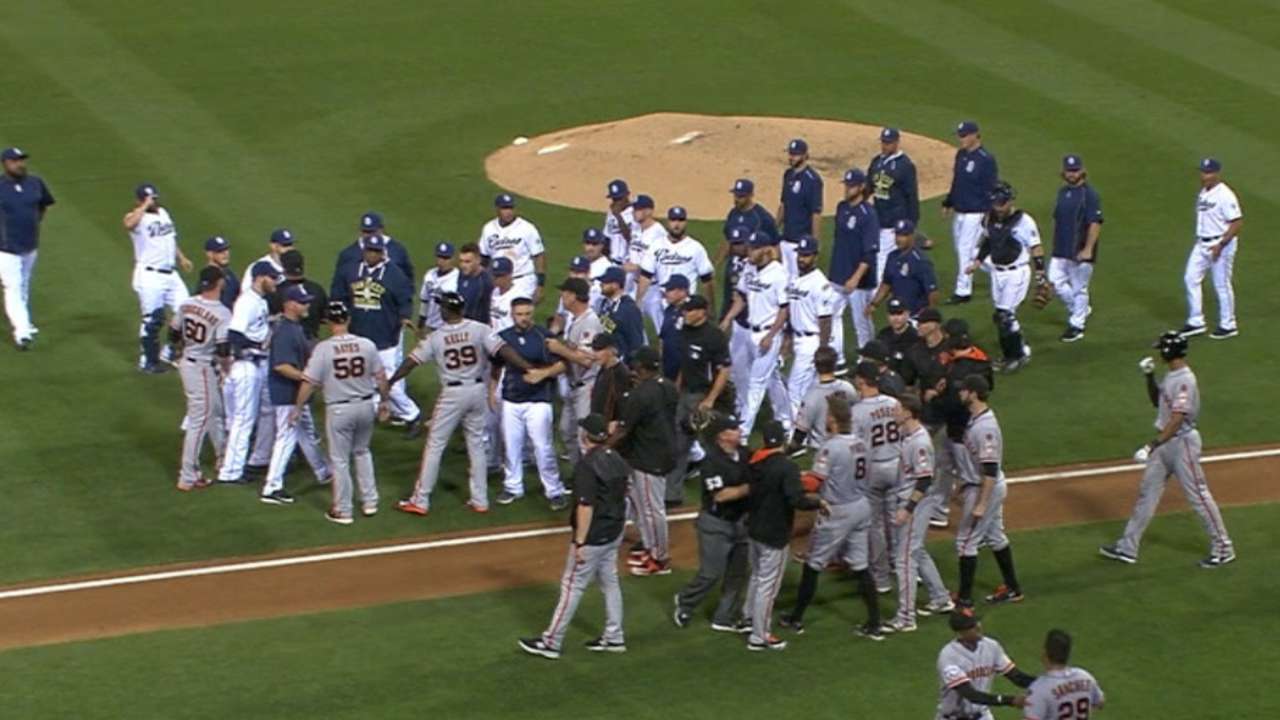 SAN DIEGO -- The Padres and Giants found themselves in a sticky situation Tuesday -- and it wasn't just the high humidity at Petco Park that had the two teams hot under the collar.
Tempers ran hot on two occasions during the Giants' 9-3 victory over the Padres, as gum -- yes, chewing gum -- played a role in a dust-up between the two teams for the second time this season.
Both benches and bullpens cleared briefly in the ninth inning after Padres reliever Shawn Kelley had words with Giants catcher Hector Sanchez after he grounded out to first base and was on his way back to the visiting dugout.
"[It was] probably just the pitches inside. I think he thought I was trying to hit him," Kelley said. "They [the Giants] were kind of jawing from the dugout. Tempers escalated a little bit."
Just three innings earlier, Padres reliever Dale Thayer allowed a grand slam to Sanchez. Thayer apparently didn't appear to like how long Sanchez took to admire his home run. He had some words for Sanchez and also appeared to toss his chewed gum in Sanchez's direction.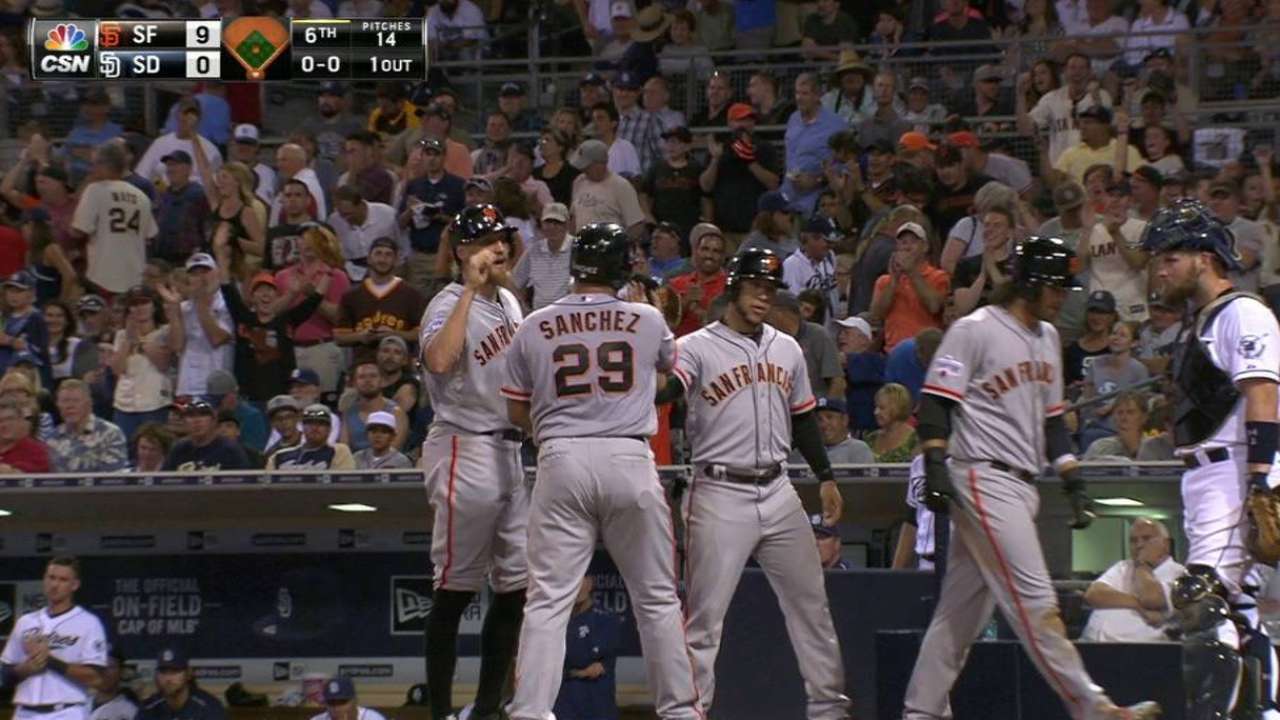 "I guess that's part of the game now. To me, that's a little disrespectful to Dale. ... He's working hard out there. I don't think there's a place in the game for that," Kelley said. "But that is part of it; guys admire what they do and sometimes guys watch it."
Sanchez said he was surprised when Kelley spoke to him on his way back to the dugout.
"He told me something. I just turned around and asked him [what he said]. That's it. I don't know what happened there," Sanchez said.
As for his grand slam, Sanchez said he was unaware Thayer threw gum in his direction.
"I didn't realize that. I just enjoyed the moment," he said. "If everybody gets mad, I don't know what's the reason."
This is the second time this season these two teams have had some words -- and both have involved gum.
On April 9 at Petco Park, Giants center fielder Angel Pagan got into a war of words briefly with Padres catcher Derek Norris, with a piece of gum at the center of the controversy.
Norris said Pagan threw a piece of gum at him, which Norris kicked back in Pagan's direction.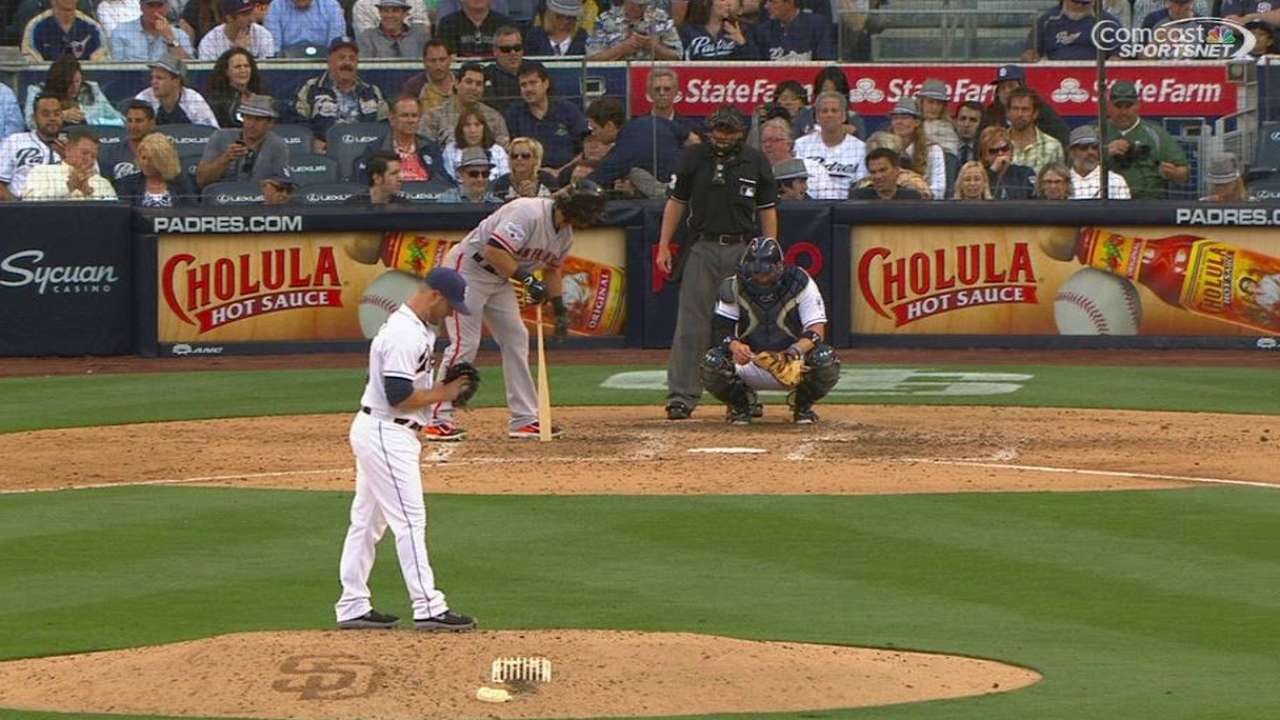 Pagan said he threw the gum underneath Norris on accident, in an attempt to throw it away. But because Pagan's batting glove was sticky, his toss went awry.
As for Tuesday's incident, Padres interim manager Pat Murphy doesn't think any of the hard feelings will trickle into Wednesday's day game or beyond that.
"No, these two teams respect each other, know each other," Murphy said. "I think those types of things happen. Players handle that stuff."
Corey Brock is a reporter for MLB.com. Keep track of @FollowThePadres on Twitter and listen to his podcast. This story was not subject to the approval of Major League Baseball or its clubs.