Bautista rocks another milestone
Blue Jays slugger cracks 223rd homer with Toronto, tied for second all-time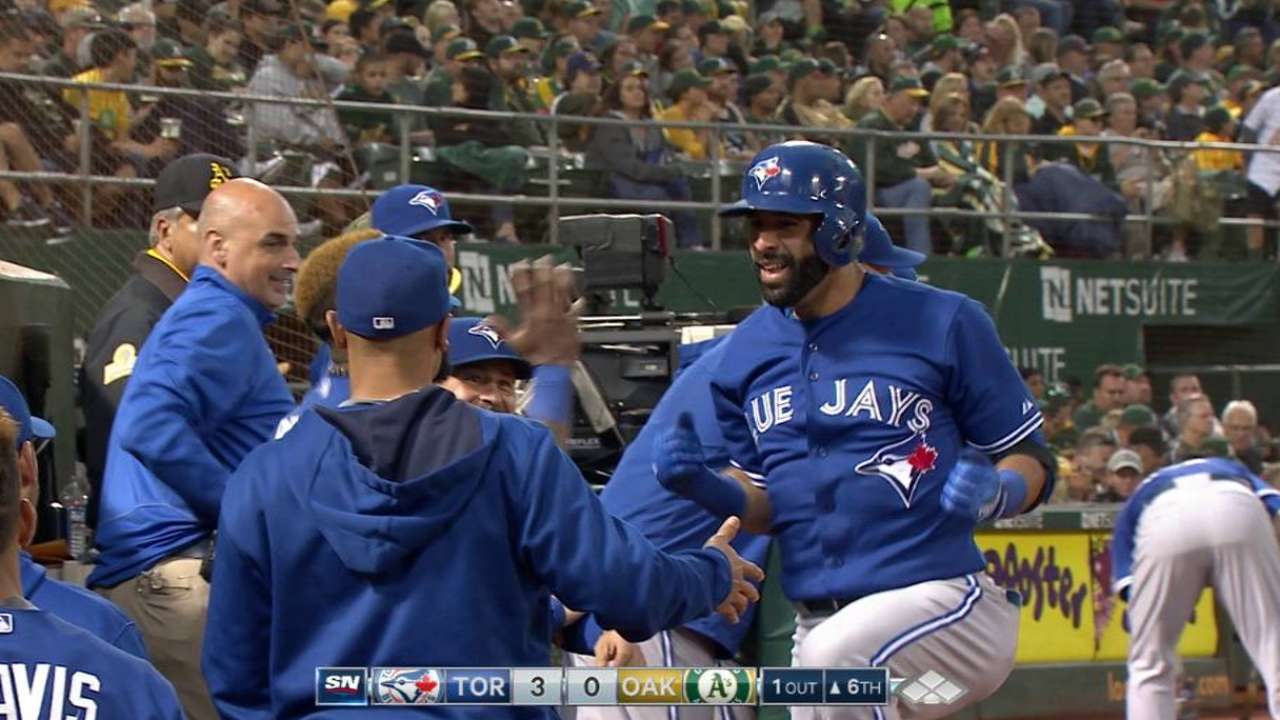 OAKLAND -- Jose Bautista continues to post eye-popping numbers year after year and it's to the point where his legacy will be remembered long after his playing days with the Blue Jays come to an end.
Bautista moved into a tie for second place on the club's all-time home run record with a solo shot to left field during Tuesday's 7-1 victory over the A's. It was home run No. 223 for Bautista in a Toronto uniform, which tied Vernon Wells and now trails only Carlos Delgado's 336.
Those type of overall numbers would be impressive for just about anybody, but they might mean even more to a player who was considered somewhat of an afterthought when he was acquired midway through the 2008 season in a deal for Minor League castoff Robinzon Diaz.
"That's awesome because I really came here from a shaky situation in Pittsburgh and I was given an opportunity," Bautista said of his place in franchise history. "Everybody embraced me and welcomed me here and I've always been appreciative and I try to remind people that I'm really thankful for that.
"I have a lot to thank to Alex [Anthopoulos] and then also Cito Gaston and Dwayne Murphy. I'll never forget that and it's one of those things that always keeps you humble because this game can change quickly and dramatically."
Bautista has been the model of consistency since he enjoyed a breakout season with 54 homers in 2010. Since the beginning of that year, Bautista has the most home runs in baseball with 207 while Detroit's Miguel Cabrera is second at 196.
The solo shot by Bautista in the sixth inning was his 20th of the season. He has at least 20 homers in six consecutive years, which had been done only twice before in Toronto history. Joe Carter hit 20 in seven straight years while Delgado did it nine times in a row.
These are the types of names that get mentioned alongside Roberto Alomar in conversations about the greatest Blue Jays players of all-time. There's no question that Bautista will find himself in that group when his playing days are over and the scary thing is that he still has time to add to those totals.
"Ideally, what I want people to think and believe, is that I try to show up every day and try to do my best and be one of those guys who's always helping the team win games," said Bautista, who remains under club control through the 2016 season.
Gregor Chisholm is a reporter for MLB.com. Read his blog, North of the Border, follow him on Twitter @gregorMLB and Facebook, and listen to his podcast. This story was not subject to the approval of Major League Baseball or its clubs.