Former team gets the best of Graveman
A's pitcher allows three home runs to Blue Jays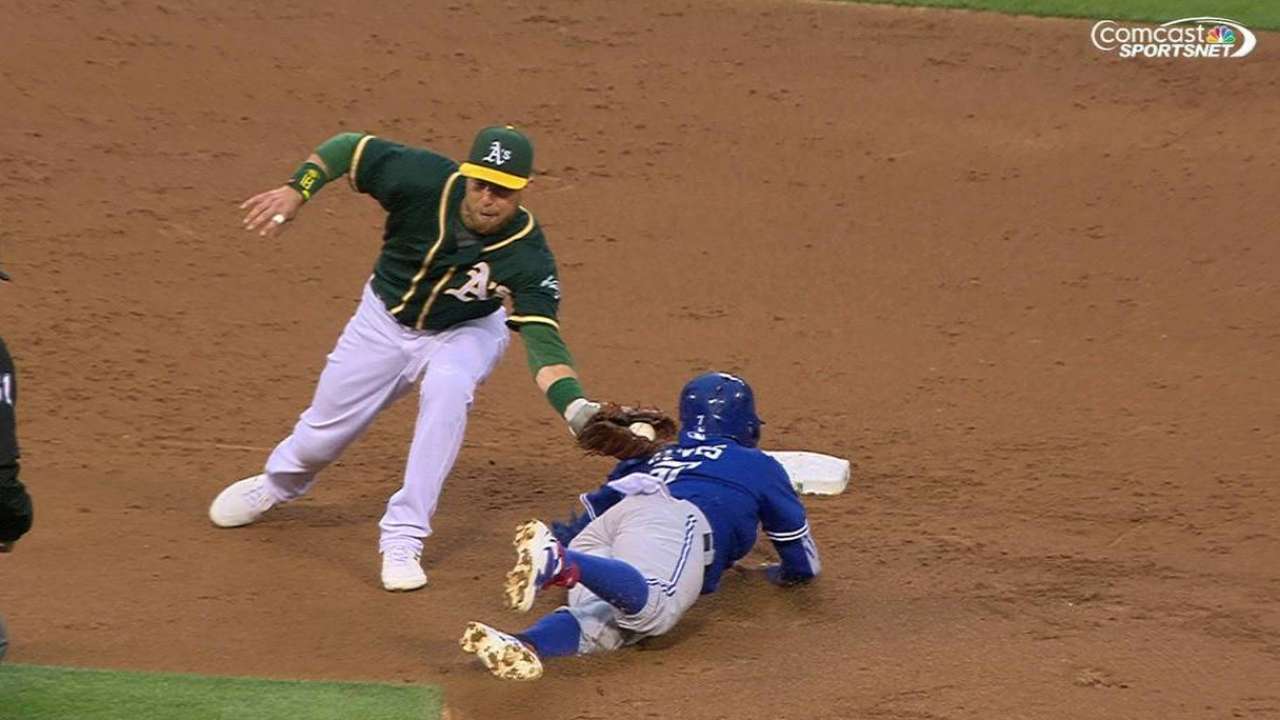 OAKLAND -- With Josh Donaldson in the house, the A's Kendall Graveman was perhaps an afterthought at the Coliseum on Tuesday night. He, too, though, was facing his former team, and the results weren't up to par with his recent performance.
Graveman, one of four players dealt to Oakland in the startling November trade that sent Donaldson to Toronto, took the loss in the series-opening 7-1 defeat amid a six-run outing that lasted 5 1/3 innings.
The right-hander, who was coming off a 10-day layoff following the All-Star break, was struck for a career-high three home runs, after not giving up any in his previous four starts.
"Just didn't make pitches, and when I made mistakes, they hit them," Graveman said. "I gotta be better hitting locations and move on from here and continue to grow from failure."
It's success that Graveman has reveled in of late, having entered the day with a 2.17 ERA in 10 starts since his return from Triple-A Nashville following a bout of early-season struggles. In his last two starts, though, he's allowed 10 runs in 11 innings. He gave up six total in his previous 43 innings.
Navigating Toronto's powered lineup is no cakewalk. Edwin Encarnacion, Jose Bautista and Russell Martin, who entered with a combined 49 home runs, all added to their total, and Donaldson did his part with a pair of doubles, one of them off right-hander Dan Otero that drove in a run in the seventh.
"It's hard to get the ball elevated when you're throwing sinkers in the bottom," Graveman said. "It changes a little with the approach with some of the guys. I didn't execute the plan I had going in, and I had to pay for that."
Graveman insisted he treated the outing just like any other, no matter the opponent.
"The guys are great, the organization was great to me, and it was an honor to be in that trade with Donaldson," he said, "but no added adrenaline, just another game for me."
• Coco Crisp (strained neck) took batting practice Tuesday for the first time since hitting the disabled list May 20. Crisp is expected to do more of the same in the coming days before the A's map out a potential rehab assignment for him.
• Switch-pitcher Pat Venditte (right shoulder strain) will begin a rehab assignment with Class A Advanced Stockton on Thursday, throwing one inning with his right arm. Right-hander Taylor Thompson (shoulder strain) is scheduled for one inning in the same game.
• Left-hander Sean Doolittle played catch out to 105 feet Tuesday and, barring any setbacks, could be throwing a bullpen session by the end of the month, Melvin said.
Jane Lee is the Oakland Athletics beat reporter for MLB.com. She has been covering the club since January 2010.
This story was not subject to the approval of Major League Baseball or its clubs.