Twins sputtering out of the second-half gate
Offense and pitching struggling after All-Star break
ANAHEIM -- The Twins had plenty of momentum heading into the All-Star break, winning six of seven, and they appeared poised to keep it going with a series-opening win against the A's on Friday before taking the lead in the ninth inning of Saturday's game.
But the Twins ultimately lost that game in heartbreaking fashion, and now it appears the momentum is heading the other way. The Twins followed it up with a 14-1 loss on Sunday, and it was ugly again on Tuesday in a 7-0 loss to the Angels. Minnesota has been outscored by a 23-1 margin since taking its ninth-inning lead in Oakland on Saturday.
"We haven't had the bats going since the first game coming out of the break," Twins manager Paul Molitor said. "And we got a lot of runs on two swings in that particular game. So we've struggled offensively. We took strikes and swung at balls for the most part and expanded the zone."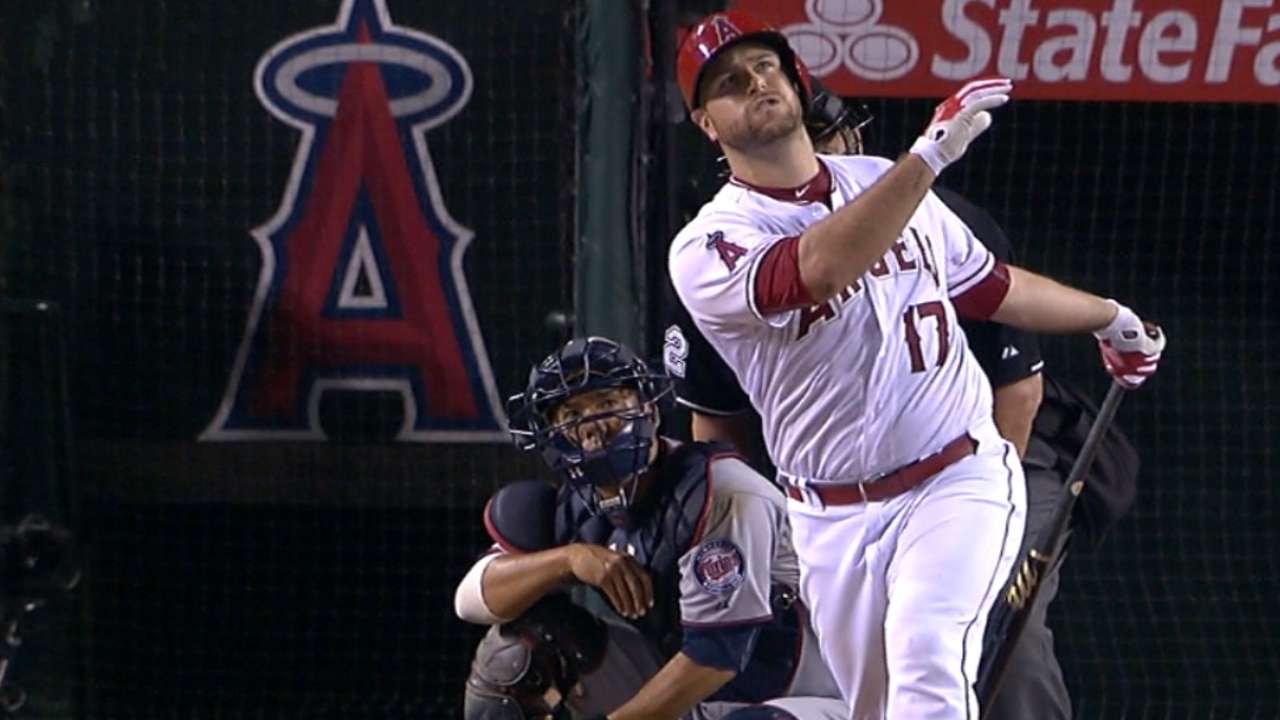 Right-hander Kyle Gibson, who had a 0.86 ERA over his previous three outings, also had a rough showing in his first start of the second half, lasting five-plus innings and tying a season-worst by allowing six runs on Tuesday night. It was a lack of fastball command that did him in, but given his strong season, one lone bad outing isn't worrisome going forward, especially considering the defense also let him down in a five-run sixth inning.
"Gibby pitched OK and battled through what probably wasn't his best stuff, but we just didn't make plays," Molitor said. "We were playing a hot team. When you give a team more opportunities, they capitalize on it, and they certainly did all night long."
But the bullpen remains an issue, and it was again the case on Tuesday, as reliever Blaine Boyer struggled, coming in with the bases loaded and nobody out in the sixth, and promptly giving up a sacrifice fly and a three-run blast to Chris Iannetta, who entered the game hitting .191. Minnesota's top priority before the July 31 non-waiver Trade Deadline remains adding a setup reliever to complement closer Glen Perkins, and Boyer's tough outing just emphasized that.
The offense also was unable to get the job done against right-hander Matt Shoemaker, who tied a career high with 10 strikeouts in six innings. The Twins were limited to just two hits and it doesn't get any easier, as they still have two more games against the first-place Angels before a three-game series against the first-place Yankees and two games against the Pirates.
Gibson, though, said the Twins aren't worried about their three-game skid, as they've shown the ability to bounce back this season.
"We're still really confident," Gibson said. "We have a really good team in here. I think we would've had a chance to get into their bullpen if I just get that double play there [in the sixth inning] and get the one out. It would've been a 2-0 game most likely. We were still in it outside of that one inning, so we're pretty confident and we'll look to win tomorrow to even the series and try to win the series on Thursday."
Rhett Bollinger is a reporter for MLB.com. Read his blog, Bollinger Beat, follow him on Twitter @RhettBollinger and listen to his podcast. This story was not subject to the approval of Major League Baseball or its clubs.