Rotation decision only getting tougher
Weaver's return forces Angels to plug six starters into five spots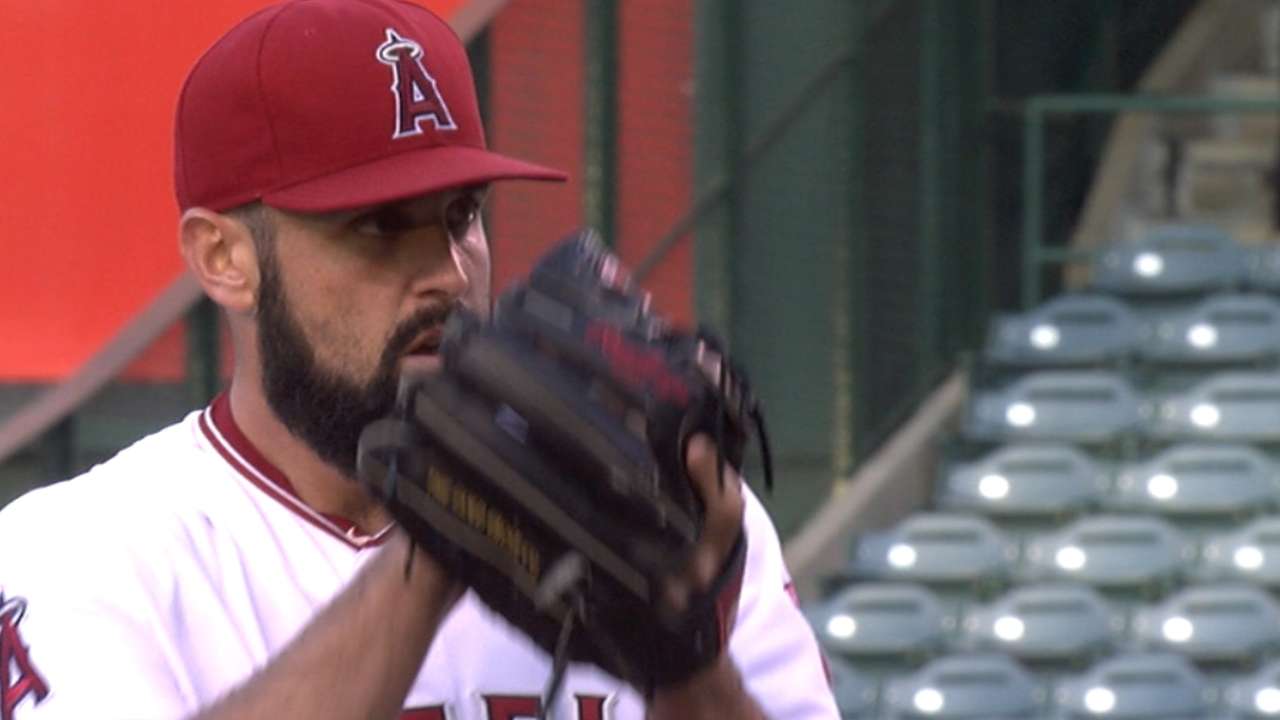 ANAHEIM -- So how would you like to be the Angels' manager and decide who gets booted from the starting rotation when Jered Weaver returns?
"That," Chris Iannetta said, "is way over my pay grade."
It's a tricky dilemma, but also an ideal one.
Matt Shoemaker continued to exemplify the Angels' season-long rotation dominance in Tuesday's 7-0 win over the Twins, while throwing six scoreless innings and striking out a career-high-tying 10 batters in an 88-pitch effort. Shoemaker has a 2.31 ERA over his last four starts. His overall mark, 4.55, is almost identical to where it was by this point last season, just before the surge that led to a second-place finish for the American League Rookie of the Year Award.
And here's the thing: Shoemaker was perceivably the logical candidate to lose his job at the expense of Weaver.
"You guys are saying that," Angels manager Mike Scioscia refuted. "We have a ways to go. We haven't made any decision. The first thing is we have to see where Weave is and make sure he's going through the paces to be ready to pitch, and when we're presented with that, we'll make a decision."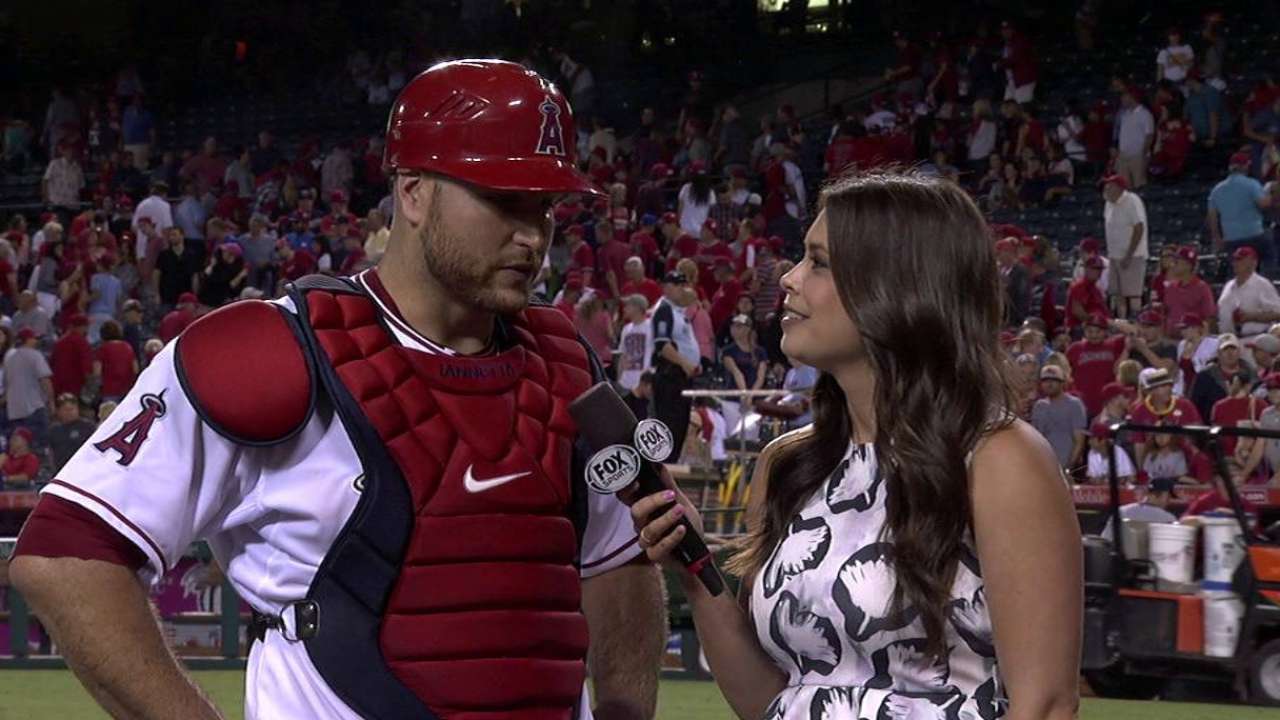 The Angels -- winners of six in a row and 16 of their last 19 -- rank third in the AL with a 3.56 starting-pitcher ERA and first with 56 quality starts. Their rotation has allowed three runs in 35 innings since the All-Star break, on the way to three shutouts in five games, and everybody is seemingly pitching at their best right now.
C.J. Wilson (3.59 ERA) is coming off eight scoreless innings against the Red Sox on Friday, and Garrett Richards (3.24 ERA) is coming off a complete-game shutout against the Red Sox on Saturday. They're not going anywhere. Hector Santiago, who entered Spring Training as a bullpen candidate, is an All-Star with a 2.30 ERA. And Andrew Heaney, the 24-year-old left-hander who has created this conundrum, is 4-0 with a 1.57 ERA in five starts.
Scioscia said after Monday's doubleheader that Heaney would remain in the rotation, creating the likelihood of Shoemaker temporarily pitching out of the bullpen.
Then he pitched like he didn't want to.
"Those decisions are all out of our hands,' said Shoemaker, who claimed he wasn't any more motivated by the looming decision. "I'm going to go out there and play every time I'm getting the ball, and play as well as I can."
The Angels' recent, head-turning surge has been sparked by the offensive contributions outside of Mike Trout and Albert Pujols, as evidenced by Monday's 13-hit effort. But the backbone for it all has been their pitching staff, most notably the rotation. It's the reason they hovered around .500 while finishing the month of June with the 22nd-best OPS in all of baseball.
It's been there all year.
"They've been great; they really have," Iannetta said of the starters. "They gave us a chance to win when the offense wasn't doing what we were capable of, and now you're seeing it come around."
Weaver is on the disabled list with inflammation in his left hip, but more important is that he work out the mechanics that will give his pitches more life and allow him to improve his 4.75 ERA. The Angels' long-time ace threw a four-inning, 60-pitch simulated game on Tuesday. It was supposed to be Weaver's final step before joining the rotation later this week or next, but Scioscia said nothing definitive pregame.
So, where the heck are you going to put him?
Scioscia laughed at the question.
"It'll be a nice problem when Jered's ready to go and we have more depth established in our rotation," Scioscia said, while adding that he will not consider a six-man rotation. "If you have six guys throwing the ball well out of rotation and you have to pick five, that's a nice position to be in. I don't think you can say enough about the way our rotation has performed, and tonight's just another example."
Alden Gonzalez is a reporter for MLB.com. Read his blog, Gonzo and "The Show", follow him on Twitter @Alden_Gonzalez and listen to his podcast. This story was not subject to the approval of Major League Baseball or its clubs.