Hellickson's strong outing results in a tough-luck loss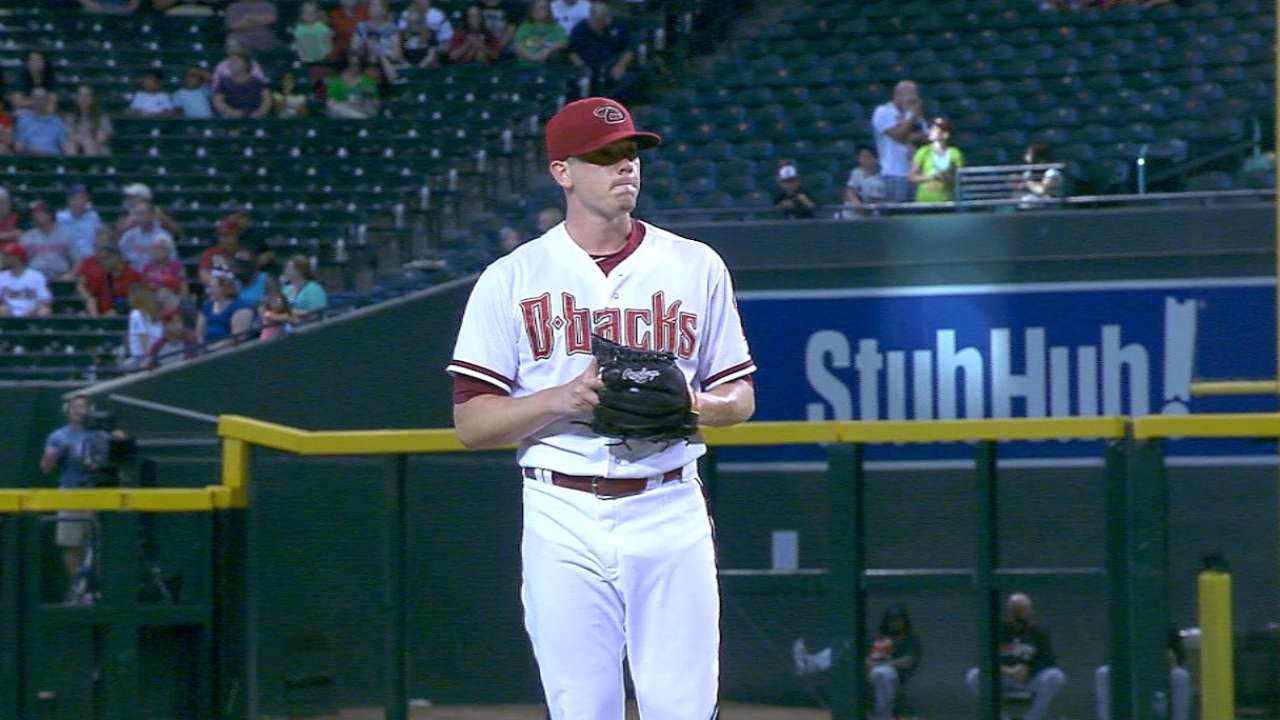 PHOENIX -- D-backs starter Jeremy Hellickson and Marlins reliever Mat Latos matched each other for most of Tuesday night, putting up zeros early and making quick work of the other team's lineup.
On many nights, Hellickson's two runs allowed over seven innings would have been enough to pick up a win. Not on Tuesday, when Latos and the Marlins' bullpen combined to blank the D-backs and hand them a 3-0 loss.
"I like those types of games," Hellickson said of going head-to-head with Latos. "I thought I felt pretty good, just I can't make those mistakes when he's throwing that well."
The first mistake Hellickson made came in the fifth inning after he gave up a two-out double to J.T. Realmuto, who then stole third base without a throw. D-backs manager Chip Hale said he wanted Hellickson to pitch around Marlins shortstop Adeiny Hechavarria with Latos in the on-deck circle.
Instead, Hellickson hung a breaking ball over the middle of the plate, and Hechavarria singled in Realmuto for a 1-0 lead.
"I wasn't trying to hang a curveball right there, just a mistake," Hellickson said. "I can get him out. I just made a bad pitch."
Hellickson later gave up a home run to Michael Morse to lead off the seventh. However, it was the second time in three starts that the D-backs right-hander has completed seven innings after he was unable to do so in each of his first 15 outings.
The D-backs couldn't get much going against Latos, who limited them to four hits in his seven innings, while striking out seven. The D-backs have scored just four runs over their last three games and have struggled to come up with clutch hits -- they were 0-for-4 with runners in scoring position and left six men on base on Tuesday.
"When you're not scoring a lot of runs, I think guys are pitching pretty well," Hale said. "Hopefully we'll get it going. It's a tough pitcher [Wednesday] so we have to be on top of our game."
The next tough pitcher that the D-backs are facing on Wednesday is young Marlins right-hander Jose Fernandez.
The D-backs have had to face their fair share of tough pitching recently, while losing seven of their last eight. They had to face Mets starters Matt Harvey and Noah Syndergaard just before the All-Star break, defending World Series MVP Madison Bumgarner of the Giants on Sunday, and then Latos.
Against Latos, the D-backs were shut out for the fifth time this season, but for the first time since May 17. They also fell back to six games below .500 for the third time, their low-water mark of the season.
"He was carrying the ball really well," D-backs left fielder David Peralta said. "There's nothing you can do about it -- just turn the page, forget about it, that was the past."
Jake Rill is an associate reporter for MLB.com. This story was not subject to the approval of Major League Baseball or its clubs.