Unfazed by rumors, Latos dominates D-backs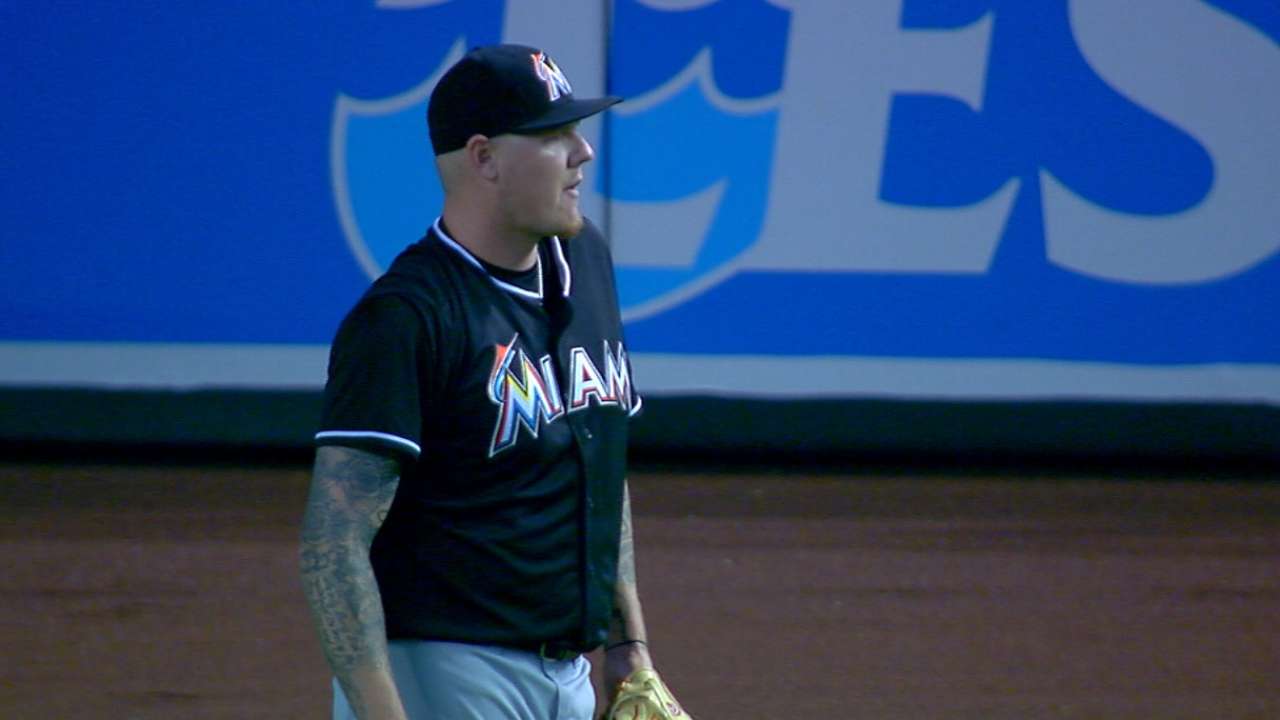 PHOENIX -- Mat Latos has already been traded twice in his career. Whether it happens a third time, he says the build-up to it won't affect him. He backed that up on Tuesday.
Latos delivered yet another strong performance as his name swirls in the Trade Deadline rumor mill, as he once again dominated the D-backs at Chase Field in a 3-0 Marlins victory.
The right-hander struck out seven in seven shutout innings and has allowed three runs in his last three starts combined. He is clearly pitching well at the right time to gain the attention of any contending team in need of another starting pitcher.
Latos doesn't ignore the talk that he might end up wearing a Marlins uniform for less than a year. But he doesn't let it bother him when he steps on the mound.
"It's not going to affect me," he said. "I need to take care of business here, and if I get traded, I get traded, and I'll take care of business elsewhere.
"Right now I'm wearing a Marlins uniform so I have to take care of business as a Marlin. This isn't a one-man game, and I owe it to the 24 guys in this clubhouse to put in 110 percent all day every day, until they kick me out of the clubhouse."
Latos told manager Dan Jennings he wants to be kept abreast of any developments as the July 31 non-waiver Trade Deadline approaches. Jennings, to this point, has obliged.
"Of course I want to know; I want to know what's going on," Latos said. "I have a family and a 10-month-old to worry about. I'm not just going to sit here, sit around and, 'Oh, crap, I'm traded, I guess I have to pick up everything I have in Miami with my wife and my kid and figure out where I'm going.' I told him I do want to be in the loop because I don't want any surprises."
Latos has a 2.72 ERA in his past six starts. In the start before this run began, he gave up six runs in 5 1/3 innings to the D-backs in a 7-6 loss in Miami. Arizona never really had a chance this time around.
"In his last six starts, he's really thrown the ball excellent, but tonight he just pounded the strike zone," Jennings said. "Those last two innings, he actually got better."
Latos in the sixth inning went through the heart of the D-backs order -- Paul Goldschmidt, David Peralta and Yasmany Tomas -- on 11 pitches, and then completed his night with a 1-2-3 seventh before he was lifted for a pinch-hitter.
Latos, who said he has felt comfortable pitching at Chase Field dating back to his time with the Padres in the NL West, was the cure for the Marlins' road woes -- at least for one night. He is 5-1 with a 2.95 ERA in 10 career games against the D-backs and is 4-0 with a 1.33 ERA in six starts at Chase Field.
Chris Gabel is a contributor to MLB.com. This story was not subject to the approval of Major League Baseball or its clubs.