Nunez, Pinder among 10 top prospect performers Tuesday
Athletics No. 4 prospect hits his 14th homer of the year, No. 8 prospect goes 4-for-5 for Double-A Midland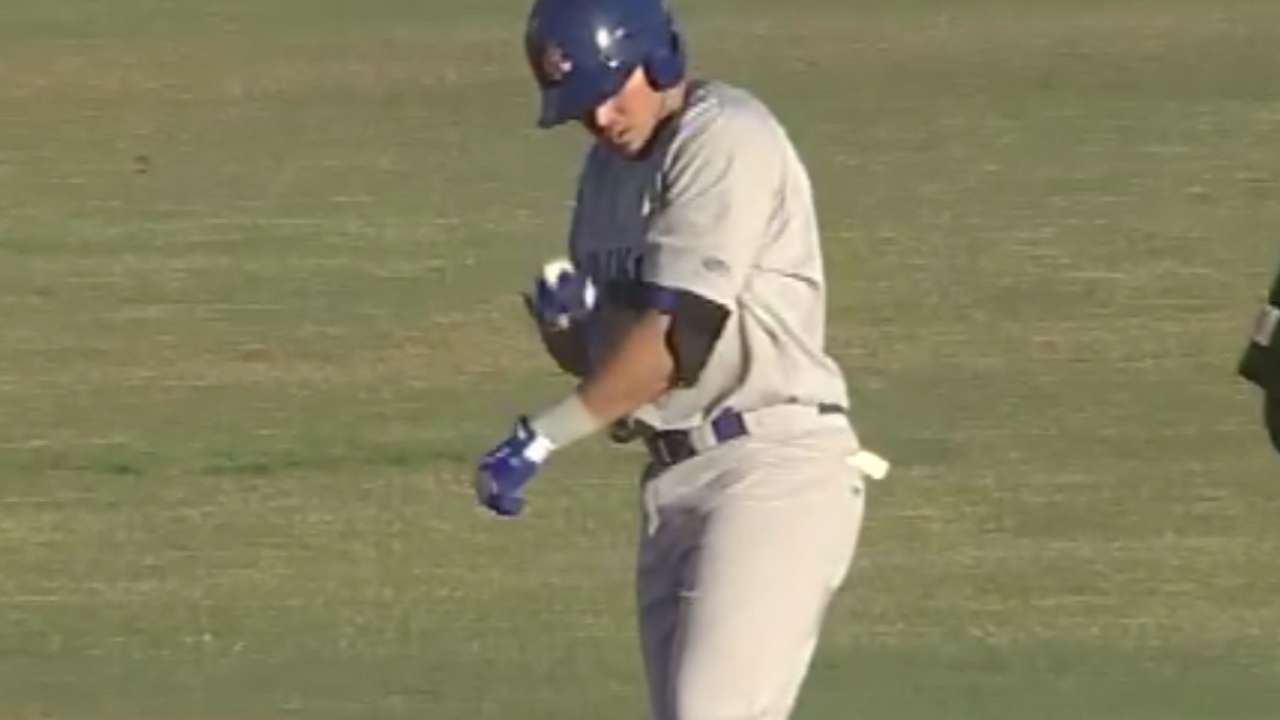 Oakland's farm system received several strong performances Tuesday as two Double-A Midland players helped the RockHounds top Corpus Christi, 9-7, and one Class A Beloit shortstop continued an impressive run.
Renato Nunez, the organization's No. 4 prospect, homered for the second straight night. He finished 2-for-5 with three RBIs and extended his hitting streak to six for Midland. The 21-year-old has improved his batting average from .246 to .263 in that span and has 14 taters on the season.
Nunez has been a consistent power bat since beginning the year with 13 straight games without a homer. He has not gone more than nine without a roundtripper since and has 38 RBIs in 2015.
Tuesday, his partner in crime was No. 8 prospect Chad Pinder, who finished 4-for-5 with a solo homer and has hit in 15 straight games. The 23-year-old shortstop has improved his line from .293/.355/.436 to .313/.364/.463 in that time and has nine homers to go with 55 RBIs on the year.
In Class A, No. 7 prospect Yairo Munoz stayed hot.
The Snappers shortstop ripped a two-run rocket and has 10 hits and seven RBIs in the past six games. While his homer was his first since July 2, the 20-year-old has been bringing home plenty of runs all year and sits with nine homers and 47 RBIs in Beloit.
The rest of the 10 best performances from top Minor Leaguers
• Astros No. 6 prospect Colin Moran continued raking for Double-A Corpus Christi. The third baseman homered for the second straight night as the Hooks fell to Midland, 9-7. Moran has hit in 13 of 14 games and has recorded four straight multi-hit performances. Moran, 22, is hitting .556 (10-for-18) with two bombs and seven RBIs in that span. Tuesday, he broke the .300 barrier for the first time all season and stands at .301/.361/.431 with three homers and 43 RBIs.
• Mets No. 13 prospect Matt Bowman tossed a complete-game shutout for Triple-A Las Vegas, allowing just two hits and three walks while striking out six batters over nine innings. The performance marked his first career shutout and the best start of his 2015 campaign. Bowman stands at 7-10 with a 5.05 ERA. He's chasing his career high of 10 wins in a season, which he posted in both 2013 and 2014. A third-round Draft pick in 2013, the right-hander has given up 13 homers this season, already five more than his previous career high mark.
• Nationals No. 3 prospect (No. 49 overall) Trea Turner went 3-for-3 with two doubles, two stolen bases, an RBI and a walk for Triple-A Syracuse and helped the Chiefs escape Buffalo with a 7-5 win. Tuesday's game marked the end of a mini-slump for the 22-year-old. He entered the contest having gone 0-for-5 in his previous two games. "I was just trying to keep it simple," he told MiLB.com. "Last night, I was thinking a little too much and I struggled a little bit. Today, I just wanted to keep it simple and be aggressive at the plate. Turner's current line in 22 games -- .308/.345/.474 -- is quite impressive given that he started his Chiefs career 0-for-17 in late June.
• Phillies No. 1 prospect (No. 15 overall) J.P. Crawford appears to have found his groove. Not typically known for his power, the shortstop now has five extra-base hits in his past three contests, including two homers. Tuesday night, he went 2-for-4 with a double and a solo homer for Double-A Reading in a 6-4 win against Bowie. Crawford's blast was clutch; it tied the game at four with two outs in the seventh inning. On the year, he is hitting .266/.370/.431 with 11 doubles, four triples, four homers and 17 RBIs at the Double-A level.
• Pirates No. 1 prospect (No. 9 overall) Tyler Glasnow notched a season-high 10 strikeouts for Double-A Altoona. While he also surrendered four hits and three runs, the 6-foot-8 righty took home a 'W' after the Curve sealed an 18-7 blowout win over Erie. Glasnow has won three straight starts and stands at 5-2 with a 2.37 ERA in 11 appearances for Altoona. He also boasts a 70-to-17 strikeout-to-walk line after Tuesday's start.
• Rangers No. 3 prospect (No. 42 overall) Nomar Mazara finished 2-for-4 with his first home run since July 2. The outfielder had been fighting off a tough stretch -- five hits in eight games -- before coming through Tuesday in Double-A Frisco's 4-1 win over San Antonio. Mazara's blast was his 11th of the year and he's hitting .280/.354/.438 with 14 doubles and 48 RBIs for the RoughRiders.
• Reds No. 11 prospect Sal Romano allowed just one baserunner in seven innings for Class A Advanced Daytona. The 6-foot-4 right-hander gave up one hit while striking out six as the Tortugas took down Dunedin, 7-1. Tuesday's masterful performance followed his worst start of the month (five runs in 5 1/3 innings), but he's only allowed one earned run in his other three starts (20 2/3 innings). Romano is 6-4 with a 3.19 ERA in 17 starts this season. "Even when I started at [Rookie-level] Billings, I was more of a thrower, and I'm just now becoming a pitcher," Romano told MiLB.com. "I need to be that if I'm going to move up in the system, so I'll just take this start and build off what I've already done."
Alex M. Smith is a reporter for MLB.com. This story was not subject to the approval of Major League Baseball or its clubs.