Johnson showcases impressive curve in loss
Red Sox lefty runs into trouble during fourth inning vs. Astros in big league debut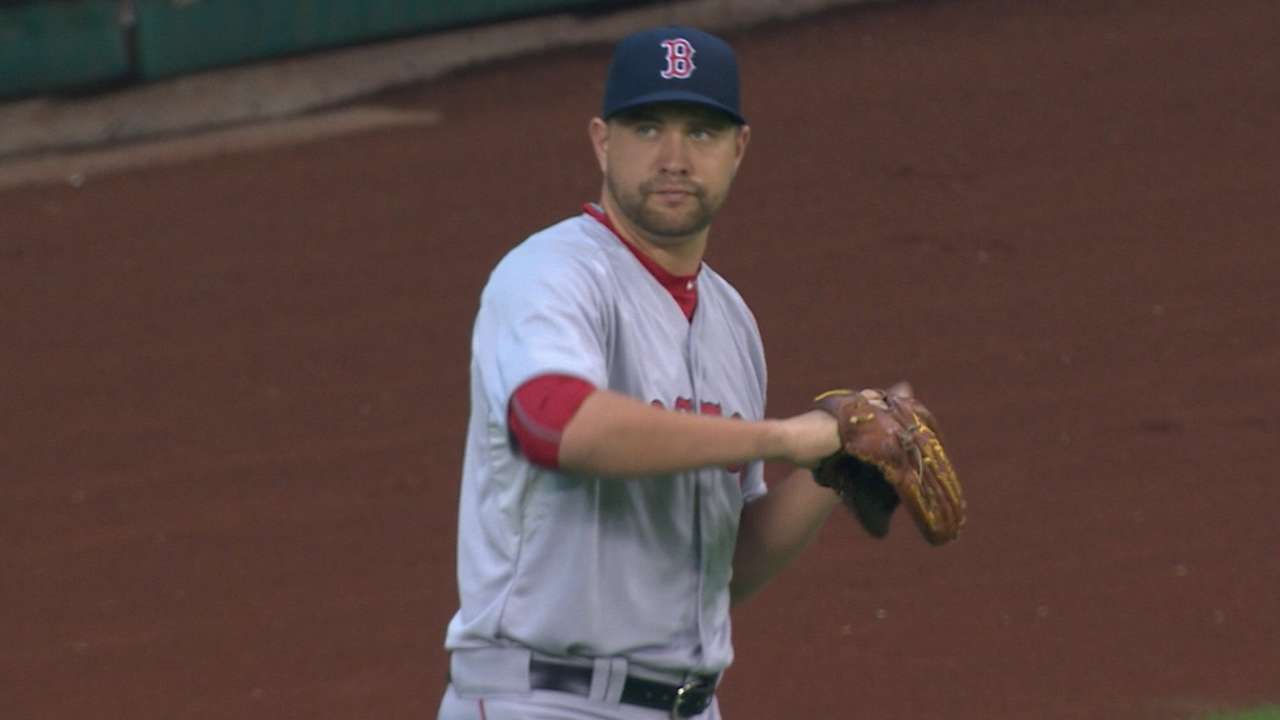 HOUSTON -- In his Major League debut, Brian Johnson battled rust and nerves -- not to mention the weight of trying to help the Red Sox get out of a losing streak.
The lefty -- ranked No. 5 among Red Sox prospects by MLBPipeline.com -- showed flashes of brilliance at times, particularly with his curveball, but the end result was an 8-3 loss to the Astros.
Over 4 1/3 innings, Johnson gave up just three hits, but also four runs and four walks. The Red Sox have lost six in a row.
What could have been an auspicious beginning to Johnson's career turned sour in the fifth, when the Astros erased Boston's 3-1 lead with a four-run rally.
The unraveling started when Ryan Hanigan tried to throw Jake Marisnick out at second on a stolen-base attempt. But the throw hit Marisnick and bounced far into left field. Not only did Chris Carter score, but so did Marisnick. It looked like Hanigan had set up for a pitchout, but Johnson instead threw a changeup. Suddenly, the game was tied.
"Yeah, I rushed it a little bit," said Hanigan. "It kind of tailed on me. Unfortunately it hit the runner and took off to the left and they both scored. It was kind of a tough play momentum-wise for that game because we were in control of the game until that happened. But that's not on Brian. That's on me. He pitched a pretty solid game."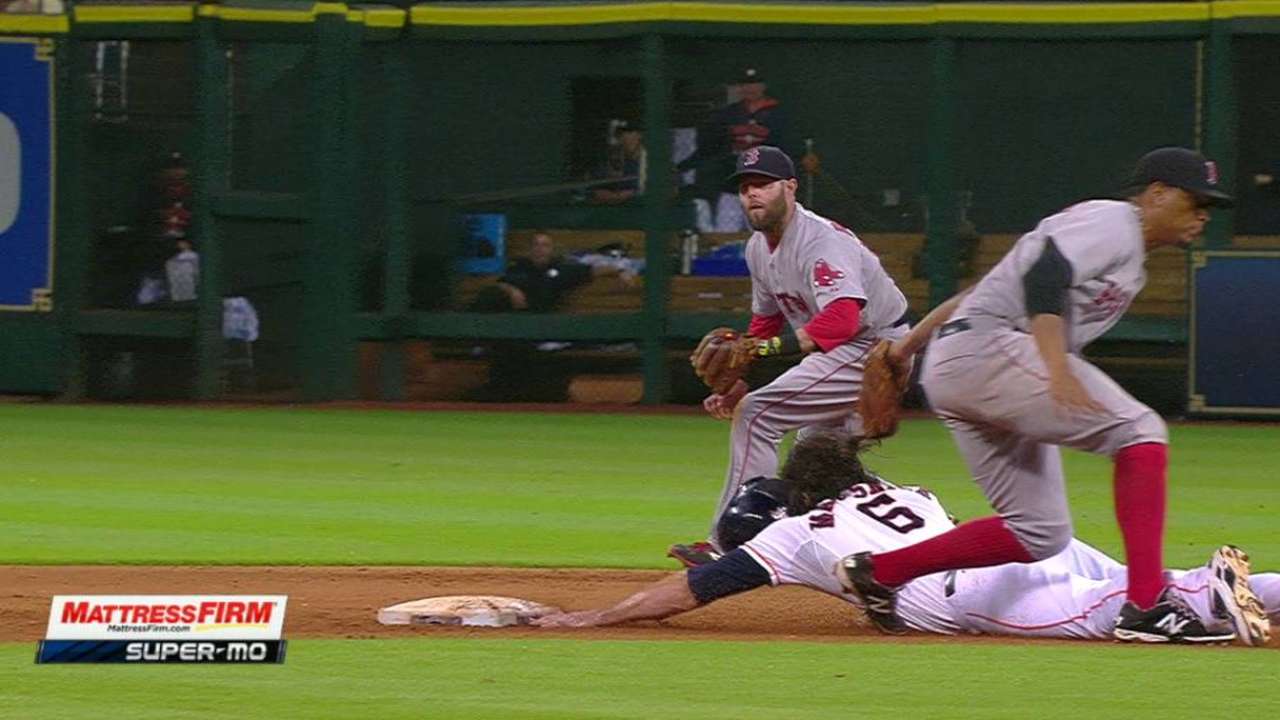 Leading up to the messy steal-error were two awkward lobs from Johnson to first on pick-off attempts.
"That was a little bit of a surprise tonight with the throws to first base, and obviously they quickly looked to take advantage of that," said Red Sox manager John Farrell.
"In that sense, I have a good amount of pickoffs, maybe two or three, maybe four. If I see the runner break I'll go hard, but other than that, if he's just going back I just try to get the ball back over there to keep him close," said Johnson. "But if I pick my leg off and he breaks off I'll give a good, firmer throw over there."
Johnson was able to minimize the damage in the first, when the Astros put runners on the corners with nobody out, allowing just a sacrifice fly. And he was never better than in the third, when he struck out the top three in Houston's order -- Jose Altuve, Marwin Gonzalez and Carlos Correa -- on nasty benders.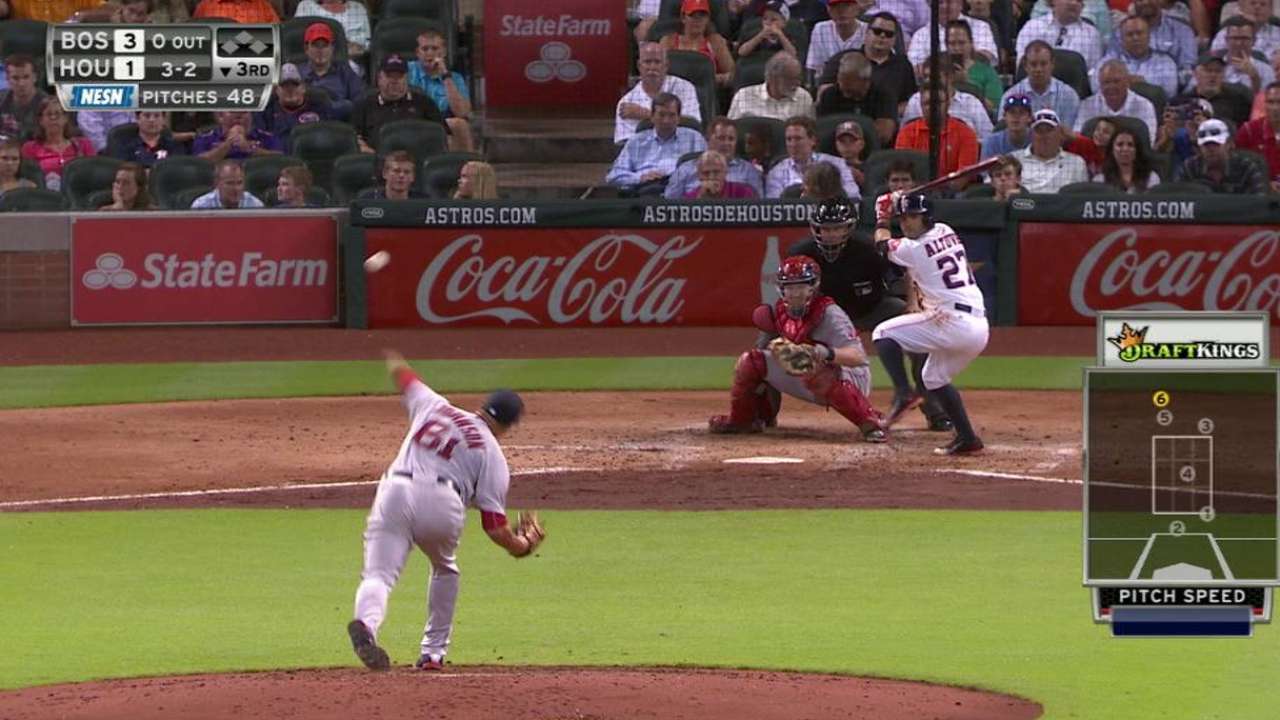 "It felt great," said Johnson. "My curveball felt good today, fastball command felt better later in the game. My slider was OK at times, better here and there, but I felt great."
Due to the fact Johnson was called up just before the All-Star break but was never needed in the bullpen, he hadn't pitched since July 6.
"I can't say it's one or the other," said Farrell, when asked if Johnson was impacted more by rust or nerves. "That's a long time to be off for any pitcher. In light of that, he got into, I think, a pretty good rhythm, pretty quick."
Johnson could get another chance over the weekend against the Tigers, but Farrell is still trying to plot out his pitching beyond this turn through the rotation.
Ian Browne is a reporter for MLB.com. This story was not subject to the approval of Major League Baseball or its clubs.