Bullpen woes continue to vex Tigers
Feliz allows go-ahead, pinch-hit grand slam in 8th inning Tuesday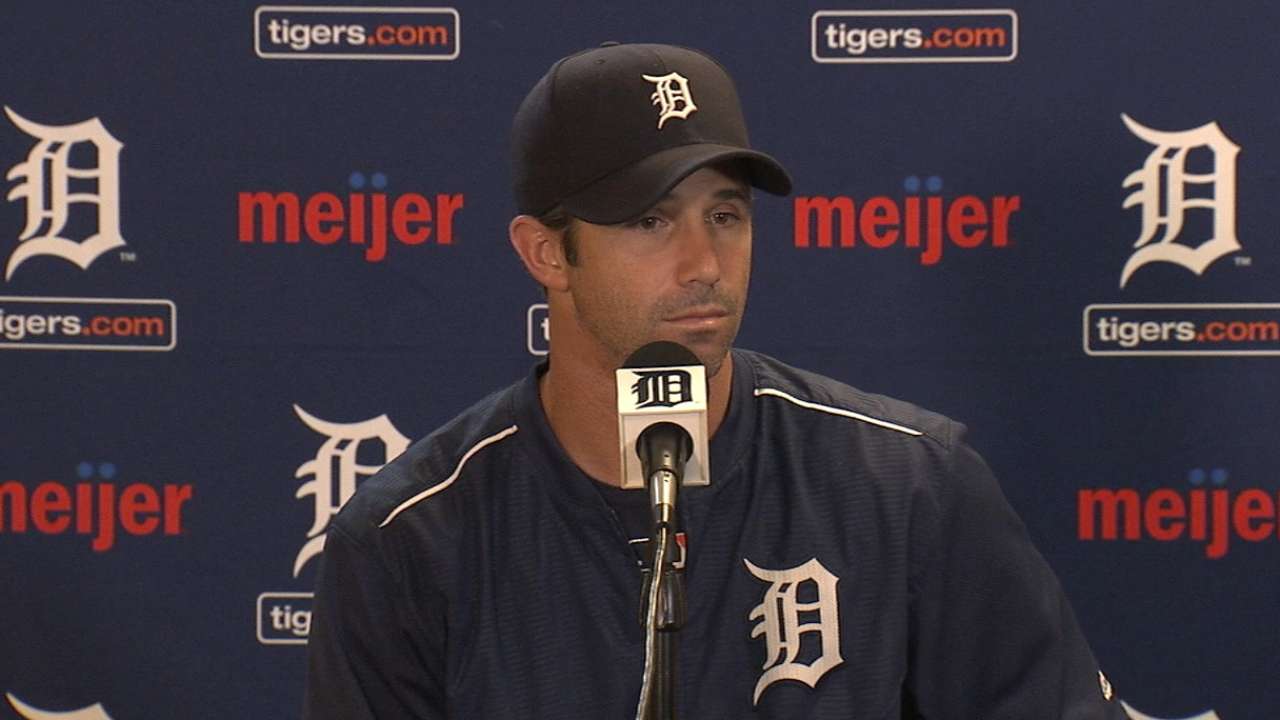 DETROIT -- The risk for a manager whose bullpen doesn't have set roles, former Tigers skipper Jim Leyland used to say, was that it opened up a world of second-guessing. Leyland said that two years ago, when he opened the season with plenty of role pitchers, but no closer.
Leyland's successor, Brad Ausmus, has a bullpen with a closer, but no proven role pitchers beyond that. And he's getting a full appreciation for what Leyland meant, with Tuesday's 11-9 loss to the Mariners a potentially crushing blow for both the Tigers and their beleaguered relief corps.
With a newly discovered lead and the Tigers' Trade Deadline decision to buy or sell potentially on the line, Ausmus was about as aggressive as he has been all season with bullpen matchups, using four different relievers in a five-batter span to carry what ended up being an 8-6 lead to the eighth to former Rangers closer turned Tigers setup man Neftali Feliz. He then watched Feliz load the bases on singles ahead of a Franklin Gutierrez pinch-hit grand slam with two outs.
Joakim Soria, to whom Ausmus had turned for four-out saves three other times this year, didn't warm up as the rally came together. Nor did Alex Wilson, the long reliever turned setup support man. It was Feliz's inning the whole way. After cycling through relievers to get the lead that far, Ausmus faced a short bullpen. At the same time, he had seen so many late-inning situations fall apart that he left Wilson in reserve for extra innings and Soria for the ninth.
That last part says a lot about Detroit's bullpen this season.
"Feliz and Soria are one-inning guys," Ausmus said. "If, for some reason, they tie the game in the eighth or ninth on Feliz or Soria, I've gotta have somebody else. Simple as that."
Essentially, Ausmus protected for failure. At the same time, the fact that Feliz joined Soria, Bruce Rondon, Joba Chamberlain, Tom Gorzelanny and others with late-inning struggles on their record reflects how many different directions he has tried to turn searching for success.
"He's pitched well since he's gotten here," Ausmus said of Feliz. "He's been a closer. He's used to high-pressure situations. So, yeah, we're trying to find someone to get us to Soria, and we're having a little trouble finding that."
The outing was a microcosm, too, for Feliz, and a sign of how he got here. He dominated the Mariners for nearly his whole career as Rangers closer. It wasn't just the 11 saves in as many chances until this season; Feliz tossed 26 shutout innings on seven hits against Seattle before this season. That began to turn this year, including a blown save and walk-off loss on April 19 at Safeco Field.
When Gutierrez's ball left the park on Tuesday, it was the seventh run and ninth hit Feliz had allowed to the Mariners this season. And it was the latest source of consternation for Ausmus.
"We can get into the second guessing based on results," Ausmus said. "The truth is I would do nothing different at all in that game. You try and put the players in the position to succeed. You try and get though the game. We were running short on pitchers from early on in the game. But quite frankly, that's exactly how I would do it again."
And in the end, the season-long weakness the Tigers had been expected to address at the Trade Deadline could end up setting up the Tigers to sell instead.
Jason Beck is a reporter for MLB.com. Read Beck's Blog, follow him on Twitter @beckjason and listen to his podcast. This story was not subject to the approval of Major League Baseball or its clubs.