Struggles with runners on base continue for Tribe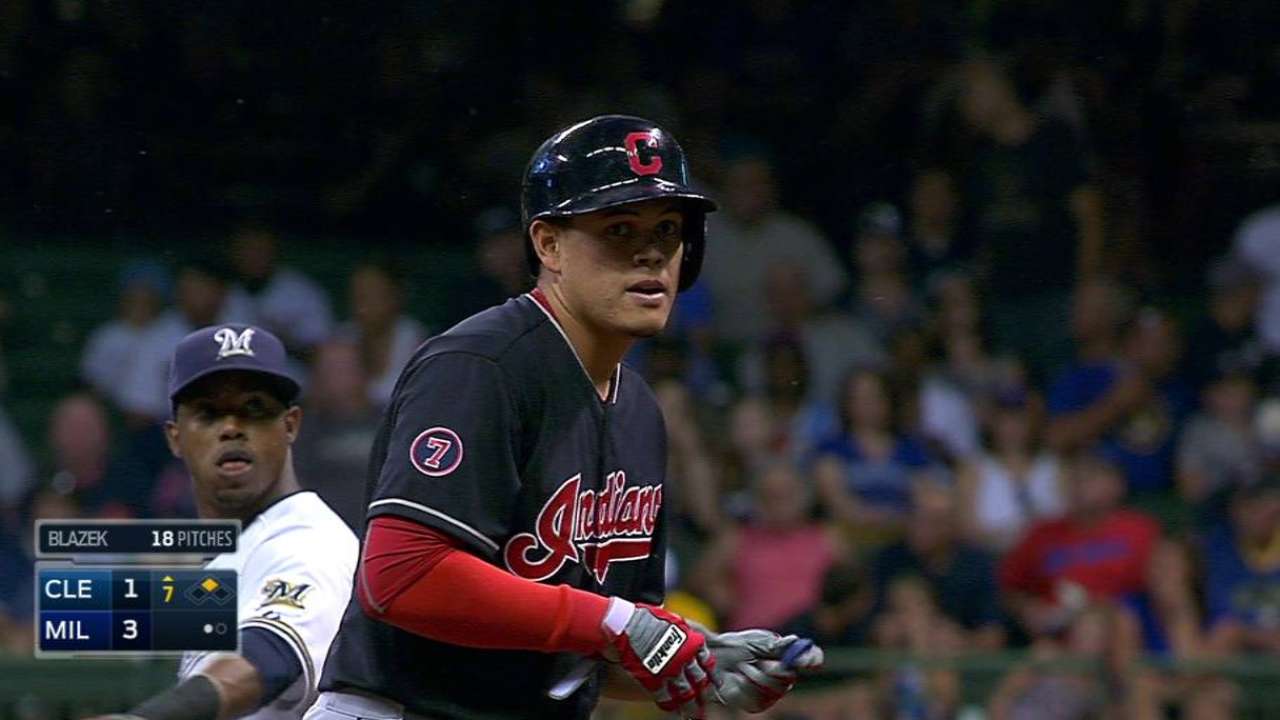 MILWAUKEE -- Michael Bourn felt it was an opportune time to be aggressive. The Indians' center fielder received a first-pitch fastball from Brewers right-hander Matt Garza, creating a chance with runners on the corners to pull Tuesday's game into a tie in the second inning.
Instead, Bourn pulled the pitch into an inning-ending double play, marking the first time since last August that he grounded into a twin killing.
"That's about right," said Bourn, who allowed himself to laugh a little at his misfortune in the wake of Cleveland's 8-1 loss to the Brewers at Miller Park. "It's almost like the times I want to be aggressive, I should take one."
Bourn has not been alone in this offensive plight.
Tuesday's loss was just the latest chapter in the Tribe's season-long woes with runners in scoring position.
Cleveland's lineup went 1-for-11 in such situations in the loss to Milwaukee, spoiling a solid six-inning effort from starter Danny Salazar. True, an error by rookie shortstop Francisco Lindor helped lead to a four-run burst for the Brewers in the seventh, blowing the game open. With a little more offensive effectiveness early on, though, Milwaukee may not have even wound up in that situation.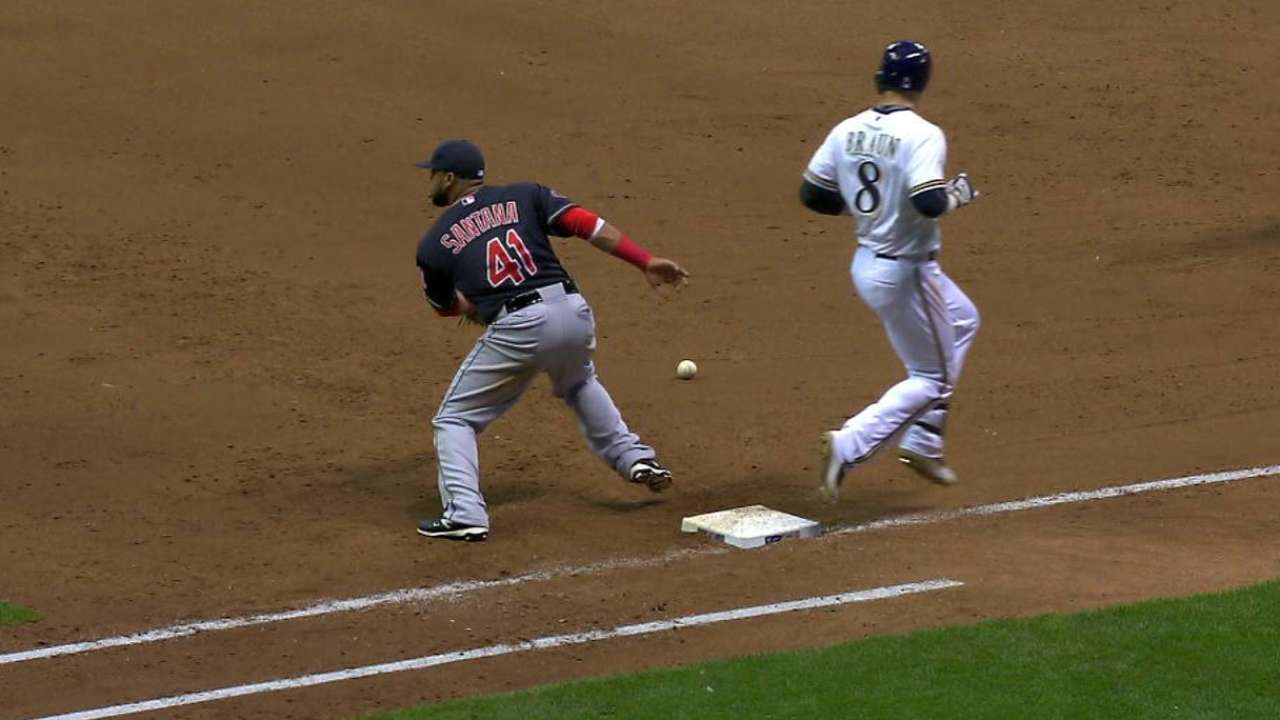 Cleveland went 0-for-6 with RISP against Garza, who carried a 5.55 ERA into the outing and then logged six innings in his first start off a stint on the disabled list. The Brewers starter induced three of the Indians' four inning-ending double plays on the night.
"That was the difference tonight," Bourn said. "They did [hit with RISP] and we didn't. We both had nine hits, but when we had runners in scoring position, I myself ran into a double play, and we had a couple more double plays hit. That was the difference of the game. We got good pitching. Danny pitched very well tonight. They got runs early, but it was nothing that we couldn't overcome.
"That's been our struggle. That's pretty much been our nemesis all year almost. We can't hit with runners in scoring position. We can hit the baseball, but we haven't been able to drive in runs. That's a big thing, if you want to be playing in October. We have to find a way to do that."
Indians manager Terry Francona said before Tuesday's game that he does not feel the issue stems from his hitters pressing too much in the batter's box with runners on base. He pointed to the four walks with the bases loaded in Sunday's win over the Reds as an example of still displaying patience and having good at-bats in such situations. To that point, the Indians actually lead the American League in walks (120) with RISP.
Cleveland's latest showing in terms of hits in that scenario dropped its season average to .226 with RISP, ranking 13th in the AL.
"Four double plays. That hurts a lot," Francona said. "Even when we got in some hitter's counts, [we] still rolled over to second. We're going to have to realize that pitchers aren't just going to lay a pitch in there when they're behind. That's the way the game is. We're going to have to be a little more selective or more aggressive on the right pitches, as opposed to going out of the zone."
Bourn said "there's no formula" to easily correct what has been a season-long problem.
For example, he thought attacking an early-count fastball was one solution.
"I was trying to be aggressive on the first pitch and I hooked the ball," said Bourn, who had not grounded into a double play since Aug. 27, 2014, a streak spanning 375 at-bats. "I hit it right into the only spot that I could probably hit a double play ball into."
Maybe that's a bit of bad luck within this season-hindering trend.
What is certain is that Cleveland needs to fix things offensively soon to salvage its campaign.
"I don't really have an answer for it," Bourn said. "I just hope that we keep pressing, keep working, keep trying to scrap something together and get like a 10-game winning streak or something. It's all about confidence. ... But, confidence comes with success, of course. They work hand in hand, and that's what we need to do."
Jordan Bastian is a reporter for MLB.com. Read his blog, Major League Bastian, follow him on Twitter @MLBastian and listen to his podcast. This story was not subject to the approval of Major League Baseball or its clubs.