Refinements in Minors pay off for Velasquez
Astros rookie picks up first career win with strong start vs. Red Sox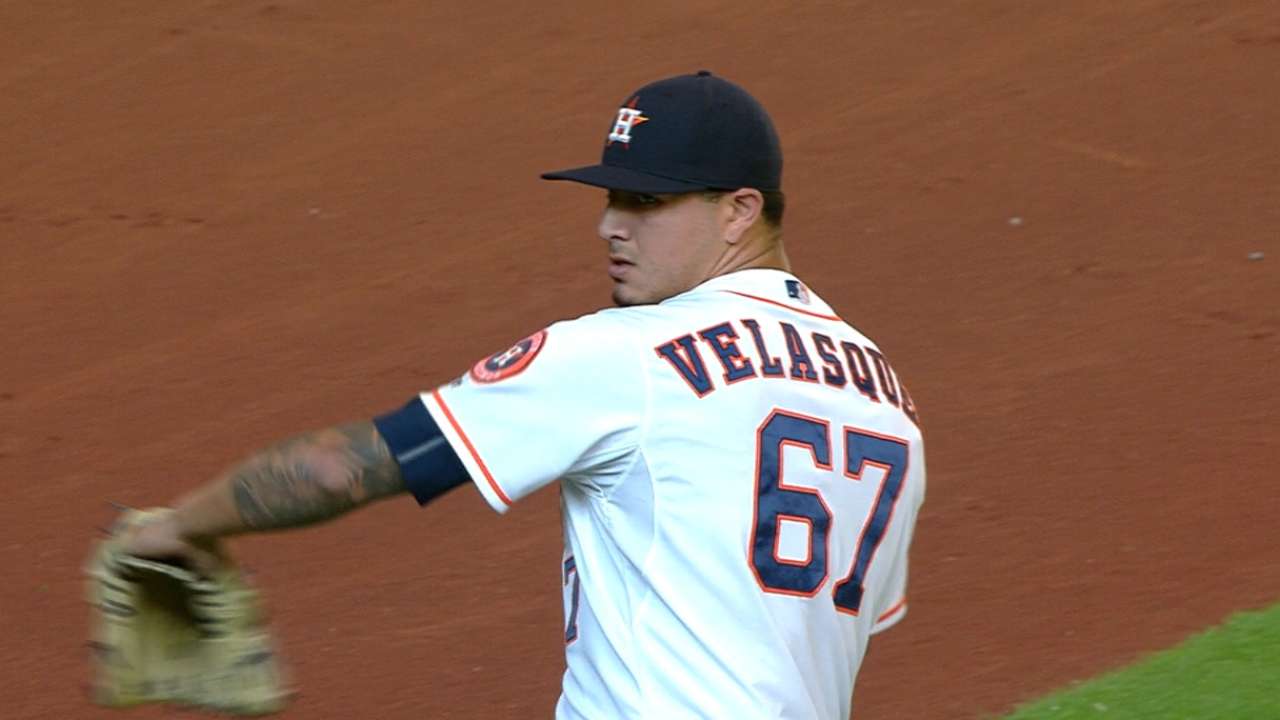 HOUSTON -- Optioned following his start on July 7, Vincent Velasquez arrived at Double-A Corpus Christi without a Major League win and without any intentions of throwing in a game for the Hooks. Instead, it was a time to reflect with Hooks pitching coach Doug Brocail on his previous six Major League starts while refining the intricacies of his mound presence and offspeed pitches that complement his overpowering fastball.
The Astros saw the results Tuesday when Velasquez shook off a three-run third inning to earn his first Major League win in an 8-3 victory over the Red Sox. Teammates doused him three times with ice water following the victory, during which Velasquez paired his fastball with an improved slider to work his way to seven strikeouts and no walks.
"I was just locked in," said Velasquez, ranked by MLBPipeline.com as the Astros' No. 3 prospect. "I felt I was in charge of the whole inning and in control of the whole game in general. I felt like I was at a good pace, that was one of the things they wanted me to work on and I applied [it]. I just felt I was more motivated."
Velasquez allowed a baserunner in all but two innings, but he was able to limit the slumping Red Sox offense, notching a strikeout to end each of the first four innings.
The seven strikeouts give Velasquez 38 -- the third-most recorded by an Astros pitcher in his first seven career games. He trails teammate Lance McCullers, who holds the club record with 46.
The strikeout to escape the first after Xander Bogaerts' double was particularly memorable, when Velasquez blew a full-count, high fastball by David Ortiz.
"That was a good moment to end the inning, get out of the inning," Velasquez said. "I'd never really pictured it growing up young or anything like that. I think I've always admired and tried to face Alex Rodriguez, but that's pretty much a good comparison. They're all good hitters and to get out of it I was overwhelmed."
Velasquez rolled from there, fanning Hanley Ramirez, Pablo Sandoval and Brock Holt in the second before running into his only trouble of the game in the third inning, during which he allowed four hits in five at-bats to spot the Red Sox an early 3-1 lead.
Though Astros manager A.J. Hinch said the rookie tired toward the end of his six-inning start, he noticed the work Velasquez and Brocail had put in during the final week of the first half of the season.
"He's been composed here really from the onset, from his first start," Hinch said. "I think he picked his tempo up a little bit, something he worked on in Double-A with Brocail. The rhythm of his delivery to speed his tempo up a bit, that helped him."
Chandler Rome is an associate reporter for MLB.com. This story was not subject to the approval of Major League Baseball or its clubs.