Wood gets on track with mechanical fix
Lefty adjusts stance on rubber, battles Dodgers to earn win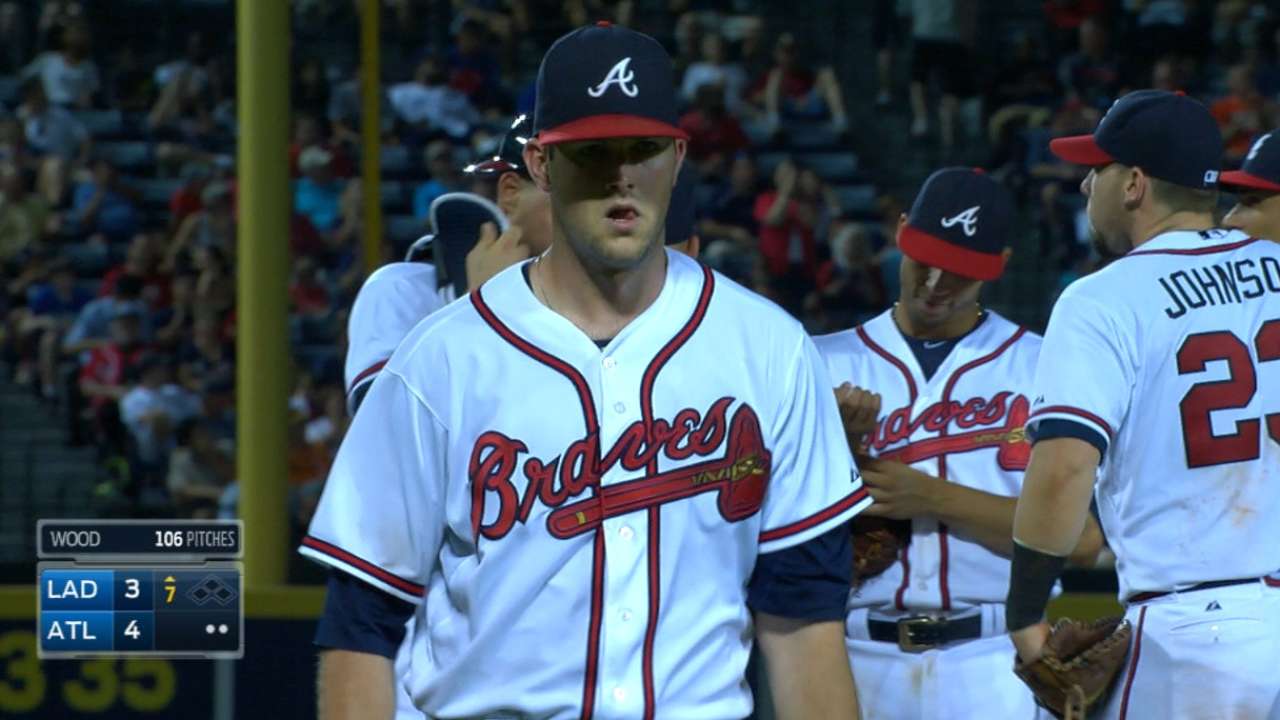 ATLANTA -- After a scoreless outing in Pittsburgh on June 28, Alex Wood felt he had finally regained the form that allowed him to finish last season in dominant fashion. But when he followed with a couple of shaky starts that extended the frustration he has felt this season, the Braves left-hander made some adjustments that proved beneficial during a 4-3 win Tuesday night over the Dodgers.
"It felt good," Wood said. "It felt like last year. I'm hoping as we keep going, everything is going to iron itself out. It was definitely a good way to start the [season's] second half."
Wood surrendered solo homers to Justin Turner and Yasiel Puig through the first two innings and then limited the Dodgers to just one more run over the remainder of his 6 2/3 innings. His command was still shaky as he issued four walks. But he allowed just one hit in seven at-bats with runners in scoring position, and in the process, further showed why the Braves have long admired his competitive spirit.
"For three or four innings, his stuff was marginal at best, but he rises to the occasion and competes," Braves manager Fredi Gonzalez said.
This outing truly was reminiscent of many of those Wood had produced while limiting opponents to a .208 (42-for-202) batting average with runners in scoring position during the 2013 and '14 seasons. The 3.76 ERA he carried into Tuesday's outing was influenced by the fact he'd previously allowed opponents to hit .269 (28-for-104) with runners in scoring position this year.
From a physical and mechanical perspective, Wood found success moving back to the first-base side of the pitching rubber -- a decision made with pitching coach Roger McDowell coming out of the All-Star break. This mechanical adjustment allowed Wood to regain consistency with his sinker and changeup.
"It just feels like the ball is coming out of my hand a lot better," Wood said. "I felt like my action is back. There are still adjustments to be made. It really makes me stay on the ball a lot better. Some of those walks I had, I was coming off. But in the long run, I think it's really going to pay off."
After missing inside with the fastballs that Turner and Puig hit over the left-field wall, Wood issued consecutive one-out walks in the second inning before getting Joc Pederson to strand a pair of runners in scoring position with a weak grounder. The 24-year-old southpaw earned a chance to pitch in the seventh inning when he escaped the sixth unscathed after putting two on before recording an out. Puig flied out to right field before Enrique Hernandez and Austin Barnes both struck out.
"I was going to let him hit in the [sixth], and then I turn around to look for him and he's already in the on-deck circle," Gonzalez said. "He was never even going to give me a chance to not let him hit there. That's the kind of guy that he is. He wants the ball and he wants to be in those positions."
Mark Bowman is a reporter for MLB.com. This story was not subject to the approval of Major League Baseball or its clubs.