Campbell delivers big hit off the bench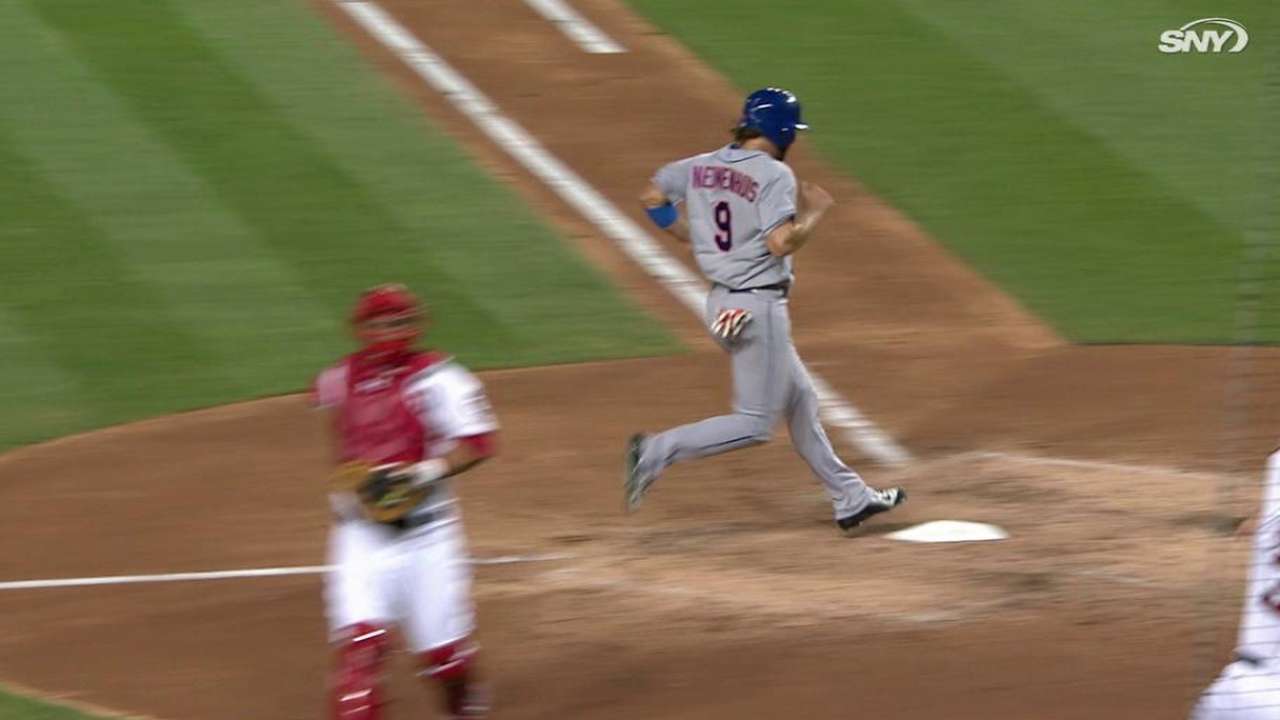 WASHINGTON -- For one night at least, it did not matter that Michael Cuddyer still ails, that Michael Conforto is a Binghamton Met and that the big club has baseball's worst offense since the start of May. Because on this night, the Mets scored the big hit that's eluded them.
Eric Campbell's two-run single past a drawn-in infield propelled the Mets to a 7-2 win over the Nationals, on a rare night when Jacob deGrom wasn't -- and didn't have to be -- perfect.
"That's a huge win," deGrom said. "A good team win."
It helped, of course, that deGrom was at least sharp; his only mistake was Wilson Ramos' two-run homer, which temporarily gave the Nationals a one-run lead in the fifth. The margin for error remains razor-thin for the Mets, who scored more than four runs in a game for just the third time since the start of July.
Against the Nationals, however, offensive issues were of little concern. The Mets found themselves buoyed by Campbell, who had become emblematic of their struggles. Mired in an 0-for-28 slump from late May through early June, Campbell remained on the team mostly out of necessity. Recently, the issues with Cuddyer's left knee have created more playing time for Campbell and Kirk Nieuwenhuis, another bench bat who spent most of the first half in a deep freeze at the plate.
So with the Mets trailing by a run with two men in scoring position in the seventh, manager Terry Collins did not turn to Cuddyer, who was available off the bench. He did not turn to John Mayberry Jr., a more established big league pinch-hitter. He did not even turn to deGrom, who was due up, and whose exploits at the plate are by this point well known.
Collins instead sent Campbell, who punched an Aaron Barrett pitch over a drawn-in infield, plating two runs.
"I was just looking to make hard contact through the middle," Campbell said. "With the infield in, your chances of finding a hole are greater, so I was just trying to make contact and hope for the best."
Despite Campbell's .179 batting average and .588 OPS in 54 games and the 4-for-39 slump he'd carried into the game, the Mets had faith in him, based largely upon hard-hit-ball data placing him among the league's elite -- in the same stratosphere as Bryce Harper and Andrew McCutchen. The Mets do not consider Campbell a player of that caliber, but they did consider him unlucky.
Now they consider him a blessing.
"Obviously, it's good to get some results every once in a while," Campbell said. "For me to get that pinch-hit is big."
Anthony DiComo is a reporter for MLB.com. Follow him on Twitter @AnthonyDiComo and Facebook, and listen to his podcast. This story was not subject to the approval of Major League Baseball or its clubs.