Kemp, Kimbrel have Padres looking up
Other notes from the scorecard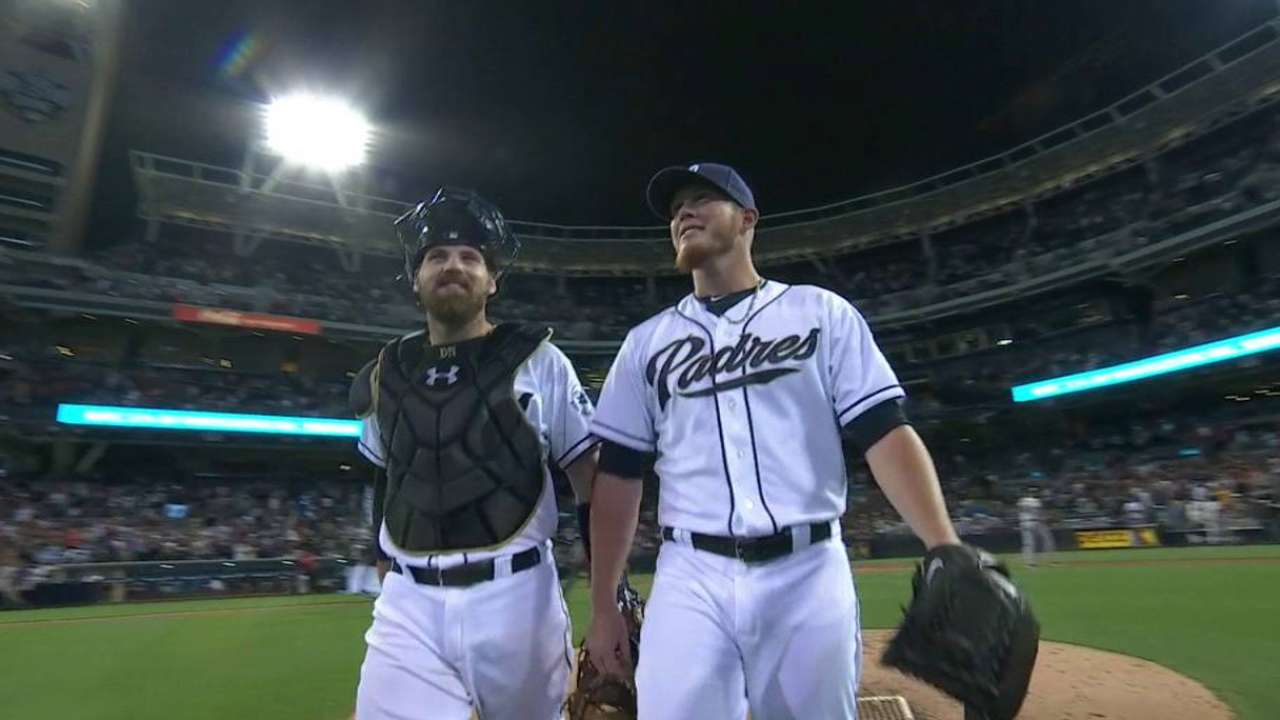 Bill Center, longtime sportswriter for U-T San Diego, is an employee of the Padres.
The Padres acquired Matt Kemp and Craig Kimbrel with the idea that the two would team up in a number of victories this season.
During the Padres' recent five-game winning streak, it finally came to pass, as Kemp and Kimbrel played major roles.
Kemp hit a two-run go-ahead homer on Monday night to extend his hitting streak to a season-high eight straight games.
And Kimbrel tied two Padres records as he picked up the save in the Padres 4-2 win over the Giants at Petco Park.
Kemp is 9-for-18 during the streak, with two doubles, three homers, seven RBIs and three runs scored. Four times in five games, he has put the Padres ahead with a hit, raising his Major League-leading total of go-ahead RBIs to 24.
Kimbrel has recorded the save in each of the five wins in the Padres winning streak -- the first of the two Padres records he tied Monday night. The other record he tied was needing only four pitches to negotiate the final inning.
The five-saves-in-five-team-games streak is also the longest in Kimbrel's career, and is one shy of the Major League record. Trevor Hoffman (1999), Mark Davis (1989) and Rollie Fingers (1977) previously accomplished the feat.
Kimbrel's four-pitch, complete-inning save was also the fourth in Padres history. Hoffman did it twice in 2000 and 2005 and Lance McCullers accomplished the feat in 1988.
During his five-save run, Kimbrel has allowed one run on three hits with eight strikeouts in 5 1/3 innings. He twice struck out the side without allowing a runner to reach.
Kimbrel's earned run average dipped under 3.00 -- to 2.97 -- on Monday for the first time since April 26. Since May 25, Kimbrel has allowed three runs (two earned) on 13 hits and nine walks, with 29 strikeouts in 20 2/3 innings for a 0.87 ERA.
Kemp, meanwhile, hit .452 (14-for-31) during his eight-game hitting streak with four doubles, four home runs, 10 RBIs, five runs scored and four walks for a .514 on-base percentage, a .968 slugging percentage and a 1.482 OPS. Since June 25, Kemp has hit .329 (23-for-70) with six homers, six doubles and 16 RBIs in 19 games.
From the scorecard
Alexi Amarista played his first game at shortstop Monday since July 8 and was 1-for-2 with two walks and a run scored. He also made three outstanding plays in the field, although he bobbled a routine grounder for his fourth error in his last seven games at short. It was Amarista's first start at short since manager Pat Murphy labeled Amarista a super sub and said Clint Barmes and Will Middlebrooks were the Padres' primary shortstops. Amarista was in the lineup on Monday due to his history against Giants' starter Tim Hudson (8-for-18) and the Giants (10-for-23 this season).
Right-handed starter Ian Kennedy gave up a homer in his seventh-straight start on Monday to raise his season total of home runs allowed to 21, which is tied for the second-highest total in the National League. But Gregor Blanco's solo shot was one of only two runs allowed by Kennedy in six innings, as he picked up the win to snap a string of four losses in four starts -- although the Padres scored only four runs in those four games and were shut out twice. Kennedy is 2-1 in four starts against the Giants this season with a 1.69 earned run average and 11-5 lifetime against San Francisco with a 2.41 ERA in 24 starts. Since June 2, Kennedy is 3-4 with a 2.98 ERA in nine starts.
Yangervis Solarte was 3-for-5 with an RBI and a run scored on Monday night in his fifth-straight start at third base and his fourth-straight start in the lead-off slot. In the last four games, he's gone 4-for-16 with two walks for a .333 on-base percentage.