Gutierrez delivers final blow in wild game
Pinch-hit grand slam in eighth sends Mariners to victory over Tigers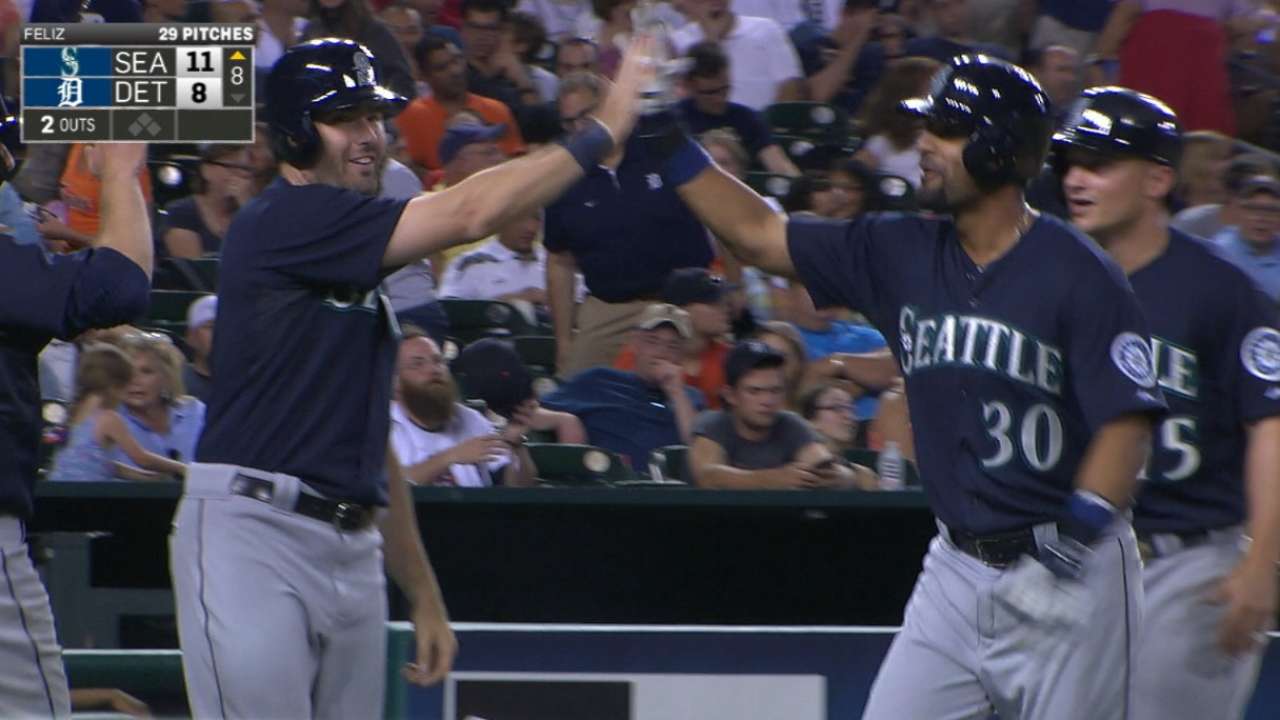 DETROIT -- Franklin Gutierrez, a man who has mounted many a comeback in his Major League career, helped the Mariners come from behind for a wild 11-9 victory over the Tigers on Tuesday with a pinch-hit grand slam in the eighth inning.
Gutierrez, 32, sat out all of last season while dealing with an arthritic nerve condition called ankylosing spondylitis and just rejoined the Mariners four weeks ago after performing well in Triple-A Tacoma.
His pinch-hit grand slam capped a game where the Mariners blew a 5-1 lead, then rallied from an 8-6 deficit with five more runs in the eighth.
"It's huge," Gutierrez said of the chance to help a Mariners club that has given him yet another chance this season. "We need to win. Everybody here is doing their jobs. For me to come back to this team and have an opportunity to do something, it's huge for me to contribute any time I've got the opportunity."
Gutierrez's opposite-field blow off Tigers reliever Neftali Feliz was just the second pinch-hit grand slam in Mariners history, joining Ben Broussard's 2007 blast off Scot Shields of the Angels in 2007.
"In that situation, I just wanted the veteran up there," manager Lloyd McClendon said after sending Gutierrez in to pinch-hit for shortstop Chris Taylor. "I didn't know what was going to happen. He was 0-for-3 off the guy. But you know he's going to give you a quality at-bat, whatever happens. And we were very fortunate he got a pitch to drive."
Gutierrez's game-winner was estimated to land 376 feet from home plate by Statcast™, not nearly the tape-measure type blasts unloaded earlier in the game by teammate Nelson Cruz and Detroit's J.D. Martinez, but plenty long enough to clear the right-field fence at Comerica Park.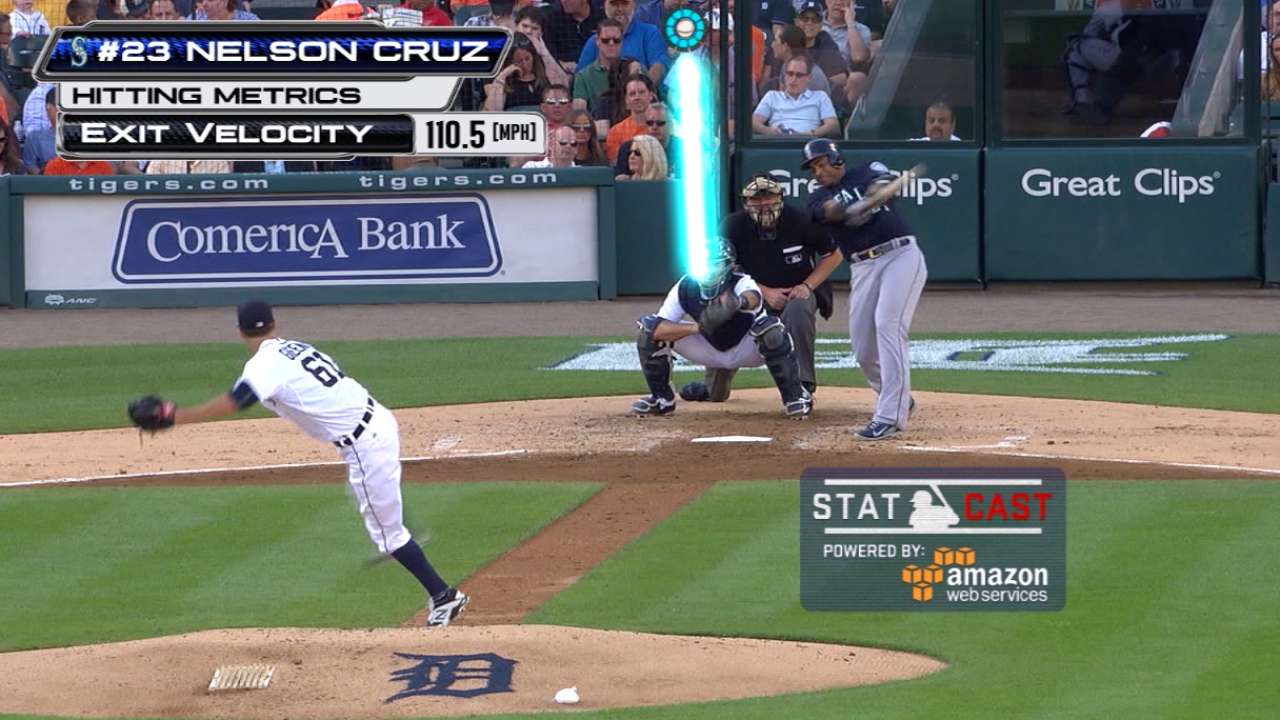 "As soon as I saw the right fielder not moving at all, I knew the ball was out," he said. "It was exciting, that moment, because we needed that swing."
Gutierrez has hit .306 in 36 at-bats in 15 games this season with the Mariners. The homer was his second of the season and he increased his RBI total to six. It was the second grand slam of his career, the other coming in 2008 against the White Sox while he was playing for Cleveland.
Gutierrez was a Gold Glove center fielder for the Mariners in 2010, but injuries marred much of his next three seasons in Seattle and he totaled just 81 games in 2012-13 before going home to Florida last year and sitting out the entire season while contemplating retiring from the game.
He's returned this year in a part-time role, relishing the chance to just be part of the game again. He said he's drawing on his early days with the Indians for how to stay prepared as a pinch-hitter.
"It was something at the beginning of my career as a rookie, I came off the bench and got at-bats," he said. "Right now, I know my role and I try to take advantage every time I go up there. And today was one of those days."
Greg Johns is a reporter for MLB.com. Follow him on Twitter @GregJohnsMLB, read his Mariners Musings blog, and listen to his podcast. This story was not subject to the approval of Major League Baseball or its clubs.