Healthy Ryan revels in chance to contribute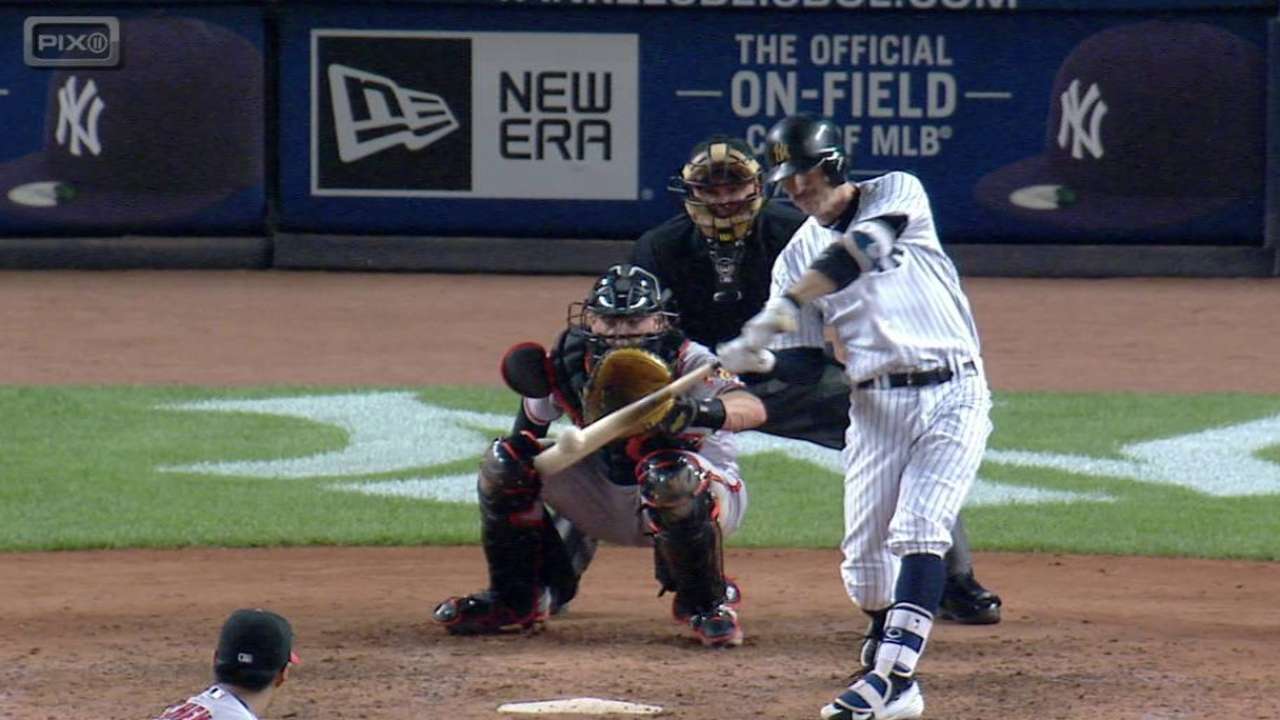 NEW YORK -- Brendan Ryan couldn't believe they were leaving. Here he was, itching to talk after the best night of his season, and the only thing the reporters around him wanted to talk about was Tuesday night's game, a 3-2 win over the Orioles.
"What, you guys don't want to ask about my mustache?" Ryan said, grinning, as they walked away. For months, Ryan has been the sole holdout from a team-wide facial hair phenomenon in the spring. So the reporters came back, Ryan smoothed out the hair above his lip, and he continued.
"It's been frustrating for me, not being able to prove myself and show some value, what I can do out there on defense," Ryan said. "I've probably been labeled at the plate, but I don't buy into that stuff. I just keep grinding away."
Ryan's season has barely begun. A string of injuries -- first a strained back from biceps curls, then a strained calf, then a hamstring injury while rehabbing that calf -- stole the first two months from him. Then he came back, played in just six games, and got hurt again, this time a right thoracic strain. Back to the disabled list he went.
The Yankees activated him Friday, and he found himself in the starting lineup Tuesday. An RBI double in the sixth inning gave the Yankees their game-winning run and showed manager Joe Girardi his expectations haven't been in vain.
Girardi has praised Ryan for his clubhouse presence and defensive versatility all season. The veteran can play any position in the infield and has become a useful tool off the Yankees' bench.
The club went so far as to keep Ryan on the Major League roster over rookie second baseman Rob Refsnyder, who showed promise in his four-game spell in New York before being optioned to Triple-A over the weekend.
"We've talked throughout the last couple years and change, and I feel like he's got my back," Ryan said of Girardi. "He's had some very complimentary stuff."
Girardi isn't the only one. When Ryan's double skipped down the third-base line and into the left-field corner, the Yankees' dugout celebrated with him, both for the run it scored and the significance it held.
"It was awesome," third baseman Chase Headley said. "Obviously he's missed a lot of time this year, so it's great for him to get back and be a part of the team."
Going forward, Ryan's primary goal is to stay healthy. He's upped his hydration, started to be more careful playing with his 7-month-old son and cut out acrobatics in practice drills.
That's all physical. The most important thing he's done, he said, is to block out the mental strain, try his best not to think about the injuries, the upcoming July 31 non-waiver Trade Deadline or what his playing time will be.
"Anything can happen, you just kind of roll with the punches," Ryan said. "That stuff can be poisonous, really stress you out and all that. I just try not to think about it, really."
Worries can wait. On Tuesday night, Brendan Ryan was just happy to be back.
"There haven't been too many games I've played, so this is probably the best one," he said.
Alden Woods is an associate reporter for MLB.com. This story was not subject to the approval of Major League Baseball or its clubs.