Baserunning mistakes costly for Phillies
Miscues by Asche, Herrera lead to tough outs against Rays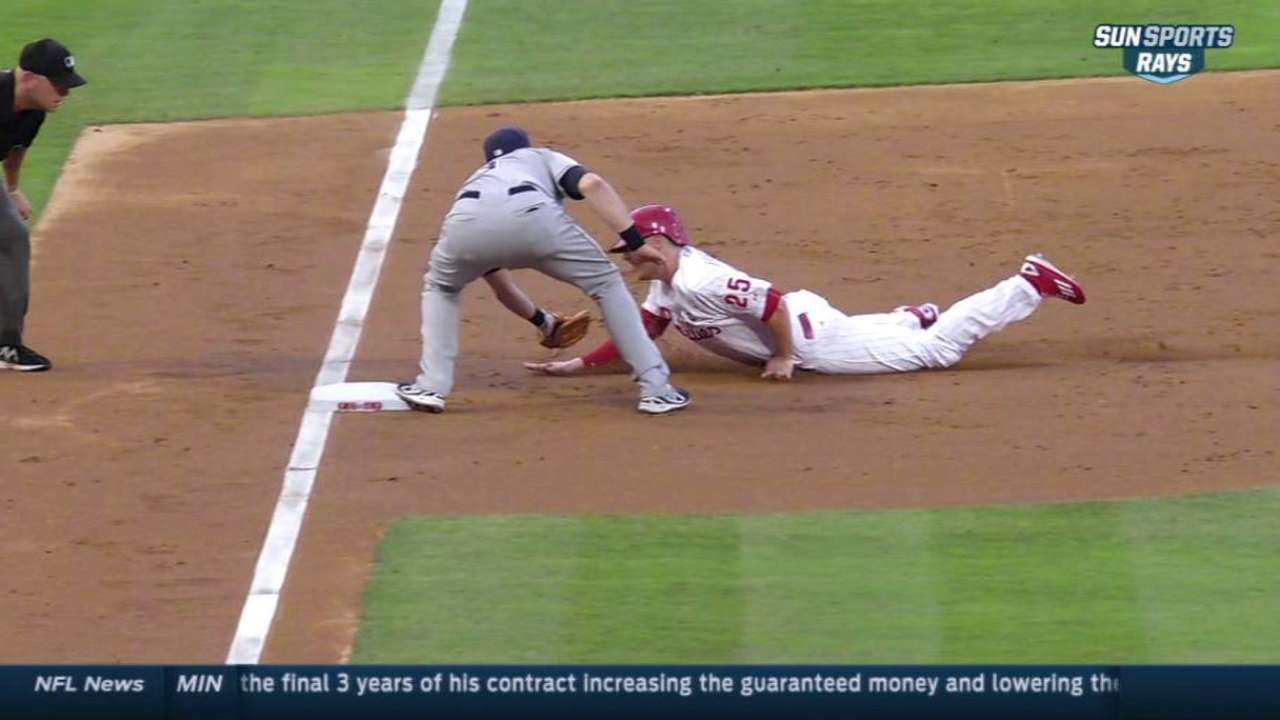 PHILADELPHIA -- Cody Asche did what he was supposed to, and it backfired. Odubel Herrera made a mistake, and the Rays took advantage of it. And on a night where two runs could've meant a completely different ballgame, those two mistakes buried the Phillies.
The Phillies lost, 1-0, to the Rays on Tuesday night in a game where ace pitching prospect Aaron Nola lived up to the expectations the Phillies had of him when they selected him in the first round of the 2014 MLB Draft. Despite this, the Phillies' offense also lived up to its reputation as the second-worst in the National League by runs scored and was unable to supply the rookie with run support, squandering its best opportunities in the cases of Asche and Herrera.
In the second inning, after Asche walked to lead off the inning, he moved to second on a Domonic Brown single into center field. The single trailed into right field and Rays center fielder Kevin Kiermaier had to chase it down, so Asche rounded second and headed to third. This proved to be a mistake as Kiermaier showed off his arm and gunned Asche down at third for the first out of the inning.
Although the outcome wasn't optimal, Asche defended his aggression.
"Right there, that's just the play," Asche said. "He made a hell of a play. Not a lot of center fielders have the athletic ability to do that. I haven't seen it, but to make that throw from where he was on the line was pretty impressive."
Although Asche's mistake came first, Herrera's might've been more pivotal.
With Nola on first and one out in the fifth inning, Herrera dribbled a 1-1 pitch down the first-base line to Rays first baseman James Loney. Loney turned and fired to shortstop Jake Elmore, who was covering second base to retire Nola. By the time the ball made its way to Elmore, Herrera was barely out of the batter's box, as he elected not to run down the line. By the time he realized he could've beaten out the double play, it was too late, as Elmore delivered back to Loney for the easy 3-6-3 double play.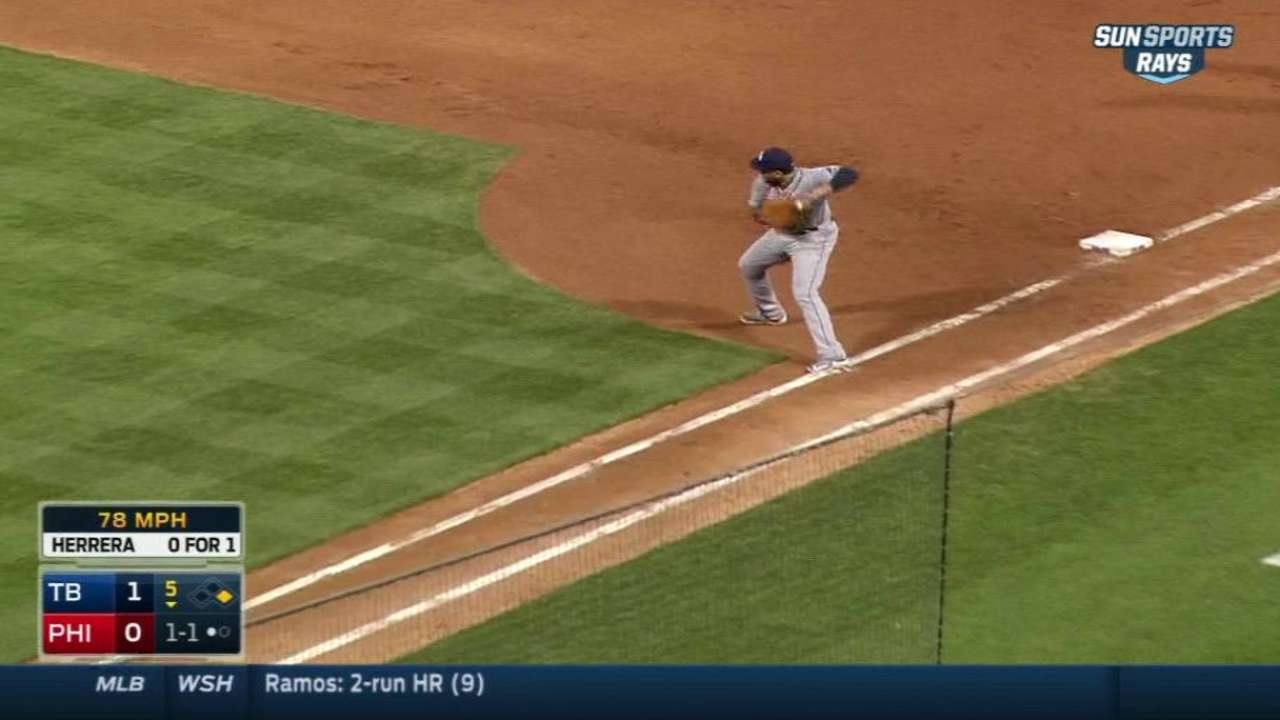 "He didn't assume [Loney] was going to throw to second base, so he kind of quit running, which is something he's got to understand that's not the way you play," interim manager Pete Mackanin said. "That's like getting a base hit to the outfield and not thinking about going to second base because he's going to catch the ball. You don't assume the outfielder is going to make the play."
For some managers, the temptation after a play like that where it appeared Herrera suffered from a lack of effort might be to bench the player as punishment. That, however, is not Mackanin's style.
"I'm not going to do that unless it's flagrant," Mackanin said. "This kid works as hard or harder than anybody. He puts in his time, and he's a good kid. I like the way he prepares for the game, but he's had a few incidences where he just didn't do things he should've done, and tonight was one. I'm not going to bury him because of that."
Nick Suss is an associate reporter for MLB.com. This story was not subject to the approval of Major League Baseball or its clubs.