Phillies Minor League review, July 13-19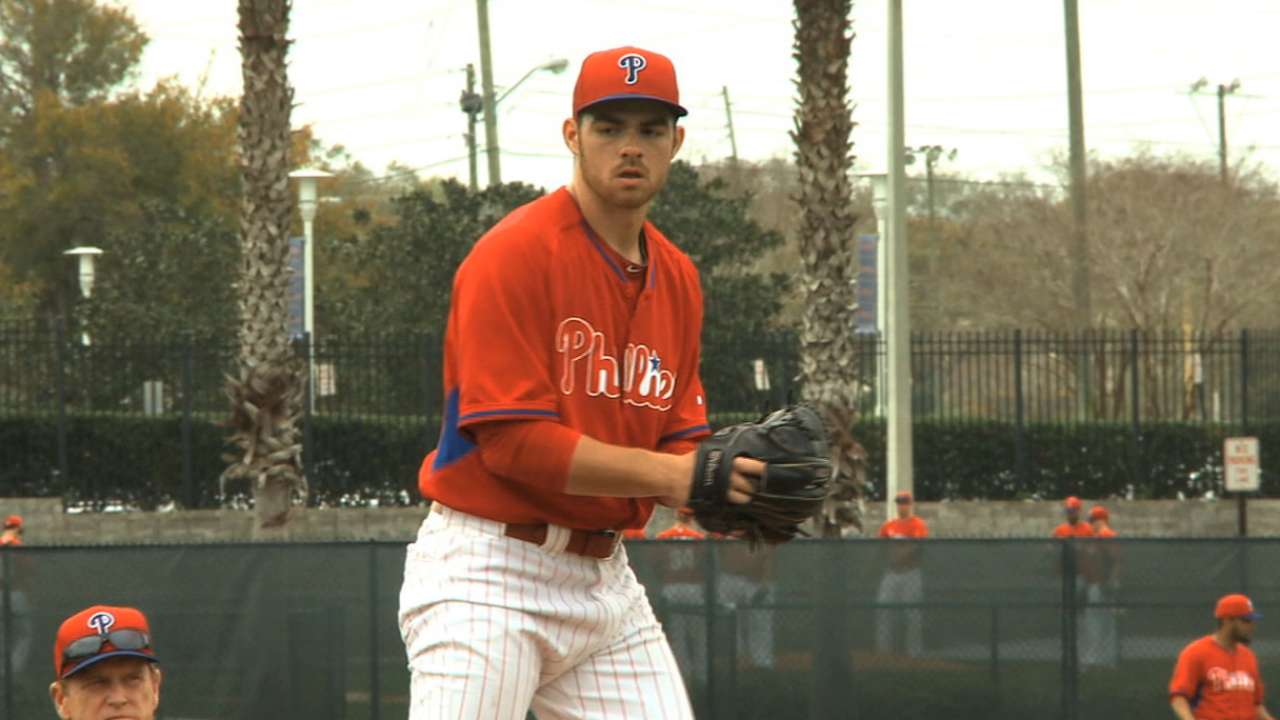 Players of the Week
Player - OF Cord Sandberg, Lakewood...Sandberg, 20, hit a robust .435 (10-23) with a double, triple, five RBI and five runs scored in six games for the BlueClaws, earning him Phillies Minor League Player of the Week. He reached base safely in exactly half of his plate appearances and extended his hitting streak to eight games with a 4-4, three-run game on July 19 against Rome. Those three runs were his season-high for a game, and the four hits tied his season best. Sandberg was selected by the Phillies in the third round of the 2013 draft and was signed by Alan Marr.
Pitcher - LHP Jesse Biddle, Lehigh Valley...Biddle, a 23-year-old southpaw, was named Phillies Minor League Pitcher of the Week and International League Pitcher of the Week honors after a dominant start on July 17 against Rochester. In that start, he tossed 7.0 scoreless innings, allowed just three hits, walked one and struck out seven. It was his first scoreless start of more than 5.0 innings this season at any level. Biddle was the Phillies' first-round selection in the 2010 draft, and was signed by Eric Valent.
Lehigh Valley IronPigs - International League North Division…42-53, 4th place…Lehigh Valley split four games with the Rochester Red Wings in what was their only series last week due to the triple-A All-Star Break. The IronPigs are 4-0-2 in their last six series, with their last series loss coming back in June.
Top hitting performers - OF Aaron Altherr clubbed his fourth home run for Lehigh Valley and his 10th overall this season. He is now hitting .293 since joining the IronPigs…1B Chris McGuiness had hits in three of his four games, including his second home run of the season…OF Jordan Danks homered, drove in two runs, scored two more and walked twice in four games.
Top pitching performers - LHP Jesse Biddle was strong in his start against Rochester, tossing 7.0 shutout frames and while allowing just three hits. He struck out seven and walked only one…LHP Adam Loewen converted both of his save opportunities and now has thrown four straight perfect innings for four straight saves…RHP Dalier Hinojosa tossed 1.2 innings and allowed one hit in his IronPigs debut on July 19.
Reading Fightin Phils - Eastern League Eastern Division …51-43,T-1st place…The Fightins also had an abbreviated week due to the All-Star Break, as they played four games against the New Britain Rock Cats. Reading won three of those four, moving into a tie for first place with the Trenton Thunder. With their series win, they are eight games over .500 in divisional play, which is tied for best in the Eastern Division.
Top hitting performers - OF Kelly Dugan batted .333 (5-15) with a triple, three RBI, a stolen base and a run scored…OF Cam Perkins slashed .364/.462/.636, doubled, tripled, scored a run and drove in another. He had hits in each of his three games…SS J.P. Crawford had a team-high three extra-base hits (double, triple, home run) in four games played…C Andrew Knapp played in two games, hitting a triple in one and a home run in the other. He has hit safely in all of his 15 games with Reading.
Top pitching performers - RHP Ben Lively scattered seven hits and allowed two runs over 6.1 innings of work on July 19. He has allowed two runs or fewer in five of his last six starts…RHP Colton Murray appeared in two games out of the bullpen and earned two wins after combining to throw 3.0 scoreless innings…LHP Joely Rodriguez had a successful relief outing, allowing just one hit in 2.0 innings pitched.
Clearwater Threshers - Florida State League North Division…16-8, 1st place, 53-41 overall…Clearwater was able to work around a rough series against Palm Beach to still finish the week with a winning record and remain 3.5 games up in the division. After winning consecutive games against Fort Myers and Palm Beach to start the week, the Threshers offense fell silent and produced just two runs over the next three games. They rebounded in their series opener with Lakeland on Sunday, riding Ricardo Pinto's strong start to a 3-1 victory.
Top hitting performers - C Willians Astudillo batted an even .400 with two doubles, four RBI and a .429 on-base percentage last week. He hit safely in all but one game…CF Carlos Tocci went 9-23 (.391) with his first home run of the season for Clearwater, three runs scored and a stolen base…OF Aaron Brown hit .300 and had his first multi-home run game of the season. He now has six round-trippers this season.
Top pitching performers - RHP Ricardo Pinto made two starts, combining to throw 14.2 innings while yielding just three runs (one earned) for a 0.61 ERA. He allowed nine hits and struck out eight…RHP Victor Arano lasted 7.0 strong innings in his start against Palm Beach, allowing just a run on five hits…LHP Brandon Leibrandt started one game for the Threshers and held Palm Beach to one run in 6.0 innings. He has allowed one run in each of his last three starts.
Lakewood BlueClaws - South Atlantic League Northern Division…14-10, 2nd place, 47-45 overall…The BlueClaws continue to gain ground on West Virginia, and now sit just three games back after a 4-2 week. Those four wins came in convincing fashion, as they outscored opponents 29-12 in those games. Lakewood will finish their series with Rome to begin the week before meeting with the first-place Power for a three-game set.
Top hitting performers - OF Cord Sandberg was named Phillies Minor League Player of the Week after batting .435 with a double, triple, five RBI, five runs scored and a .500 on-base percentage…1B Kyle Martin collected 10 hits in 23 at-bats (.435 average) and now has a nine-game hitting streak during which he is hitting .472 with 11 RBI. His 33 hits are eighth most among all players drafted this year…2B Scott Kingery recorded eight hits in six games, batting .364 with a double, triple and three walks…OF Herlis Rodriguez homered, scored four runs and batted .348 over five games.
Top pitching performers - RHP Will Morris lasted a season-high 7.0 innings and surrendered three runs while striking out five batters…LHP Joey DeNato converted his only save chance-a six-out save on July 16-and also threw another scoreless frame in relief on July 19…LHP Austin Davis set a season-high with 6.0 IP in what was just his third start in 25 games overall. He allowed only one run on two hits…RHP Ranfi Casimiro struck out four and earned the win in his lone start.
Williamsport Crosscutters - New York-Penn League Pinckney Division…21-8, 1st place…Williamsport went 4-3 last week and remains the only team in the New York-Penn League to have not yet reached 10 losses this season. They also recorded two more shutouts, and now boast a miniscule 2.44 staff ERA through 29 games.
Top hitting performers - C Austin Bossart was locked in at the plate, collecting hits in six of his 10 at bats while hitting his first professional home run and knocking in two runs. He has hits in nine of his 10 games and is batting .385…1B Brendon Hayden hit .333 with a .444 on-base percentage, three walks and a couple of multi-hit games
Top pitching performers - RHP Mitch Gueller is now 4-1 after tossing a 7.0-inning complete game shutout on July 17 against Batavia…RHP Alejandro Arteaga lasted 6.0 innings and allowed just one run in his one start, giving him four straight starts with either one or zero runs allowed…RHP Feliberto Sanchez made two scoreless relief appearances, one of 3.0 innings and another of 2.2 innings…RHP Luke Leftwich scattered three hits over 5.0 scoreless frames in his lone start of the week…RHP Anthony Sequeira converted a six-out save and added another 2.0 perfect innings in relief…RHP Robert Tasin tossed two scoreless frames for his sixth save of the season in as many chances.
GCL Phillies - Gulf Coast League, Northwest Division…18-6, 1st place…The Phillies' lead in the division increased to 3.5 games after another strong showing. They won two straight against the Tigers before splitting two-game sets with the Astros and Braves, giving them a 4-2 record for the week. The Phillies currently have the most wins among all 16 GCL teams.
Top hitting performers - OF Jesus Alastre batted .545 (6-11) with three runs scored, an RBI and a walk in his three games played…One week removed from Player of the Week honors, SS Jonathan Arauz continued to impress by hitting .300 with two doubles and a team-high four RBI…OF Cornelius Randolph reached base at a .435 clip and hit .316 with four runs, four walks and an RBI in six games.
Top pitching performers - RHP Felix Paulino made two starts, combining to allow three runs (two earned) in 10.0 innings while striking out nine batters…RHP Adonis Medina lasted 5.0 innings in his one start, surrendering a run on four hits…In his first start of the season, LHP Bailey Falter threw 4.0 shutout innings and struck out five batters…RHP Horace Stubblefield recorded two consecutive six-out saves, striking out seven total batters in the process.