Back end of bullpen coming to forefront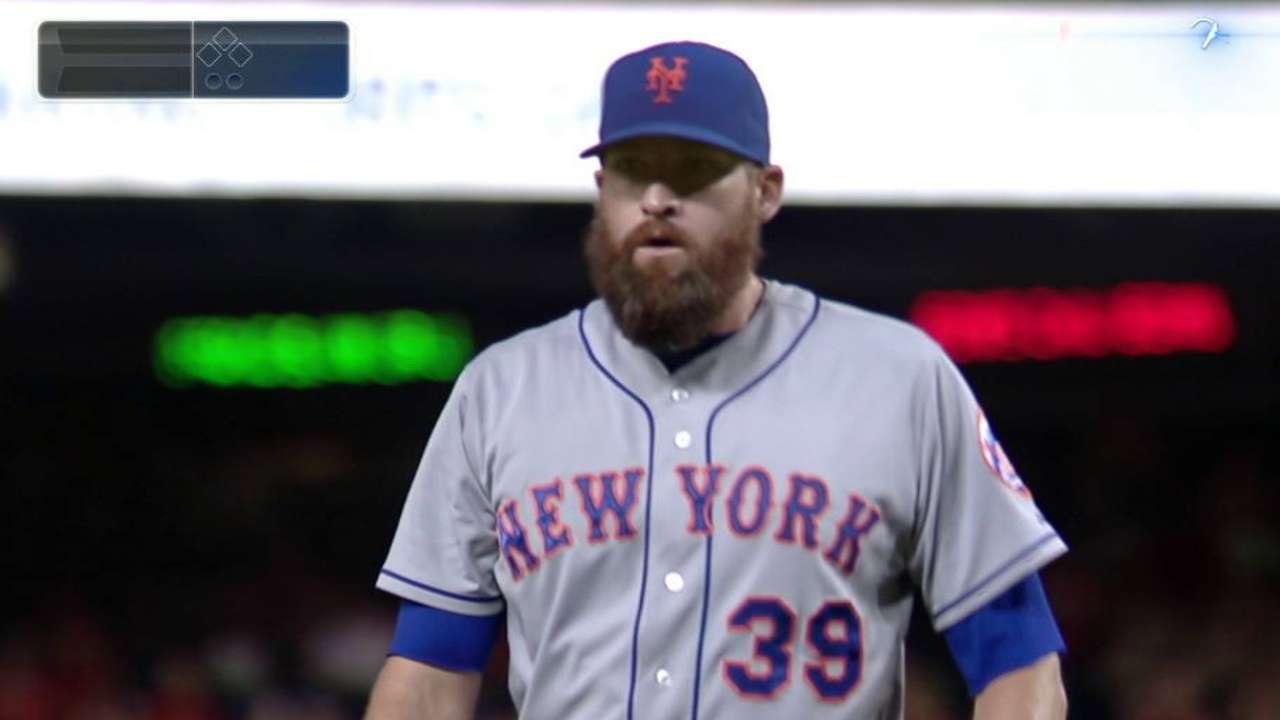 WASHINGTON -- Bobby Parnell's fastest pitch in nearly two years came careening home in the eighth inning of the Mets' 7-2 win over the Nationals on Tuesday, maybe just a few ticks south of the strike zone. Catcher Kevin Plawecki grabbed it and tipped his glove upward, framing it where umpire Mike Muchlinski could see.
Strike three for Parnell. And a glimpse of the past for the Mets.
"He let one fly," manager Terry Collins said.
For a long while following Tommy John surgery, the Parnell who could throw 97 mph seemed lost forever. Even before elbow and neck issues began derailing his career two years ago, he had begun shying away from power as his weapon of choice.
One pitch to Dan Uggla may not redefine all that, but Parnell is clearly back, his stuff catching up to his already stellar statistics. That, along with Jenrry Mejia's return from suspension, suddenly gives the Mets the dynamic back-end bullpen that they envisioned heading into Spring Training.
"I'm happy where I'm at," Parnell said. "Things are going well. Does it surprise me? No. Am I happy? Yes."
For much of the early season, the Mets' bullpen success seemed sometimes like smoke, sometimes like mirrors. Jerry Blevins helped for a while, then succumbed to injury. Carlos Torres was frequently useful, frequently not. Sean Gilmartin proved reliable early in games but struggled in some key situations.
All the while, the Mets leaned heavily on their new closer, Jeurys Familia, biding their time until Parnell and Mejia could return. Those two came with no guarantees post-surgery and post-suspension, respectively, but they have been nothing short of collectively dynamite, combining for a 0.54 season ERA.
On Tuesday, Mejia pitched a shutout seventh, Parnell followed with a perfect eighth -- that 97-mph pitch helped -- and Familia worked around two baserunners for a scoreless ninth.
The Mets effectively shortened the game, from nine innings to six. They fully plan to do it again.
"This was the best I've seen Jenrry throw," Collins said. "And Bobby just came in and did what he's done lately, and that's painting the corners and getting outs."
Anthony DiComo is a reporter for MLB.com. Follow him on Twitter @AnthonyDiComo and Facebook, and listen to his podcast. This story was not subject to the approval of Major League Baseball or its clubs.