Lefty nemesis Young to stay in lineup vs. southpaws
Outfielder starts in right for healthy Beltran, delivers two hits vs. left-hander Chen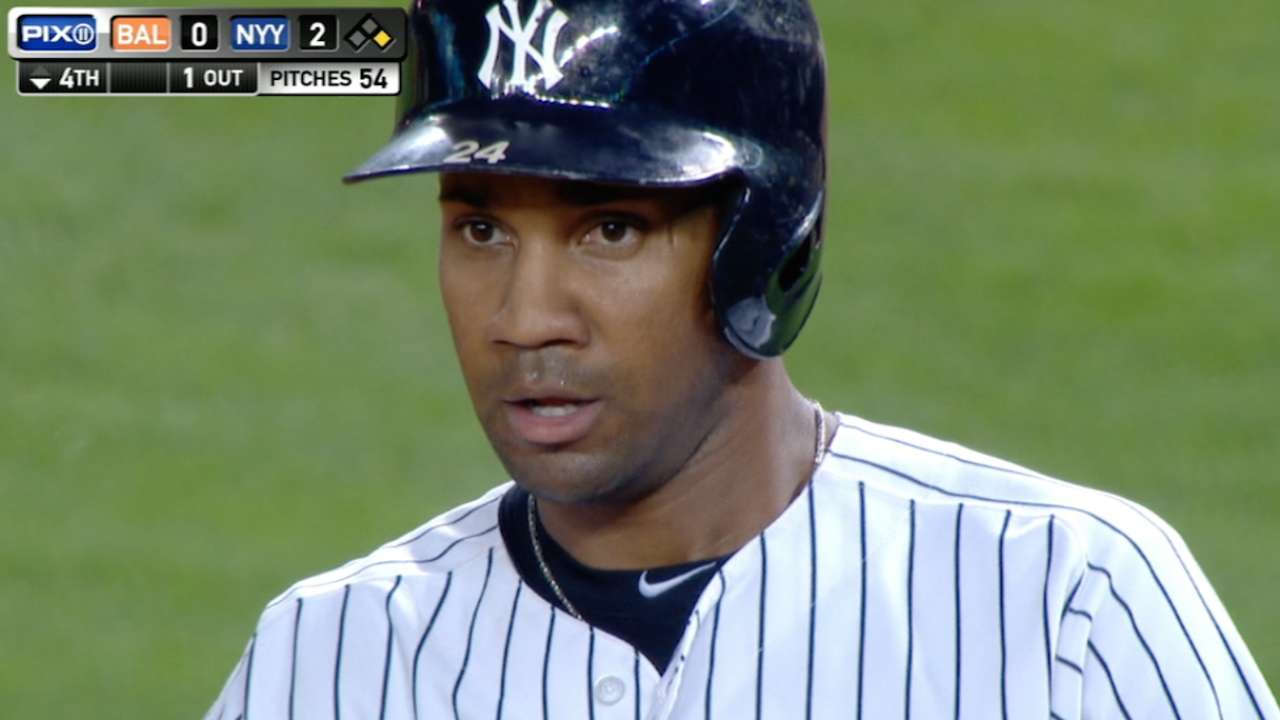 NEW YORK -- Chris Young doesn't exactly rush to the bat rack on the days when the Yankees see a left-handed starter, but he is well-aware of the disparity of his statistical splits, which promise to earn him more playing time down the stretch.
Young spotted his name in the lineup again on Tuesday, and he stroked a pair of hits off lefty Wei-Yin Chen in the Yanks' 3-2 victory over the Orioles. Manager Joe Girardi said that he plans to find at-bats for Young on the days when the Yankees see lefties.
"With how good he has been off of left-handers, you have to find a way to get him in the lineup," Girardi said. "I would think that against every lefty we face this year moving forward -- and it's been that way so far -- that he's probably going to be in there, unless something changes."
Young is batting .256 with 11 home runs and 27 RBIs in 85 games, and his best work has come against left-handed pitching. Young has compiled a .371 average against lefties, owning 33 hits in 89 at-bats, with 10 doubles, six homers and 14 RBIs. Against righties, he is just 23-for-130 (.177).
Entering play on Tuesday, Young's 1.101 OPS vs. lefties was the third highest in the Majors among players with a minimum of 75 plate appearances, trailing only Nelson Cruz (1.224) and Paul Goldschmidt (1.144).
"Throughout the season, I've happened to see them pretty good," Young said. "I'm seeing the ball good, being aggressive, getting good pitches to hit and taking my walks when they give them to me. I've been able to have some success against them."
He went 2-for-3 against Chen on Tuesday, but struck out with the bases loaded in the seventh against right-hander Tommy Hunter.
"I literally feel exactly the same; it's just the results are very opposite," Young said. "I understand. But when I get in the box, I think if I'm feeling good, I feel good against everybody."
Young's success against lefties allows Girardi more flexibility with how he handles Carlos Beltran, who was out of the lineup on Tuesday but otherwise healthy.
"It is what it is, so you've got to understand that you're not 22 anymore," said Beltran, 38. "You've got to be realistic with yourself and know the manager also has a plan in his mind. The good thing with Joe is that he communicates, so I have no problem with that. He lets me know basically the days that he thinks I need a day off and I try to go with it."
Beltran owns a .710 OPS against left-handed pitching this year. Girardi said that he might also use Young to rest left fielder Brett Gardner and center fielder Jacoby Ellsbury.
"I'm not saying it's going to be a platoon," Girardi said. "The one thing that we have is we're going to see a number of lefties in this next long stretch. We'll be able to give Jake a day off, be able to give Gardy a day off and do it that way. I just chose to do it with Carlos today."
Bryan Hoch is a reporter for MLB.com. Follow him on Twitter @bryanhoch, on Facebook and read his MLBlog, Bombers Beat. This story was not subject to the approval of Major League Baseball or its clubs.