MLB.com Columnist
Paul Hagen
Nola's debut good sign for rebuilding Phils
Rookie righty electrifies Citizens Bank Park as he lives up to hype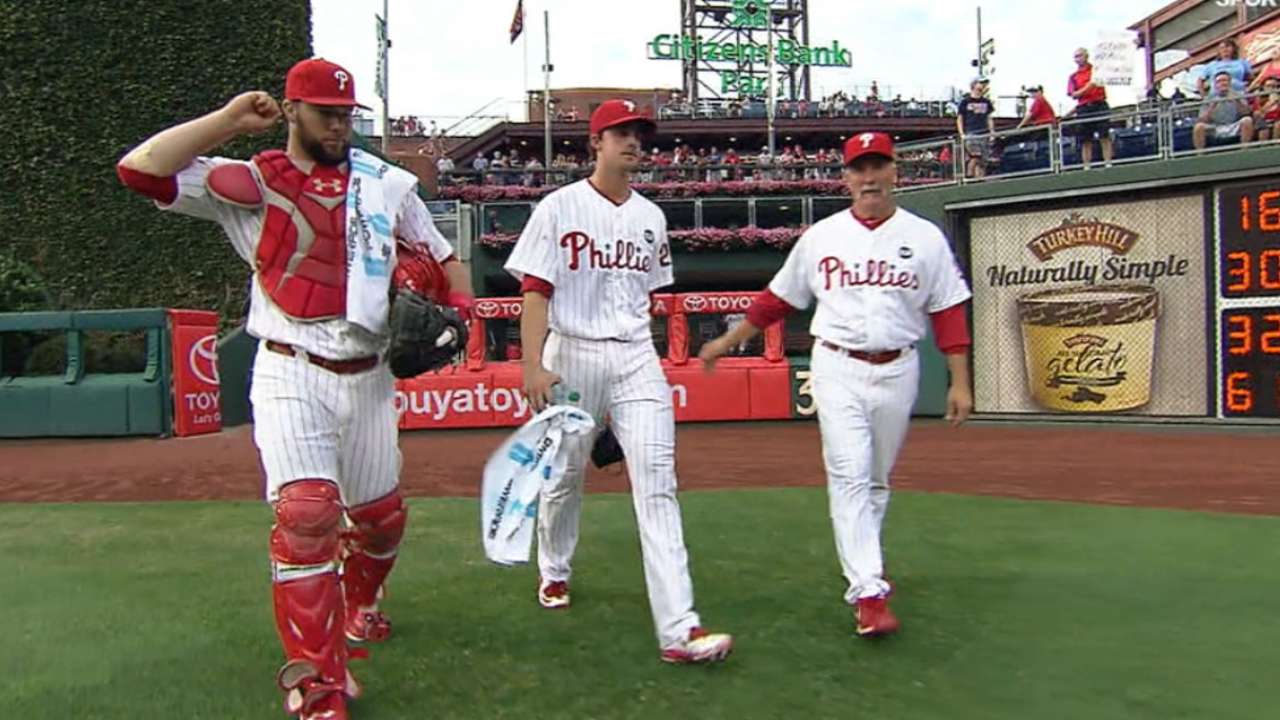 PHILADELPHIA -- Dan Baker, the Citizens Bank Park public address announcer, has introduced thousands of lineups in his career. Still, he was able to reach back for a little more when he got to the Phillies' starting pitcher -- AA-ron NO-la -- Tuesday night.
The crowd responded with genuine enthusiasm. There was a buzz in the blue seats that has been missing for much of the season. When the game started, the fans hung on every pitch, groaning when Nola didn't get the benefit of the doubt on a close pitch. When he got a big strikeout, the television cameras cut to his parents, sitting in the stands. Nola's father pumped his fist.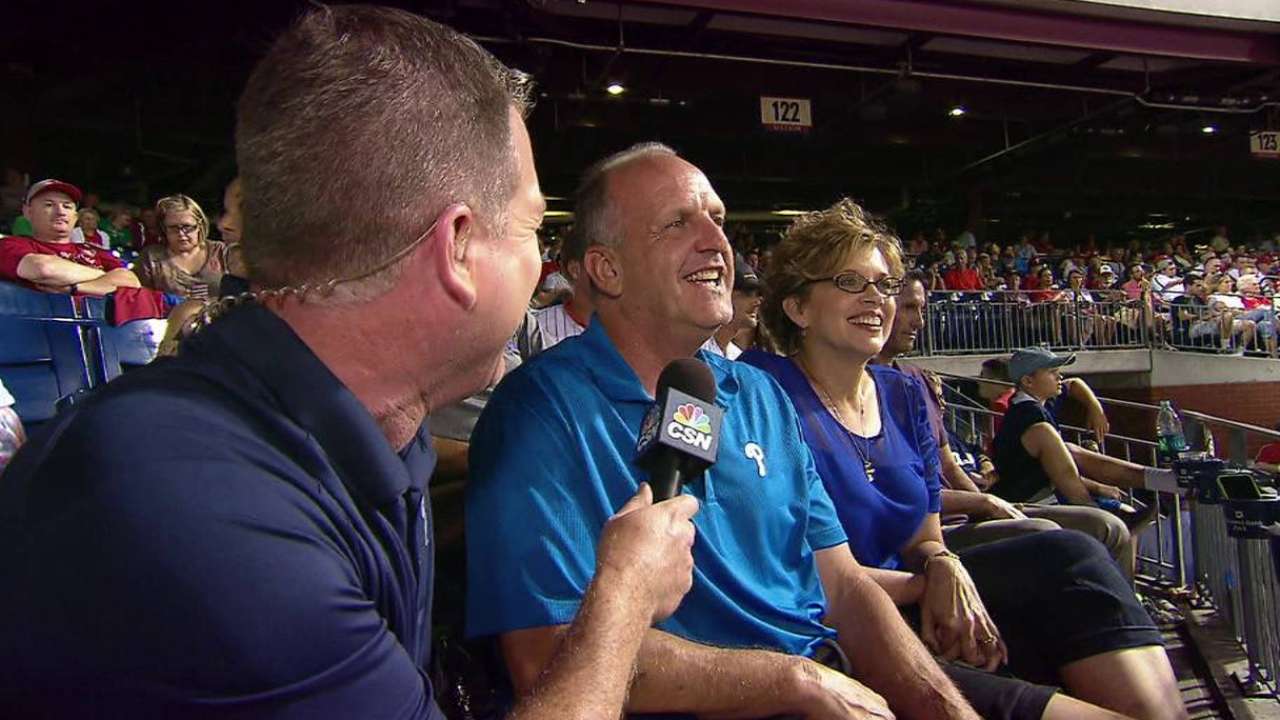 Phillies fans had something to be excited about. Nola, the organization's first-round pick out of LSU just over a year ago, made his Major League debut against the Rays. And he didn't disappoint, allowing just one run in his six innings. Fifteen of Nola's 18 outs came on strikeouts or ground balls. The spoiler alert is that the Phils lost, 1-0.
Now, Major League debuts are like Opening Days. They're a lot of fun. And they almost never turn out to be as significant as they seem at the time.
Still, it's hard to overstate what a crucial piece Nola plays in the puzzle the Phillies are trying to assemble.
One start doesn't make a career. But that doesn't mean that what Nola did Tuesday night, and what he'll do the rest of the season, aren't vital to the ongoing reconstruction project the organization has undertaken.
Think about it this way: Nola is already the 12th pitcher to start a game for the Phils this season. And, right now, you'd have to say he's the best bet of any of them to be in the rotation when the slate is wiped clean and the 2016 season begins.
Ace Cole Hamels is widely expected to be traded before the July 31 non-waiver Trade Deadline. Aaron Harang and Chad Billingsley were low-risk, high-reward gambles when they were signed in the offseason; Harang faded after a hot start and then went on the disabled list, while Billingsley has been unable to stay healthy.
Jerome Williams has so far been unable to replicate the success he had for the Phillies last year after being released by the Astros and waived by the Rangers. Dustin McGowan was signed after being released by the Dodgers, and Kevin Correia was brought aboard after being released by the Giants. Sean O'Sullivan had a 6.08 ERA in 13 starts. All are currently on Triple-A Lehigh Valley's roster.
Phillippe Aumont has left the building. And the organization, after declining an outright assignment to the IronPigs. Youngsters Adam Morgan, Severino Gonzalez and David Buchanan have promise, but none have shown enough yet to be written into the 2016 rotation in ink.
Sure, trades could change that picture. Free agent signings, too. And there are some pitchers down below, including Zach Eflin at Double-A Reading, that the baseball people are bullish on.
Maybe, could be, possibly. It might not be fair to project a starring role next season for a 22-year-old who wasn't even a non-roster invitee to big league camp this spring. It might be a gigantic leap to suggest that after one big league start, Nola jumps to the top of the list. But dealing strictly with the known commodities on hand, it's difficult to reach any other conclusion.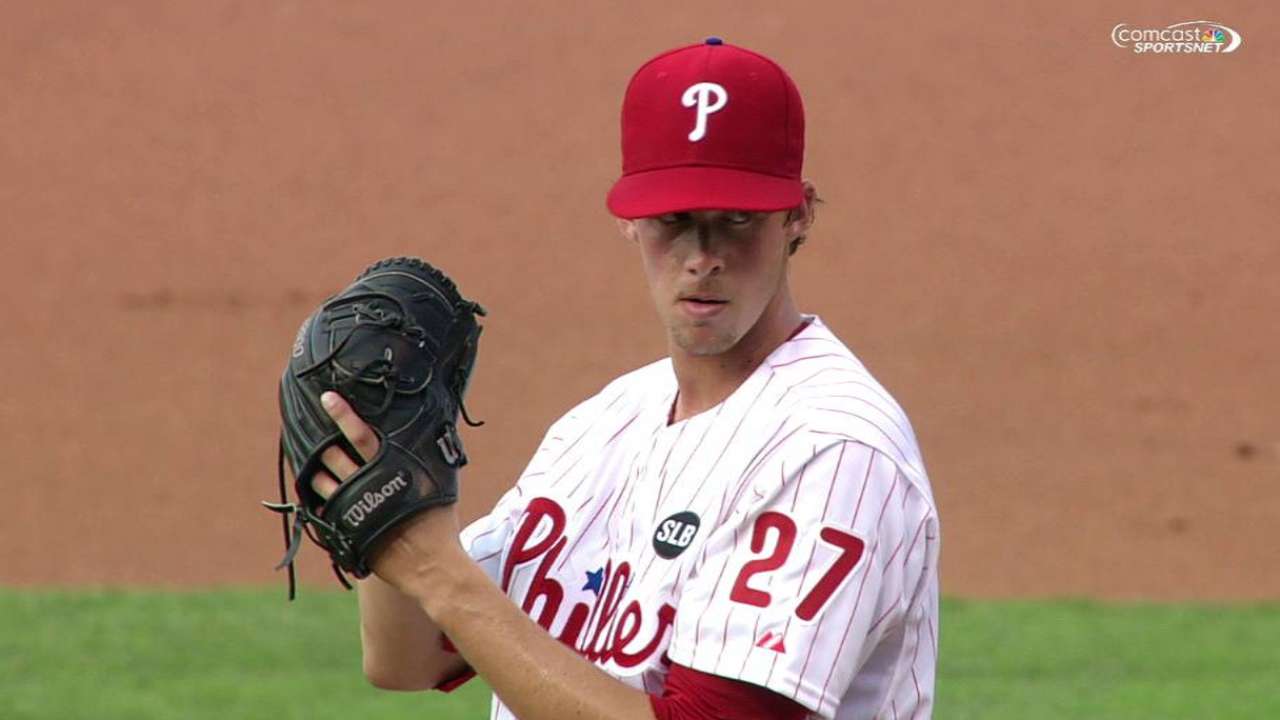 Besides, everything the Phils do these days matters less about the here and now than what the projected impact might be moving forward.
Ruben Amaro Jr. tempered his remarks, which is prudent.
"He represents the kind of things we're trying to do," the general manager said, "which is trying to get our young players to the big leagues and find out about them. We think he's going to be a good, solid Major League pitcher. And he got off to a great start. I'm happy for him. I'm sure it was nerve-wracking for him and his family. It's just unfortunate we couldn't get any runs for him."
Veteran outfielder Jeff Francoeur, who's seen a lot of young pitchers come and go, was impressed.
"I would imagine he'd be No. 2, No. 3 next year behind Cole, if Cole's here, and whatever else they do," the 31-year-old outfielder said. "But he's got great stuff, and it looks like he's got a good head on his shoulders. So for all of us, it was fun to see. You're always happy for guys like that."
Cameron Rupp, who caught Nola, noted that a performance like this is another reason to have hope for the future. And he also liked the electricity that ran through the park.
"He's exciting. And fans think he's exciting, too," Rupp said. "That makes it even better. People come. We want to play in front of a lot of people. So I think that's huge."
Paul Hagen is a reporter for MLB.com. This story was not subject to the approval of Major League Baseball or its clubs.