MLB.com Columnist
Phil Rogers
Something special about Grichuk's bat
Cardinals young outfielder stands out in Statcast launch speed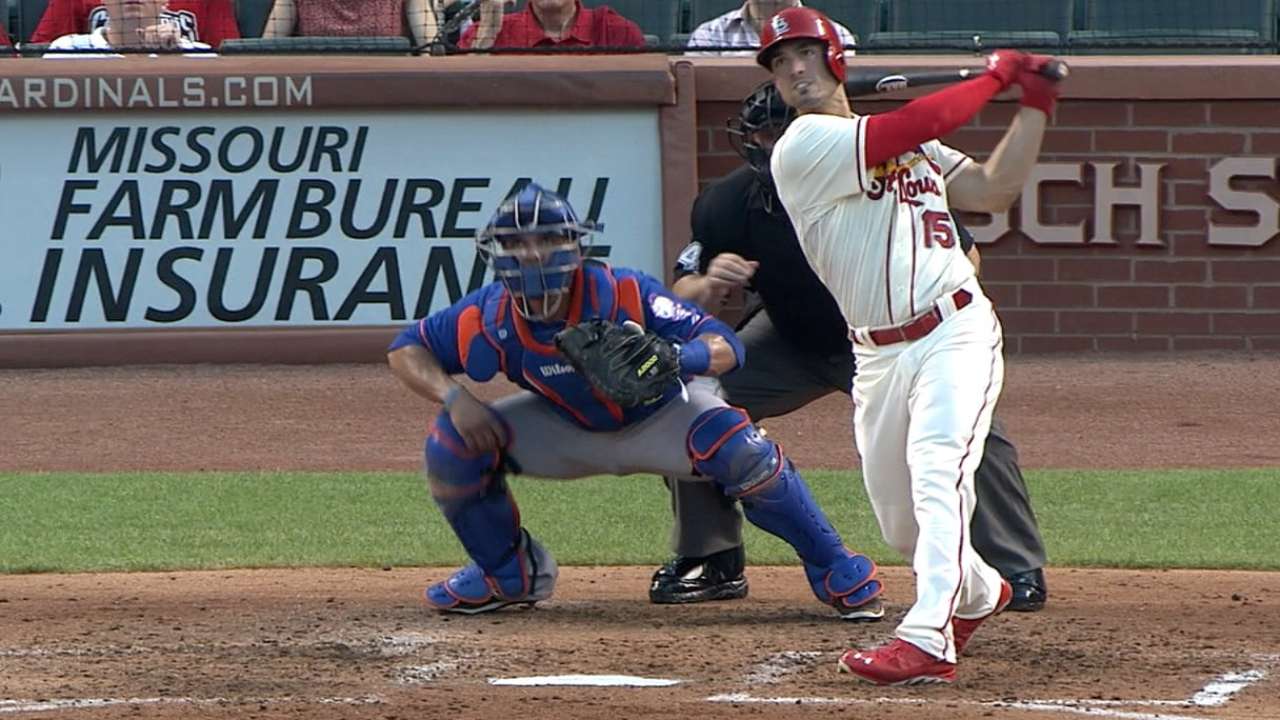 CHICAGO -- Randal Grichuk is just getting started. He hasn't made an All-Star team or been pictured on the cover of a video game. For that matter, Grichuk hasn't hit his 15th home run or driven in his 50th run.
But the 23-year-old Cardinals outfielder has shot up the charts in a surprising category that suggests he is headed toward being one of the most productive hitters in the game.
Statcast™ has recorded Grichuk's average launch speed of the ball off his bat at 95.4 mph, second best in the Major Leagues to Giancarlo Stanton. The rest of the top 10 of guys who hit the ball hardest is a Who's Who of the game's most dangerous hitters.
Among players who have put the ball in play 100 times this season, Miguel Cabrera ranks third in average launch speed, followed by Joc Pederson, Mike Trout, Ryan Braun, Yoenis Cespedes, Yasmani Grandal, Josh Donaldson and Paul Goldschmidt.
Those guys average 6-foot-2, 224 pounds. Grichuk is listed at 6-foot-1, 195 pounds, but he's not giving away an ounce of strength to those other guys.
"When he puts one in play, it's different,'' Cards manager Mike Matheny said. "You sit out here and just watch BP, it's different. That's pretty rare, because most guys at this level are different from everybody in the world. But when you stand out, especially as a young player who isn't named [Matt] Holliday or isn't named Stanton, [and] you're putting up some stats -- whether it's speed of the ball off the bat or whatever it is -- you're in a rare group. You can't [help but] stop and pay attention.''
John Mabry, the Cardinals' batting coach, agrees that his eyes tell the same story as the Statcast™ data.
"You can see it when it comes off the bat,'' Mabry said. "You can hear it. You can see the way he fools outfielders. A lot of people don't have that ability. He has that ability. There's a different sound when it comes off the bat, a different carry. He legitimately has power to all fields. It's one of those things that you can see.''
Mabry compares Grichuk to Dustin Johnson, Rory McIlroy and other PGA Tour pros who regularly launch 325-yard drives. He sees a common thread in how they use their legs and a turn of the waist to drive balls.
"[It's] just the way he uses his body,'' Mabry said. "He's maximizing the torque he gets out of his body. You see guys that drive balls on the tour. They outdrive [other players], have the exit velocity faster than other people. They know how to use their body efficiently. Their movements are clean, crisp and generate a lot of speed.''
Grichuk, who is batting .274 with nine homers and 32 RBIs, says there's no secret behind all the line drives and long balls that have put him in exclusive company. He has been working for a couple years on swing mechanics with a coach near his home in Rosenberg, Texas, along with Mabry and Cards assistant hitting coach Bill Mueller, but he spoke about the work only in general terms.
"We work on using my back side, using my lower leg drive to start [my] swing,'' Grichuk said. "Staying compact and together. Maybe that helps. I honestly don't know. It's just one of those things where when I square the ball up, it comes off pretty well.''
Roger Clemens used to talk about supplying the power when he gave up home runs, especially to No. 8 and 9 hitters. Grichuk believes that power pitchers are contributing to how the ball jumps off his bat.
"You try to barrel the ball up,'' Grichuk said. "This day and age, it seems like every pitcher throws 95 or above. They generate a lot of the power. You just kind of got to hit it well and it's pretty much going to go.''
Grichuk's talent is no secret. He was picked in the first round of the 2009 Draft by the Angels, one pick before Trout. The Cardinals landed Grichuk alongside Peter Bourjos in the trade that sent David Freese and Fernando Salas to Los Angeles.
Matheny says that Grichuk was considered "kind of an add-on'' in the deal, but that his potential was apparent from the start, even on the back fields of the Cards' complex in Florida.
"It was obvious on the first day,'' Matheny said.
Also obvious is that Grichuk has work to do if he's going to develop into an All-Star along the lines of the other guys who bang the ball. He struck out 68 times in his first 220 plate appearances this season.
"For us, it's just a question of putting him in a position where he's making solid contact,'' Matheny said. "You start talking about those kind of velocities off the bat, typically you're talking about a high level of success. We're just trying to get him in a good spot where he's making contact.''
Once Grichuk does that, the data says he'll be a star.
Phil Rogers is a columnist for MLB.com. This story was not subject to the approval of Major League Baseball or its clubs.