Excited Pedro preparing for Hall induction
Martinez feeling the excitement from Boston to Dominican Republic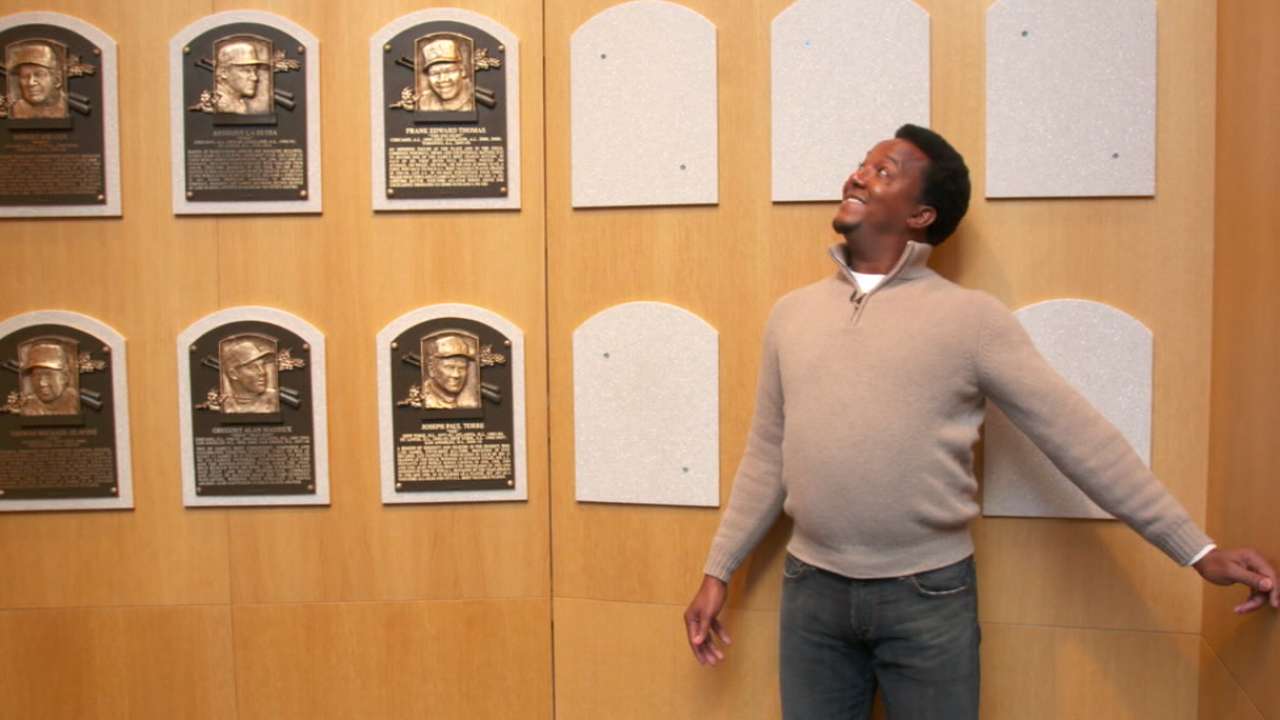 During Pedro Martinez's legendary career, one of his overwhelming strengths was an innate ability to read hitters at a given moment, which went hand-in-hand with his knack for throwing the right pitch at the right time.
When it comes to making his Hall of Fame induction speech on Sunday, Martinez just might use a similar strategy. (Live coverage of Hall of Fame induction day begins at 11 a.m. ET Sunday on MLB Network, simulcast live on MLB.com.)
Honored to be part of a glittering induction class that also includes Randy Johnson, John Smoltz and Craig Biggio, Martinez doesn't pretend to know what he will feel once he is on the stage in front of thousands of baseball enthusiasts. And that makes him hesitant to script it all out ahead of time.
"I drafted some of the stuff that I wanted to say," Martinez said. "And I must say -- because baseball has been great, and through baseball, I have achieved so many other things -- but I'm going to tell you, I am hesitant to actually say or write what I'm going to say, because this is something that you must live to understand. And I haven't lived it.
"So I've seen a lot of people and how they go about it. But I'm Pedro. I'm not anybody else. And I'm not even like my brother, who I would love to be like. But I'm just me. And I would love to figure [it] out, just like I wanted to figure out what to do in the situations in the games.
Hall of Fame Class of 2015
"I want to know what it's going to be like to be there to face the situation. Live it and share it with all of you honestly. There are things that I must mention, that I must speak about, that I know I'm not going to let go without saying it. But some other things, I just don't know. So I'm going to go the way the moment is presented to me."
Martinez, 43, has been preparing for this moment since Jan. 6, when he learned he was a first-ballot Hall of Famer.
The ensuing months have been joyous and hectic for the iconic right-hander, who pitched his best baseball for the Red Sox, and also had stints with the Dodgers, Expos, Mets and Phillies.
"Well, it has become a lot busier than I thought," Martinez said. "As far as commitment with different things to do and stuff like that, it's been different. It's been a busy year."
And in that sense, Pedro's most valuable player of late has been his wife, Carolina.
"I can't say enough for my wife taking care and taking over so much stuff, personal stuff for us," Martinez said. "And making sure that I have enough time to actually spend on this matter. And she's taken over a lot of it. My wife has been great when it comes to taking a load off my shoulder.
"There have been a lot of people trying to reach out to you for different things. Now, I'm not only a role model for baseball, but I'm a personal role model for pretty much everyone that feels that they can be proud of me. And they want to let you know those things in a personal way."
As if Red Sox Nation weren't passionate enough toward Martinez, there is also the exuberance from the Dominican Republic, a baseball hotbed that hasn't seen anyone from its country go into the Hall of Fame since Juan Marichal in 1983.
"And you don't want to actually tell [people in the Dominican Republic], 'Oh, you know what? I'm busy', because this is the first one in 32 years. And everybody feels like they're part of it," said Martinez. "This is the only one that they were able to appreciate [in] the new generation. When Juan Marichal was pitching, there were not too many TVs."
Many of the people Martinez is closest to back home won't have to watch on television. Instead, they will be right there in Cooperstown.
"So far, we have a list of 60 or probably more who are coming," said Martinez. "I'm extremely excited to actually be there, [to] go in with this special class and what I think is going to be the most unique Hall of Fame induction. And I'm extremely excited about seeing the response of the Dominican people coming over, because I know that there's going to be a lot of them.
"And we waited 32 years to actually see one other player be inducted into the Hall of Fame. So between my family and me, we're really excited to actually go in and try to have fun and have this special moment."
Ian Browne is a reporter for MLB.com. Read his blog, Brownie Points, and follow him on Twitter @IanMBrowne. This story was not subject to the approval of Major League Baseball or its clubs.