MLB.com Columnist
Fred Zinkie
Indians' offense could score big against Brewers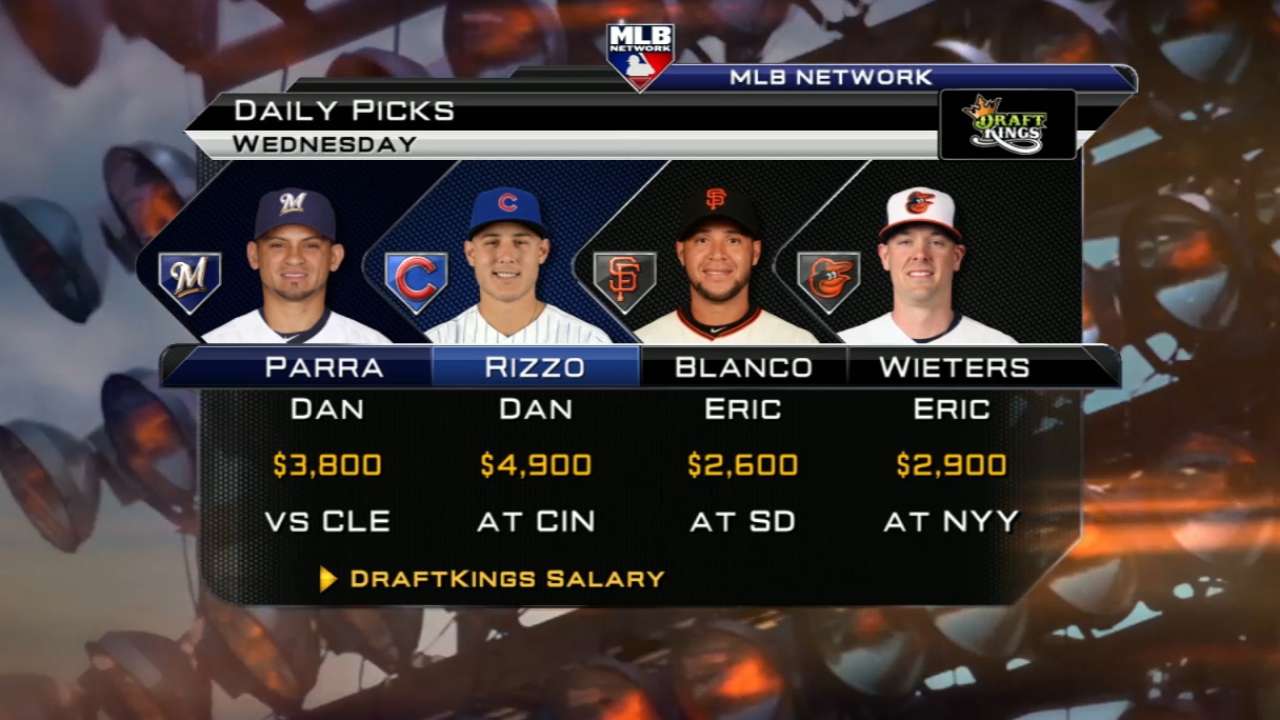 Welcome to DraftKings fantasy baseball, the Official Daily Fantasy Game of Major League Baseball.
The players listed below could provide difference-making stats for DraftKings participants on Wednesday.
Evan Longoria (Rays): As a big leaguer, Longoria has excelled against left-handers to the tune of a .915 OPS (.806 vs. righties). The third baseman could rip a round-tripper when he bats at homer-happy Citizens Bank Park against Phillies rookie southpaw Adam Morgan, who has surrendered five homers across 23 innings.
Logan Forsythe (Rays): With nine homers and seven steals across 368 plate appearances, the second baseman has been a solid, cost-effective member of DraftKings squads this season. Forsythe could improve on his lifetime .788 OPS against left-handers (.626 vs. righties) when he faces the inexperienced Morgan (career 5.78 FIP) at a hitter-friendly venue. Of note: Forsythe and his teammates will attempt to put balls into play against a Phillies unit that ranks last in the Majors with a .659 defensive efficiency ratio.
Troy Tulowitzki (Rockies): With a lofty lifetime .322/.405/.562 slash line against left-handers, the typically strong Tulowitzki yields an especially potent bat in those matchups. The shortstop could drive in multiple runs when he bats at his offense-inducing home park against southpaw Martin Perez (career 1.41 WHIP) and a Rangers bullpen that ranks 29th in baseball with a 4.43 ERA.
Nolan Arenado (Rockies): The third baseman has the skills to excel when he puts his career .871 OPS against left-handers (.779 vs. righties) on the line against Perez, who will be making his second start since returning from Tommy John surgery. With 24 homers and 72 RBIs across 341 at-bats this season, Arenado has established himself as one of baseball's premier power hitters.
Jason Kipnis (Indians): Hitting .326 with 61 runs across 419 plate appearances, the second baseman has been among the most effective leadoff hitters in the Majors this season. He could continue to spark the offense when he puts his lifetime .812 OPS against right-handers (.668 vs. lefties) to the test against righty Kyle Lohse (6.17 ERA in 2015) at hitter-friendly Miller Park.
David Murphy (Indians): The outfielder will be in position to drive in multiple runs when he faces Lohse (1.40 WHIP in 2015) at Milwaukee's offense-inducing venue. In his career, Murphy has posted an .803 OPS against right-handers that exceeds his .656 mark vs. lefties.
Brandon Moss (Indians): Having compiled 90 of his 106 career homers against right-handers, Moss could put a ball into the outfield seats at homer-happy Miller Park at the expense of Lohse. The righty hurler is prone to the long ball, having posted a lifetime 1.1 HR/9 rate that includes a 1.7 mark this season.
Erick Aybar (Angels): With balanced career splits, the shortstop could be part of an Angels stack -- along with outfielder Kole Calhoun -- against pitcher Mike Pelfrey. Aybar could reach base often against the Minnesota hurler (1.45 WHIP in 2015) and swipe his seventh base of the season at the expense of catcher Kurt Suzuki.
Brian McCann (Yankees): With 15 homers and 58 RBIs across 267 at-bats, the catcher has been among the most productive players at his position this season. McCann could improve on his lifetime .830 OPS against right-handers (.753 vs. lefties) when he bats at his hitter-friendly home park against Orioles righty Kevin Gausman (5.00 ERA in 2015).
Mike Moustakas (Royals): In his career, the third baseman has handled right-handers to the tune of a .719 OPS (.609 vs. lefties). Moustakas may reach base often or score multiple runs from his premium lineup position when he faces Pirates righty Charlie Morton (lifetime 4.49 ERA, 1.44 WHIP).
Josh Phegley (A's): With left-hander Felix Doubront taking the hill for Toronto, Phegley is likely to find his way into the Oakland lineup. The backstop owns a career .841 OPS against southpaws, and he has been even better in 2015 with a .939 mark and four home runs against lefties in just 68 plate appearances. Considering Doubront's lifetime 4.78 ERA and 1.47 WHIP, Phegley should be in a good position to succeed in this matchup.
Anibal Sanchez (Tigers): DraftKings participants would be wise to look past Sanchez's season-to-date 4.55 ERA and give him a second chance, based on his 1.20 WHIP and 7.9 K/9 rate. The right-hander could be an economical addition to DraftKings squads when he plies his trade at home against a Mariners lineup that ranks 24th in the Majors with a .677 OPS against right-handers.
Sonny Gray (A's): With a season-to-date 2.29 ERA and a 0.98 WHIP, Gray has the skills to hold a talented Blue Jays lineup in check when he works at his pitcher-friendly home park. If he can compile quality frames, the right-hander could come away with a win in a seemingly advantageous matchup against Doubront (career 4.78 ERA).
Jose Fernandez (Marlins): With a 2.37 ERA and a 0.95 WHIP across three starts since coming off the disabled list, Fernandez has already reestablished himself as a fantasy ace. He could continue to dominate when he faces a righty-heavy D-backs lineup. In his career, Fernandez has held right-handed hitters to a .470 OPS (.581 OPS allowed to lefty batters).
Cody Anderson (Indians): The right-hander has started his big league career in exceptional fashion, pitching at least 6 2/3 innings and allowing no more than one run in each of his initial four starts. On Wednesday, Anderson could be an economical second starter for DraftKings participants when he ventures to the Senior Circuit to face the Brewers in a seemingly advantageous matchup with Lohse.
All statistics are accurate through the completion of Monday's games.
Fred Zinkie is the lead fantasy baseball writer for MLB.com. Follow him on Twitter at @FredZinkieMLB. This story was not subject to the approval of Major League Baseball or its clubs.