Donaldson back in Oakland: 'My heart started fluttering'
Happy with Blue Jays, third baseman still has fondness for A's years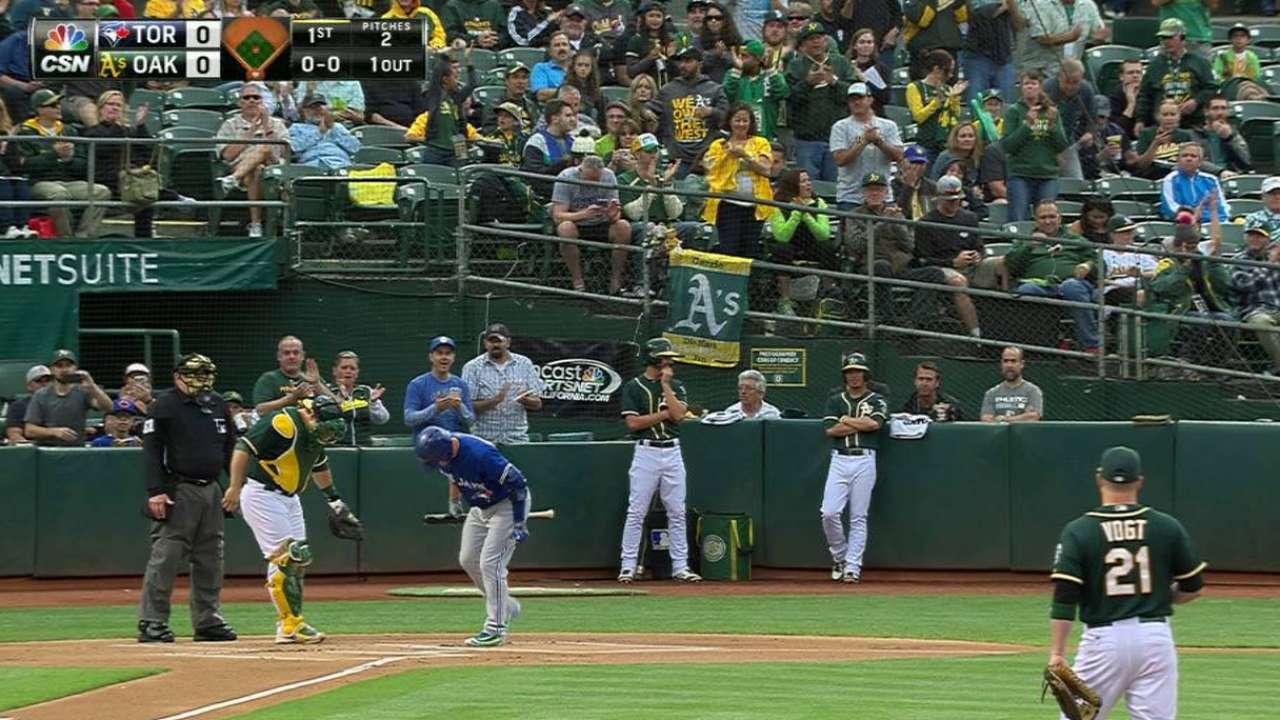 OAKLAND -- Josh Donaldson returned to the place he called home for three seasons Tuesday, notching two doubles in a 7-1 victory over his former A's team -- but only after enduring a nearly two-hour cab ride from his San Francisco hotel.
The Blue Jays infielder, who morphed into one of the league's best third baseman as an Athletic after surviving several growing pains as a catcher in their Minor League system, had hardly settled into the visitor's clubhouse at the Coliseum before recalling the afternoon adventure.
"I said, 'Hey man, I've been driving from San Francisco to Oakland for a few years," Donaldson said. "I don't know of any shortcuts."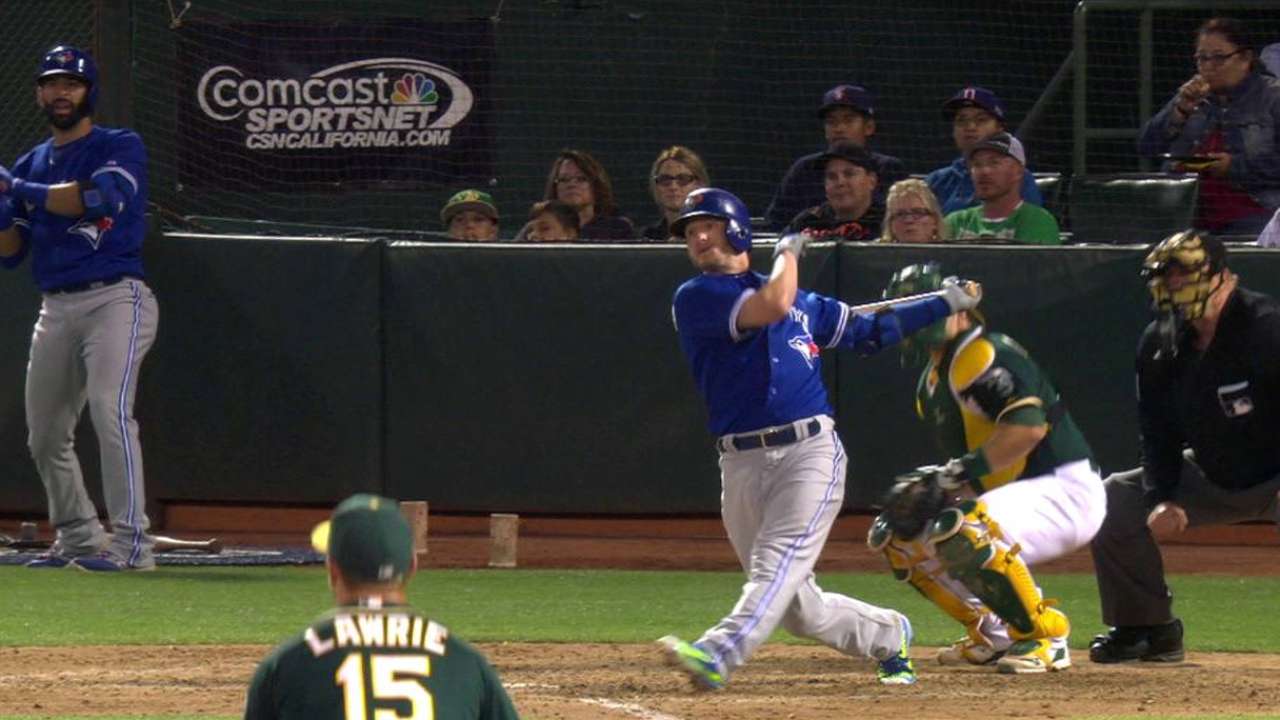 When the Coliseum finally came into focus, "my heart started fluttering a little bit seeing this place," he said.
"I really have nothing but fond memories of being here, minus the flooding a couple times."
It's Donaldson's first time back in Oakland since the A's pulled the trigger on their biggest stunner of a trade amid an offseason that had plenty following a third consecutive postseason appearance.
Donaldson, who was key to all of them and coming off his first All-Star season and second as an American League MVP candidate, was shipped to Toronto for four players: right-hander Kendall Graveman, who started against his former team Tuesday, third baseman Brett Lawrie, left-hander Sean Nolin and shortstop prospect Franklin Barreto.
Fellow All-Stars Brandon Moss, Jeff Samardzija and Derek Norris were dealt in the ensuing months.
"It took two or three weeks to let it soak in. It was definitely hard," Donaldson said. "There were definitely some emotions going on because a lot of the guys that were here, we had been through so much together. We kind of built what we thought was a core, and when you get traded, you're definitely going to be hurt a little bit, but you've gotta understand that this game's a business.
"The players aren't always making the decisions to go or leave, and right now I'm very happy to be a part of the Toronto Blue Jays, and I think we're going to be in for some success."
No third baseman has totaled more home runs than Donaldson (71) since 2013. He's hit 22 of them in a stacked Blue Jays lineup this year, also entering Tuesday's three-game series opener with 62 RBIs to go along with a .288 average and .530 slugging percentage.
"The ability was always there," A's manager Bob Melvin said. "If you watched him take batting practice and do things in the field, you'd look at him and go, 'Wow this is quite a talent.' It wasn't until he actually got an opportunity that he started having some success and started to realize himself how good a player he was and what he could do at the big league level.
"He was instrumental in the success here. He came a long way from where he started in this organization."
Donaldson said he still watches the A's "any time I get a chance" and insists he has "zero animosity about anything."
"I have really good feelings about being here," he said. "I want to be able to show the fans how I play again, just because they haven't been able to see me in [nine] months. I just want them to continue to have good memories of me being here."
Jane Lee is the Oakland Athletics beat reporter for MLB.com. She has been covering the club since January 2010.
This story was not subject to the approval of Major League Baseball or its clubs.